"Making a Commitment to Recover My Health and Energy Has Been a Turning Point for Me"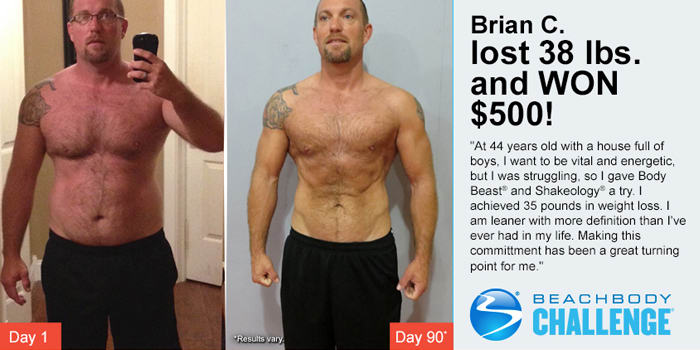 †Results vary depending on starting point and effort. Brian is an independent Beachbody Coach.
Meet Brian C.! He participated in The Beachbody Challenge and won the $500 Daily Prize for December 2nd!
Tell us about your life before you started the program. How did you feel about yourself and your body?
I always worked out, and have been very active but didn't get the lean results I wanted. I'm an old school weight lifter using fighter style cardio. I was skeptical that any program could surpass my workouts. But I was struggling to get to where I wanted to be. So, I gave Body Beast and Shakeology a try.
What inspired you to change your life and begin your transformation journey?
At 44 years old with a house full of boys, I want to be vital and energetic. We are an active family! Our weekends are full of sports, fishing, kayaking and fun. I also teach women's and children's self defense classes as well as MMA training. I want to project a healthy image for my business.
What is the greatest challenge you faced before beginning the program? How did the program and Beachbody® help you overcome that challenge?
An injury to my back resulted in a protruding disc. PiYo came along at the right time in my recovery. I am more flexible now than I have ever been in my life. I was soon able to start Body Beast. I am also very challenged to find "time" for anything extra. Making a commitment to recover my health and energy has been a great turning point for me. I love the way I feel since starting Shakeology and experienced no plateaus during my 90 day weight loss journey.
What in particular did you like about the program you chose?
I like the intensity of the weight workout and discovering new ways to lift. I have a new degree of muscle definition in areas that I had not experienced before.
Describe the results you achieved with your Beachbody program. Which achievements are you proud of?
I achieved 35 pounds in weight loss. I am leaner with more definition than I've ever been in my life, and I've always been an athlete. I was able to enjoy the different workouts and stay focused on my goal.
How has your life changed since completing your Beachbody program?
I am more focused on my health and more excited than ever to get shredded. I am also proud to be a Beachbody Coach and a living product of the program.
You can change your life, too. Take the Beachbody Challenge, for the ultimate motivation to get fit! Select any Beachbody program and once you complete it, share your results for your chance to win cash and prizes.