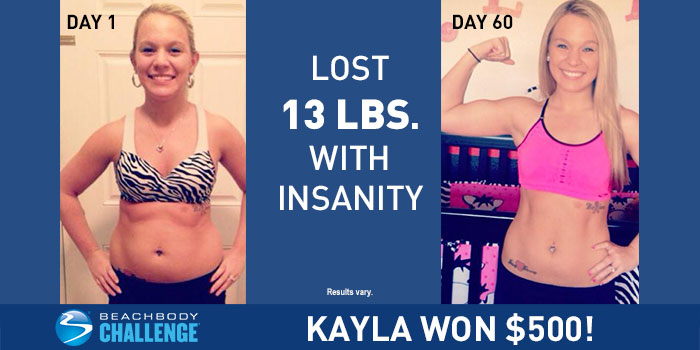 †Results vary depending on starting point and effort. Kayla is an independent Beachbody Coach.
Meet Kayla L. She lost 13 lbs in 60 days with INSANITY. She entered her results into The Beachbody Challenge, and won the $500 Daily Prize for March 15th !
Tell us about your life before you started the program. How did you feel about yourself and your body?
Before I started the program, I was stuck with baby weight. I had my first baby girl on November 3 of 2013. Before I got pregnant, I was in the gym every single day but never ate well or saw results. I just didn't really care too much about my body. After I had my baby, I was depressed every day because my clothes wouldn't fit me, and I had to get bigger pants, as well as shirts.
What inspired you to change your life and begin your transformation journey?
My baby girl is what inspired me to change my life. After I had her, I knew I wanted to lose weight and become healthier. I needed to give up fast food and soda so I can live a long healthy life with my little girl. Plus, I wanted to be an inspiration to other moms out there that just give up. I wanted to show everyone that if you want it badly enough, you can get it.
What is the greatest challenge you faced before beginning the program? How did the program and Beachbody® help you overcome that challenge?
The greatest challenge that I had to face before beginning INSANITY was becoming a mother. I am only 20 years old and was worried that I'd mess up or lead her the wrong way. INSANITY changed me. It not only gave me the confidence in my body but also energy and positive look on life. I have never been happier!
Why did you choose this particular program?
I chose INSANITY because I have been talking about it for years and have never actually done it. I have heard how amazing Shaun T is and how great the results are from his programs.
What in particular did you like about the program you chose?
I loved Shaun T! He is such a great motivator! It is almost like I am right there with all of them doing these workouts.
Describe the results you achieved with your Beachbody program. Which achievements are you proud of?
I have had amazing results with INSANITY. I have so much more energy, an amazing positive attitude, a confidence in my body that I have never had, and now I know if I want something, all I have to do is push myself and I can achieve it!
How has your life changed since completing your Beachbody program?
My eating habits are better, my energy is up, and I feel better than ever! I can't go a day without working out now thanks to INSANITY!
How did participating in a Challenge Group help you reach your goals? How did your group support you and keep you accountable?
Being in a Challenge Group helped me reach my goals because there were many other people that were in the same boat as I was. I wasn't dealing with judgmental people, I was with people who wanted to help themselves as well as others. It helped me make my meal planning better and have new recipes to add to my routine. We posted everyday and our Coaches were there to comment and support our progress.
You can change your life, too. Take the Beachbody Challenge for the tools you need to Decide, Commit, and Succeed! Complete any Beachbody program, and enter your results for a free gift and a chance to win cash and prizes.