INSANITY Results: This Mom Lost the Combined Weight of Both Her 3-Year-Old and 2-Year-Old!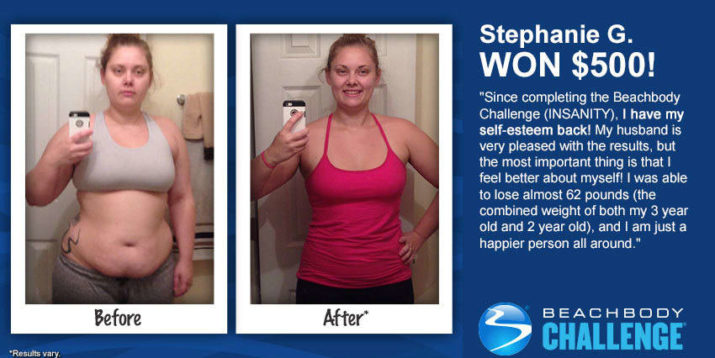 Results vary depending on starting point and effort.
Stephanie Gossett lost 61.4 pounds with INSANITY. She participated in The Beachbody Challenge and won the $500 Daily Prize for October 5th!
Tell us about your life before you started the program. How did you feel about yourself and your body?
After having my daughter, I got pregnant again 6 months later so I never had time to lose the baby weight. I eventually felt that it didn't matter what I did because no matter how much I worked out nothing changed. I then started a strict diet plan that had started to help. My sister, only 14, did INSANITY and had amazing results. So, I started it as well.4 I was insecure, nothing fit right, and I could barley even play with my kids. I needed to do something!
What inspired you to change your life and begin your transformation journey?
I had been trying to lose weight since I had my second child, but nothing worked. I needed to get in shape. I loved INSANITY from the start! I was so unhappy with myself, and I was starting to get depressed. I was missing out on things in life with my children because of my weight so I decided to make a change.
What is the greatest challenge you faced before beginning the program? How did the program and Beachbody® help you overcome that challenge?
My biggest challenge was holding myself accountable. I spend a lot of time at home alone with my kids, and it was so easy to eat anything and everything that I wanted. I was embarrassed to eat in front of other people. Once, when I was at a get together with some friends, my best friend's husband said to me, "Gross. Every time you bend over, you jiggle." That's when I decided to make a change, when I let someone else make me feel so bad that I left crying. I let my happiness depend on what others thought. Simply getting stronger, weight aside, helped me feel better about me which left less room for care about what others think! Being able to keep up with my kids was the biggest reward from this program!
Describe the results you achieved with your Beachbody program. Which achievements are you proud of?
With INSANITY, I achieved many goals. First off, I am much stronger than I was when I first started. Second, I was able to lose almost 62 pounds and many inches. My biggest goal, however, was to stick with the program and follow through until the end. I did just that. I was even able to motivate and encourage others to start or continue their weight loss journeys!
How has your life changed since completing your Beachbody program?
Since completing INSANITY, I have been able to get my self esteem back! My husband is very pleased with the results, and tells me daily how proud he is that I did what I did. The most important thing is that I feel better about myself! I feel great about my weight and how I look in clothes. My joints and feet feel better from losing the weight, and I am just a happier person all around. I lost the combined weight of both my 3-year-old and 2-year-old. I pick them up, and can't even imagine being that much heavier.
You can change your life, too. Take the Beachbody Challenge, for the ultimate motivation to get fit! Select any Beachbody program and once you complete it, share your results for your chance to win cash and prizes.
4Always consult with your physician before commencing any fitness program or nutritional product if you are pregnant or postpartum.