"My Results after Completing INSANITY Were Phenomenal!"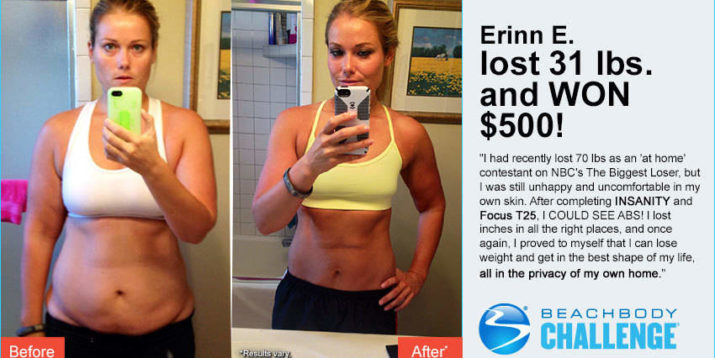 †Results vary depending on starting point and effort. Erinn is an independent Beachbody Coach.
Meet Erinn E.! She participated in The Beachbody Challenge and won the $500 Daily Prize for October 3rd!
Tell us about your life before you started the program. How did you feel about yourself and your body?
Before I started INSANITY, I felt stuck. I was yo-yoing between losing 12 lbs and gaining 12 lbs. I had recently lost 70 lbs as an "at home" contestant on NBC's The Biggest Loser. Back in 2009, on the Biggest Loser Season 7 finale, America had to vote between me and another hopeful contestant to be a part of The Biggest Loser Season 8 cast. Unfortunately, I was not voted to go onto the ranch. Instead, I went home and lost 70 lbs on my own with the help of two trainers. I started off weighing in at 237 lbs, and dropped down to 167 lbs.  I was able to go back onto season 8's finale in December 2009 to show America and the other contestants my success. Even though I had lost a significant amount of weight, I was not where I wanted to be and felt stuck. I found myself still unhappy and uncomfortable in my own skin.
What inspired you to change your life and begin your transformation journey?
I found myself watching the INSANITY infomercials ALL THE TIME and thinking, "wow, that looks intense, I bet it works". Every time I saw the INSANITY infomercial, my eyes were glued! During this time, I had left my job and moved back home to take care of my mother. My mother was 55 years old and was diagnosed with Frontotemporal Dementia, Apraxia and Primary Progressive Aphasia. While taking care of her, at the age of 25, I was determined more than ever to live a healthier lifestyle to benefit me now and in the future. Also, I still looked at myself as a heavy person. I was still wanting more.
What is the greatest challenge you faced before beginning the program? How did the program and Beachbody® help you overcome that challenge?
The biggest challenge I faced before starting INSANITY was simply time and anxiety of the program. Yes, anxiety. I had visions of quitting the program because of how intense it looked! Plus, I had heard from others how they could not get past the Fit Test or the WARM UP! Lastly, the fact of finding an excuse not to do it! There were no excuses! I did not have to drive to the gym. I made my own schedule and coordinated appointments regarding my mother.
Describe the results you achieved with your Beachbody program. Which achievements are you proud of?
I completed 3.5 months of INSANITY!! I decided to continue on past the 60 day mark because it was around the holidays, and I did not want any kind of excuse! My results after completing INSANITY were phenomenal! I saw a huge difference in my stomach! I COULD SEE ABS! The change in my face was like night and day, and I lost inches in all the right places. I would have to say that the achievement that I am most proud of is that I lost all my excuses. Once again, I proved to myself that I can lose weight and get in the best shape of my life, all in the privacy of my own home.
How has your life changed since completing your Beachbody program?
Once completing INSANITY, I was looking for more! Completing INSANITY  inspired me to continue on with my weight loss and new fit lifestyle. I have successfully completed Focus T25, and started drinking Shakeology. I completed a hybrid between INSANITY and Focus T25. Now, I am currently doing PiYo while doing a hybrid between Focus T25 and INSANITY. Lastly, I have had so many people come to or look up to me as inspiration and motivation. Being able to share my story and help others find their tools for a healthier lifestyle is the most gratifying thing I have ever experienced. I am the happiest, healthiest and most determined I have ever been, and I owe all of that to Shaun T.
You can change your life, too. Take the Beachbody Challenge, for the ultimate motivation to get fit! Select any Beachbody program and once you complete it, share your results for your chance to win cash and prizes.