"I Loved The Fast-Paced Workout"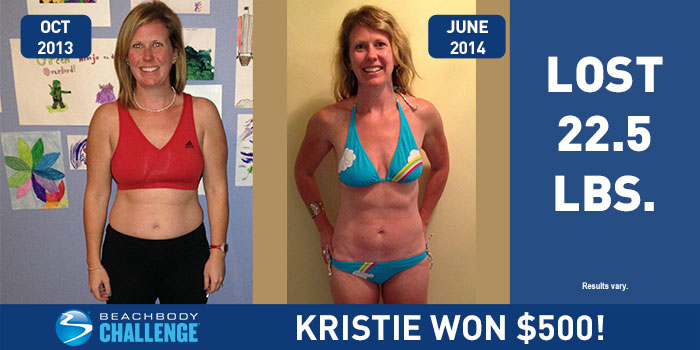 †Results vary depending on starting point and effort. Kristie is an independent Beachbody Coach.
Meet Kristie B. She lost 22.5 lbs in less than 8 months with INSANITY, P90X3, and INSANITY: THE ASYLUM. She entered her results into The Beachbody Challenge, and won the $500 Daily Prize for March 11!
Tell us about your life before you started the program. How did you feel about yourself and your body?
Before starting ASYLUM, I had just completed INSANITY and P90X3 and wanted to continue the journey. I was eating well and feeling great about myself.

What inspired you to change your life and begin your transformation journey?
I've always had a passion for health and wellness. I just fell off track after having my two kids. Last year, I made a conscious decisions to take baby steps in the right direction. I enjoyed running/walking; however, I couldn't get away from my kids enough to make it a habit, and they are too big for a jogger. My friend, who is a Coach, invited me to join a Challenge and it's changed my life. Since that time, I have completed an INSANITY Challenge, X3 and now INSANITY: THE ASYLUM.
What is the greatest challenge you faced before beginning the program? How did the program and Beachbody® help you overcome that challenge?
My biggest challenge was making time to exercise. As some of the workouts can be over an hour, I really had to schedule my workouts into my day.

What in particular did you like about the program you chose?
I love the challenge of each and every workout. I knew that as long as I gave 100%, I would see results. I loved the fast-paced workouts and never got bored. I'm trying to get lean, strong, and fit, and since I enjoy athletics, this program is totally up my alley.

Describe the results you achieved with your Beachbody program. Which achievements are you proud of?
While my goal wasn't necessarily to lose weight with this program, I saw definite increases in strength and starting to see some definition in my back, and my legs have really started to slim and tone up! Overall, I'm excited that my body composition has shifted toward the lean muscle mass now.

How has your life changed since completing your Beachbody program?
I've gained so much confidence from the time that I started the program. Also, I've got so much more energy than when I started the program. I look forward to getting up and getting my workout in each day!
How did participating in a Challenge Group help you reach your goals? How did your group support you and keep you accountable?
Accountability because of the regular check-ins on our Facebook group. Also, all the positive reinforcement when posting workout pics. I didn't want to be the person who didn't post their pics, so I was on it first thing each morning.
You can change your life, too. Take the Beachbody Challenge for the tools you need to Decide, Commit, and Succeed! Complete any Beachbody program, and enter your results for a free gift and a chance to win cash and prizes.