"I Have Lost 50 Pounds and Over 15 Inches"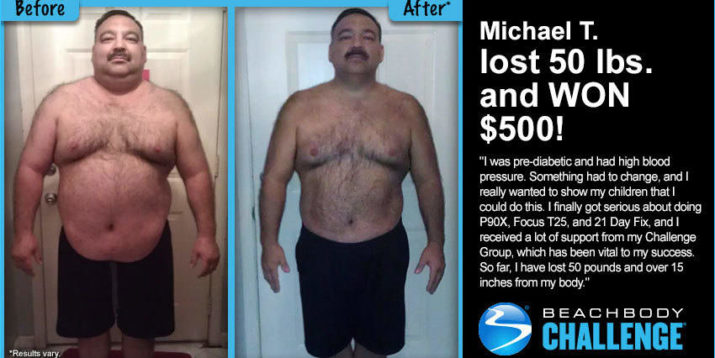 †Results vary depending on starting point and effort. Michael is an independent Beachbody Coach.
Meet Michael T.! He participated in The Beachbody Challenge and won the $500 Daily Prize for October 12th!
Tell us about your life before you started the program. How did you feel about yourself and your body?
I've been a pretty big guy my entire adult life. I was pre-diabetic and had high blood pressure. Working as a courier kept me in relatively decent condition as I did a considerable amount of walking every day. However, large quantities of food and beer were something I enjoyed rather often. I knew that I couldn't continue to eat and drink like that. Something had to change.
What inspired you to change your life and begin your transformation journey?
When I struggled to fit into my clothes, it was clear that I needed to do something. I'm a fairly short guy, so when I have to buy clothes that fit my neck or waist they end up looking like a tent surrounding the rest of me. Also, I really wanted to show my children that I could do this.
What is the greatest challenge you faced before beginning the program? How did the program and Beachbody® help you overcome that challenge?
FOOD! I loved to eat delicious food. If they handed it through a window or I could put bacon on it, then I ate it. A lot of it. I have always been a decent cook, but I sacrificed healthy, home-cooked meals for the convenience of fast food. When I finally got serious about doing P90X, Focus T25, and 21 Day Fix, I read through the programs, consulted my doctor, and received a lot of support from my coaching group. They were able to guide me along the way to eating healthy, and monitored my progress. When I became a Beachbody Coach and started helping others, I really felt motivated, and held myself accountable as well.
Describe the results you achieved with your Beachbody program. Which achievements are you proud of?
I have lost 50 pounds and over 15 inches from my body so far. I have started to see some definition in my biceps and abs which I haven't had in years.
How has your life changed since completing your Beachbody program?
I have learned the reason our bodies need proper nutrition along with exercise. This has convinced me to become a Beachbody Coach myself and help others to reach their goals.
You can change your life, too. Take the Beachbody Challenge, for the ultimate motivation to get fit! Select any Beachbody program and once you complete it, share your results for your chance to win cash and prizes.