P90X3 Results: Curt Lost 40 Pounds and Won $500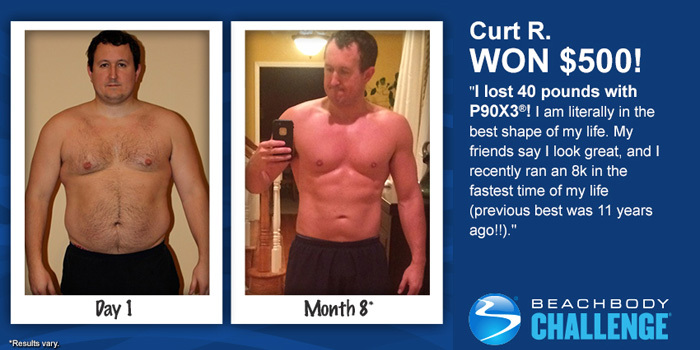 Results vary depending on starting point and effort.
Curt Rose participated in The Beachbody Challenge and won the $500 Daily Prize for December 30th!
Tell us about your life before you started the program. How did you feel about yourself and your body?
I was terribly out of shape and had allowed myself to get that way. Almost seven years ago, my father passed away during a run. We always trained together and his death scared the exercise right out of me; that and then through the increasingly difficult schedule of having two young children and managing a law career, it made me tired. Really, I was tired all the time, and would eat unbelievable amounts of food, especially fast food in an effort to "keep the battery running." I had tried and quit numerous attempts at "getting fit" and all failed. I knew that my lack of fitness was beginning to effect the enjoyment that I was going to have with my family. I was becoming increasingly dissatisfied with my appearance. I knew it was time for a change, but I needed the motivation and something that I could do within the time constraints.
What inspired you to change your life and begin your transformation journey?
It was time to move past my fear of dying. Watching my father die and to die from exercising created such a mental hurdle and combining that with my overall lack of fitness, and the lack of energy I had developed. I knew I could be better, and I wanted to be better. I wanted to become that athlete again that I was when I was younger, the one that made my father proud and I wanted to do something that would ignite that passion to compete inside me once again.
What is the greatest challenge you faced before beginning the program? How did the program and Beachbody® help you overcome that challenge?
Fear and sadness. I also had developed plain apathy toward working out, a general frustration with how much time I would have to devote to get into really good shape. As a former High School and Collegiate athlete, I had a pretty good idea for the amount of training I would need to invest, and I always felt like I wouldn't have the time. Once I made the decision this January to invest in myself, I saw the commercial for P90X3 and it sounded like what I needed to keep my new found enthusiasm going – Short intense and fun workouts that would assist me in reaching my goals.
What in particular did you like about the program you chose?
The ability to get challenging and meaningful workouts done in 30 minutes! It allowed me to continue to have the time I value deeply with my children and time for my busy work schedule.
Describe the results you achieved with your Beachbody program. Which achievements are you proud of?
I lost 40 pounds with P90X3! I loved the classic campaign so much that I immediately went into the mass program and then just recently completed the Elite block. I am literally in the best shape of my life. My friends say I look great and I recently ran an 8k in the fastest time of my life (previous best was 11 years ago!)
How has your life changed since completing your Beachbody program?
In many ways. First, I have more energy. In short, I am athlete again. Thanks!
How did a Beachbody Supplement or Nutritional Product or Program (such as Shakeology® or Beachbody Ultimate Reset®) support your transformation? What are the greatest benefits you gained? Did you see benefits to your energy, sleep, mood/mental clarity, digestion/regularity?
Really, I had benefits in all areas. My diet was a complete mess and changing it and adding exercise brought better sleep, more energy, better mood and clarity, better complexion and better digestion.
You can change your life, too. Take the Beachbody Challenge for the tools you need to decide, commit, and succeed. Complete any Beachbody program and enter your results for a chance to win cash and prizes.