"I Feel Like a Completely Different Man"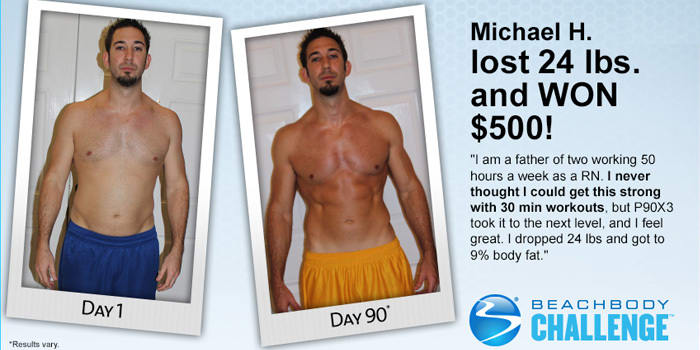 †Results vary depending on starting point and effort. Michael is an independent Beachbody Coach.
Meet Michael H.! He participated in The Beachbody Challenge and won the $500 Daily Prize for September 2nd!
Tell us about your life before you started the program. How did you feel about yourself and your body?
I am a father of two, and I work about 50 hours a week at the hospital as an RN. I no longer had the time to get to the gym, and slowly I got very out of shape. 222 lbs. was the most I have ever weighed in my life, and my body could tell. I felt tired all the time, and my work weeks began to become unbearable to finish. My back and legs were killing me by that last day. I felt like I did not have the energy to play with my kids when I got home. On my days off I had no motivation to do anything at all. I felt old at 33.
What inspired you to change your life and begin your transformation journey?
I saw some transformation stories from people who had done p90x3, and I thought anyone can do 30 minutes a day. Also, a Beachbody Coach, told me more about the programs and Shakeology. Her transformation was amazing with P90, and I wanted the same thing for myself. She got me set up as a Coach, and I was on my way.
What is the greatest challenge you faced before beginning the program? How did the program and Beachbody® help you overcome that challenge?
The greatest challenge was getting a workout in six days a week, but Beachbody's support and a good challenge group helped me get through each day. Beachbody helped me stay focused on my goal.
What in particular did you like about the program you chose?
I liked how much strength I was gaining in a short period of time. I have always liked super sets in the gym, but P90X3 took it to the next level. It felt great. I never thought I could get this strong with 30 minute workouts.
Describe the results you achieved with your Beachbody program. Which achievements are you proud of?
I dropped 24 lbs, and got to 9% body fat. My blood pressure was high before, and now it is normal. Overall, I feel amazing. I am most proud of my abs and my back.
How has your life changed since completing your Beachbody program?
I have the energy I was lacking to get through each week. I feel like a completely different man. I have confidence in myself again.
You can change your life, too. Take the Beachbody Challenge, for the ultimate motivation to get fit! Select any Beachbody program and once you complete it, share your results for your chance to win cash and prizes.