"I No Longer Just Dream of the Body I Want, I Am Earning it Every Day"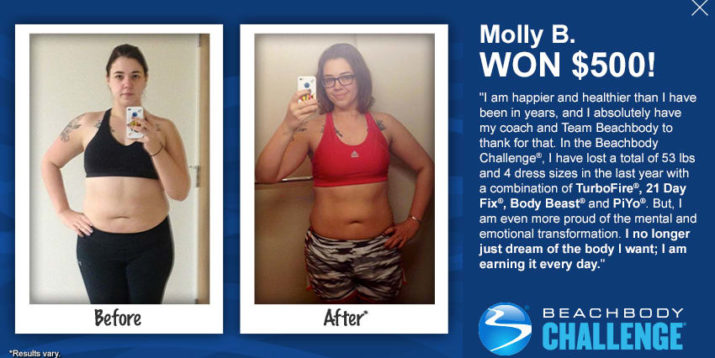 †Results vary depending on starting point and effort. Molly is an independent Beachbody Coach.
Meet Molly B.! She participated in The Beachbody Challenge and won the $500 Daily Prize for October 17th!
Tell us about your life before you started the program. How did you feel about yourself and your body?
Before I began the Beachbody Challenge, I was 25 years old and already in the process of being medically retired from the military. I felt like I had just completely hit rock bottom with my health, both physically and mentally. I was so unhappy with my body that I could barely stand to look at myself in the mirror, and I would feel winded after just walking up a single flight of stairs. I felt like I had just spiraled out of control I just felt so ashamed of how unhealthy I had become. I knew I absolutely needed to make a serious change if I ever wanted to get my life back. My Team Beachbody Coach encouraged me to take the plunge, so I ordered TurboFire and Shakeology and never looked back.
What in particular did you like about the program you chose?
The first program that I started with was TurboFire. I absolutely loved Chalene's positive energy, and the music definitely helped keep me going. After I finished TurboFire, I continued my journey with the 21 Day Fix. Autumn made it so easy to totally transform my nutrition, which was a huge help for me breaking the plateau I had reached. The color-coded containers were perfect for easy meal planning, and the workouts were quick but intense. After the 21 Day Fix, I have since completed the 3-Day Refresh as the perfect jumpstart to the Body Beast and PiYo hybrid program I have started with my husband. The best part of all of the programs I have chosen to be part of my transformation journey is that they completely remove all the guesswork. Every program is perfectly planned out for me. All I have to do is show up, press play and give it all I've got.
Describe the results you achieved with your Beachbody program. Which achievements are you proud of?
My results from my journey with Team Beachbody have been nothing short of incredible. I have lost a total of 53 lbs and 4 dress sizes in the last year with a combination of TurboFire, 21 Day Fix, 3-Day Refresh, Body Beast and PiYo. I was absolutely amazed at how fast I started seeing results — I had lost 24 lbs. in just the first 45 days with TurboFire! I am really proud of my total weight loss and with the crazy progress I have already seen in my body, but I am even more proud of the mental and emotional transformation. I no longer avoid the mirror, and I have a whole new sense of self-confidence. I no longer just dream of the body I want, I am earning it every day. My entire outlook on my life and overall health has so drastically improved, and I couldn't possibly be happier with my results so far.
How has your life changed since completing your Beachbody program?
My life has changed in so many ways. I am happier and healthier than I have been in years, and I absolutely have my Coach and Team Beachbody to thank for that. I feel like I got my life back and that I've been given a second chance to live better, as well as to help others do the same. I became a Team Beachbody Coach so that I can hopefully inspire and motivate more people to have the kind of success I have had, and to help people change their lives the way my Coach has helped me. I continue to follow a healthy diet, and it is a habit for me to work out every single day. I also drink my Shakeology daily. I am also much more confident and I am absolutely proud of myself and the great progress I have made thanks to this program.
How did participating in a Challenge Group help you reach your goals? How did your group support you and keep you accountable?
Being in a Challenge Group was a life changing experience. It absolutely made all the difference for me to know that I had a group of people that were there to cheer me on and hold me accountable. It was so empowering to be able to part of a group of other normal, every day people making such extraordinary progress every day. Our group shared and celebrated in each others' successes, and if I was having a rough day or "fell off the wagon" they were there to push me to get back on the right track. It really helped me to know that I was not doing it alone, and we were all there for each other.
You can change your life, too. Take the Beachbody Challenge, for the ultimate motivation to get fit! Select any Beachbody program and once you complete it, share your results for your chance to win cash and prizes.