US Navy Veteran Lost 60 Pounds in 125 Days!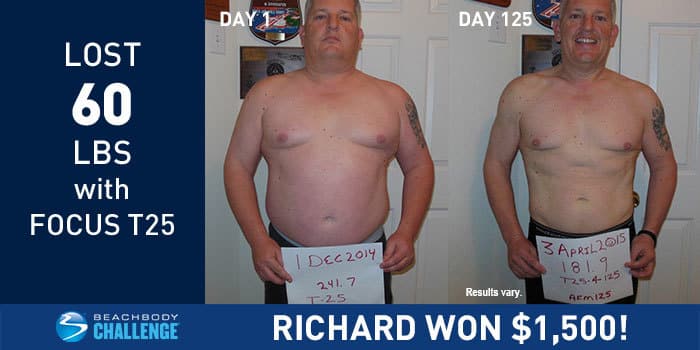 †Results vary depending on starting point and effort.
Meet Richard W., age 50 from Hampton, VA. He entered The Beachbody Challenge and won $1,500!
Tell us about your life before you started the program. How did you feel about yourself and your body?
I'm a retired USN Chief Petty Officer who turned 50 and started to feel sluggish about life due to PTSD and with the passing of three family members of cardiovascular disease. I was heading down the same path at a young age as my elder family members1. So I set up a challenge at work with 3 retired servicemen and myself call the Airfield Management 125. Our 125-day weight loss challenge at work with little monetary incentive similar to Beachbody. I choose Shaun T's FOCUS T25 workout due to time constraints at the modified level (Alpha) following MS Tonya for the first 60 days. I now am working the Beta level fluctuating between Shaun and MS Tonya. The modifier is awesome, but Shaun will push you to the next level. I am currently down 60 lbs. and busted my weight loss goals twice. Goal weight was initially 195 then 185, but I am a goal buster and will push forward. Pain is weakness leaving the body while making fat cry because failure is not an option. We all must make a difference each day.
What inspired you to change your life and begin your transformation journey?
The death of many great servicemen and women who all lead great lives during their military career and let themselves go after retirement. As well as the death of my Father, Aunt, and Uncle due to cardiovascular disease and other health issues due to being over-indulgent with food and alcohol. I saw myself heading down the same path.
What is the greatest challenge you faced before beginning the program? How did the program and Beachbody® help you overcome that challenge?
Leading my Sailors during a time of war while hearing the sounds and sights for the first time. Team Beachbody helped me regain my self-esteem and personal confidence I once had during my time in the Navy. Team Beachbody gave me life once again and healthy new lifestyle, not just a diet.
What in particular did you like about the program you chose?
Modifiers and lots of positive motivation to succeed. In addition the time required to complete.
Describe the results you achieved with your Beachbody program. Which achievements are you proud of?
I achieved amazing results without spending hours and hours in the gym. I completed this exercise program without injury at age 50 from 241 to 181.
How has your life changed since completing your Beachbody program?
Yes life is even better than before… My confidence is high, because I have embraced a new, healthy lifestyle. There is no special pills, no secrets or passwords to this healthy lifestyle. You've got to embrace the pain, push the threshold, and feel the suck; then you have muster the courage to go back six times a week, while eating clean, fresh vegetables, fruits, lean proteins, and healthy fats. People want to hear my transformation story and how I made it work. Life is good.
How did your Team Beachbody® Coach support you on your journey?
Coach A lead a free 21 day summer slim-down with lots advice and motivation during my last 21 days of my weight loss challenge. She has lots of great information and PMA.
You can change your life, too. Take the Beachbody Challenge for the tools you need to Decide, Commit, and Succeed! Complete any Beachbody program, and enter your results for a free gift and a chance to win cash and prizes.

1Always consult with your physician about your unique medical needs before commencing any fitness program or nutritional product.