I Lost 23 Pounds in 3 Months with FOCUS T25 and Won $1000!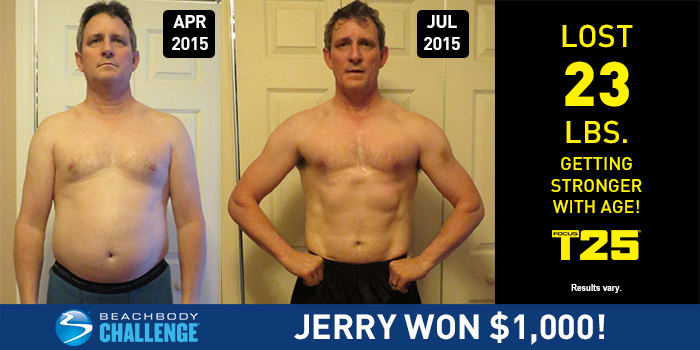 Jerry T, age 53 from Unionville, VA, lost 23 lbs in 3 months with FOCUS T25, and he won $1,000 in the The Beachbody Challenge!
Jerry is an Independent Beachbody Coach.
Tell us about your life before you started the program. How did you feel about yourself and your body?
My feet and knees told me it was time. My blood pressure and resistance to taking medications with side effects told me it was time.
What inspired you to change your life and begin your transformation journey?
I watched a couple in their 80s climb Old Rag Mountain, here in Virginia, and pass me towards the top like they were on flat land. I said I want to be that when I'm in my 80s. And I will!
What is the greatest challenge you faced before beginning the program? How did the program and Beachbody® help you overcome that challenge?
Arguing with myself about getting up at 5AM every morning and pushing play. I am my worst enemy, that enemy has been defeated, dominated, crushed!
What in particular did you like about the program you chose?
Its takes me 30 minutes total to get through. I can start at 5AM and be done by 5:30AM and getting ready for work every day.
Describe the results you achieved with your Beachbody program. Which achievements are you proud of?
For the first time in my life, I have abs that show. One my goals that I achieved was to do 53 push-ups on my 53rd birthday.
How has your life changed since completing your Beachbody program?
I have more energy. My walk is different. I have people asking me how I did it. I feel more accomplished. I look better (just my opinion), and feel better
How did your Team Beachbody® Coach support you on your journey?
Her knowledge and support. Her encouragement and crazy inspiration.
How did a Beachbody Supplement or Nutritional Product or Program (such as Shakeology® or Beachbody Ultimate Reset®) support your transformation? What are the greatest benefits you gained? Did you see benefits to your energy, sleep, mood/mental clarity, digestion/regularity?
The one thing that blew me away was in the beginning I did not have Shakeology and still lost weight from following the exercise and diet plans. I found myself plateau in weight loss. Then I added Shakeology to the plan and immediately saw the results. My wife had plateaued as well in her weight loss, and I suggested trying Shakeology. We now have to order two bags! Incredible results!
Did you achieve any other measurable improvements with a Beachbody Supplement or Nutritional Product or Program? (e.g. Blood Pressure, Blood Sugar, triglycerides, etc…)
I had elevated blood pressure and my cholesterol was not in a very good (healthy) range. The doctor had me on medication to help lower these numbers. These medications had side effects that I was not comfortable with. I have since taken myself off the medication and check my blood pressure regularly. I am happy to say that I am well within my healthy range and with no medications or side effects and feel great!
You can change your life, too. Take the Beachbody Challenge for the tools you need to Decide, Commit, and Succeed! Complete any Beachbody program, and enter your results for a free gift and a chance to win cash and prizes.

*Results vary depending on starting point, goals, and effort.