Lesley Lost 42 Pounds and Won $500!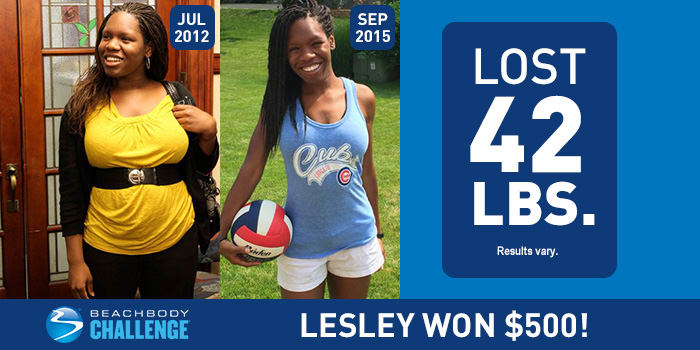 Lesley Gwam lost 42 lbs. with INSANITY, INSANITY MAX:30, INSANITY: THE ASYLUM Volumes 1 & 2, and a hybrid of Beachbody programs. She entered her results into the Beachbody Challenge, and won the $500 Daily Prize for November 16th!
Tell us about your life before you started the program. How did you feel about yourself and your body?
Before drinking Shakeology and completing Beachbody programs, I was overweight and pre-diabetic. I loved refined carbs and caffeine. I was cranky without my bagel and coffee (with extra cream and sugar) fix. I also ate foods with lots of added sugars — it wasn't abnormal for me to eat a BBQ chicken pizza and wash it down with a fudge brownie. This would usually result in me feeling overly full and sluggish. As an alum of INSANITY, ASYLUM, and INSANITY MAX:30, I was already aware of the importance of eating well and exercise. I looked at INSANITY MAX:30 as a way to maintain such health without having to spend hours at the gym.
What inspired you to change your life and begin your transformation journey?
Three years ago, my life changed for the better after a summer study abroad program forced me to leave my gym membership behind. Before my trip, a friend of mine gave me a copy of the INSANITY program after achieving spectacular results of her own, and I begrudgingly packed the DVDs in my luggage before leaving the States. Within 60 days, I witnessed incredible results that I could have never imagined for a simply "big boned" person like myself. I knew from then on that I would become dedicated to making healthy eating and regular exercise a lifestyle instead of a quick fix, like many diets.
What is the greatest challenge you faced before beginning the program? How did the program and Beachbody help you overcome that challenge?
My greatest challenge before beginning INSANITY was following the meal plan. I've always had a "soft spot" for baked goods and sweet potato fries. Through Beachbody, however, I was able to find tasty alternatives, as well as work on portion control. I also drink eight to ten cups of water a day, which helps me realize when I'm hungry and when I'm just dehydrated.
What in particular did you like about the program you chose?
The length; 30 minutes was perfect for someone like myself, who was studying for 10 hours a day. I also love Shaun T. His workouts are perfectly intense, and his charisma keeps me going.
Describe the results you achieved with your Beachbody program. Which achievements are you proud of?
My abs truly went from flab to fab, but I am most proud of my strength achievements. I can do so many more push-ups now! In addition to losing over 40 pounds, I have so much natural energy now — I rarely drink caffeine other than the occasional cup of green tea (and green tea alone, no sugar!).
How has your life changed since completing your Beachbody program?
Team Beachbody has made me much more conscious of the food I choose to put into my body. I no longer have a desire for muffins or fried foods. I've learned how to make small dietary changes that don't require me to compromise taste for nutrition. Furthermore, I have since completed a half marathon, and will soon begin training for a full; all feats that I attribute to Beachbody.
How did a Beachbody supplement, nutritional product, or program (such as Shakeology or Beachbody Ultimate Reset) support your transformation? What are the greatest benefits you gained? Did you see benefits to your energy, sleep, mood/mental clarity, or digestion/regularity?
Shakeology kept me full without feeling bloated. Shakeology is a great way to meet nutritional needs without sacrificing taste. I started drinking Shakeology as a law student suffering from caffeine withdrawals. I like to think of Shakeology as an investment. I feel like it's nearly impossible to ingest the amount of quality natural nutrients in Shakeology through eating food alone.
You can change your life, too. Take the Beachbody Challenge for the tools you need to Decide, Commit, and Succeed! Complete any Beachbody program, and enter your results for a free gift and a chance to win cash and prizes.

*Results vary depending on starting point, goals, and effort.