"I've Lost Weight and Toned Up Significantly"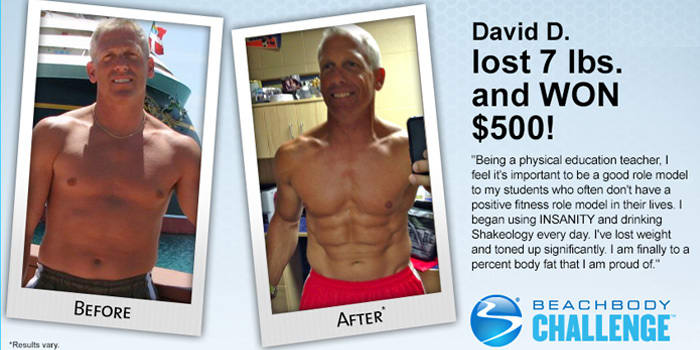 †Results vary depending on starting point and effort. David is an independent Beachbody Coach.
Meet David D.! He participated in The Beachbody Challenge and won the $500 Daily Prize for September 10th!
Tell us about your life before you started the program. How did you feel about yourself and your body?
I have always been pretty active and involved in sports by coaching soccer and teaching physical education. I have a friend who is big into weight training and clean eating. He is single. Being married with two kids, it isn't as easy to get to the gym and spend the time on workouts as well as meal planning as he does. I was drinking soda/pop daily and going across the street to the nearby convenient store for two slices of pizza. I had decided that was enough of that. So, I began using INSANITY and drinking Shakeology every day. Once I did the program, I did it again. Then, I became an INSANITY Instructor. I am extremely proud after all of the hard work I have put into cleaning up my diet.
What inspired you to change your life and begin your transformation journey?
Part of what inspired me was my colleague, part was seeing the other Beachbody challengers, and part was just wanting to clean myself up for my children. Being a physical education teacher I feel it's important to be a good role model to my students who often times don't have a positive fitness role model in their lives.
What is the greatest challenge you faced before beginning the program? How did the program and Beachbody® help you overcome that challenge?
My biggest challenge was my diet. Once I started drinking Shakeology and doing the workouts, I started feeling better. My cravings for the junk were gone. I figured if I was going to put that much effort into my workouts, I better not waste it away by eating poorly.
Describe the results you achieved with your Beachbody program. Which achievements are you proud of?
I've lost weight and toned up significantly. I am finally to a body fat percentage that I am proud of and have the definition I wanted in my muscles.
How has your life changed since completing your Beachbody program?
I have become an INSANITY Instructor and a motivator to my students at school, my students who come to INSANITY class, and my own children as well.
You can change your life, too. Take the Beachbody Challenge, for the ultimate motivation to get fit! Select any Beachbody program and once you complete it, share your results for your chance to win cash and prizes.