"I Finally Have the Abs That I've Always Wanted!"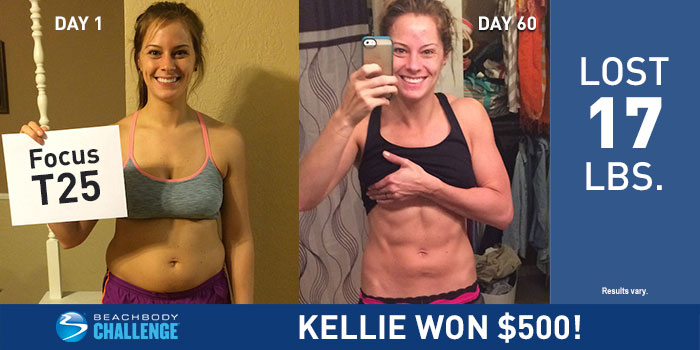 †Results vary depending on starting point and effort. Kellie is an independent Beachbody Coach.
Meet Kellie B. She lost 17 lbs with Focus T25. She entered her results into The Beachbody Challenge, and won the $500 Daily Prize for May 4th!

Tell us about your life before you started the program. How did you feel about yourself and your body?
It had been 10 months after giving birth to my daughter when I decided to take a "before" photo. I barely even recognized myself! I had put my health on the back burner to my family, friends, traveling, and my life. But what I didn't realize was that if I stayed on the path I was on, I might not be able to enjoy the things and people that I love. I felt embarrassed that I let myself go as much as I did. Everyone would say, "You just had a baby!", but I didn't just have a baby. I almost had a one year old! It was an eye-opening moment for me.

What inspired you to change your life and begin your transformation journey?
When I realized I was letting myself go, I knew I needed to change and set an example for my family. I showed them every day how much I loved them by caring for their needs, but I needed to show them how much I loved them by caring for my needs, as well. Thank goodness I realized this before things spiraled out of control!

What is the greatest challenge you faced before beginning the program? How did the program and Beachbody® help you overcome that challenge?
I felt that I didn't have the time necessary to work out the way I wanted to and to get results. In my younger years, I'd spend a couple hours in the gym every day, and I thought that was necessary. T25 allowed me to put my daughter down for a nap, get in an awesome workout, and shower all before she woke up! It's the perfect program for people who are short on time.

What in particular did you like about the program you chose?
T25 + Shakeology was so great for me because it was quick enough to let me sneak it in every day but intense enough where it gave me incredible results!
Describe the results you achieved with your Beachbody program. Which achievements are you proud of?
I lost almost 17 pounds but gained so much muscle! I finally have the abs that I've always wanted! My overall physique is so much better, and even still, when I look in the mirror, I think to myself, "Is that really me?!" There's no greater feeling than knowing you're as healthy as you can be!
How has your life changed since completing your Beachbody program?
I have since become a Beachbody Coach and love to tell my story to anyone who is willing to listen. The people that I have encountered since starting this journey are absolutely incredible, and I am so grateful that my husband always encouraged me to keep going. I am so blessed!
How did a Beachbody Supplement or Nutritional Product or Program (such as Shakeology® or Beachbody Ultimate Reset®) support your transformation? What are the greatest benefits you gained? Did you see benefits to your energy, sleep, mood/mental clarity, digestion/regularity?
Shakeology is seriously the greatest ever! I used it as a recovery drink after my T25 workouts, and it gave me so much energy! It was also great knowing that I was getting all of the nutrients that my body had been deprived of for so long!2
Did you achieve any other measurable improvements with a Beachbody Supplement or Nutritional Product or Program? (e.g. Blood Pressure, Blood Sugar, triglycerides, etc…)
I didn't take any original measurements because I didn't expect the results to be as incredible as they were. Looking back, I wish I would have!
You can change your life, too. Take the Beachbody Challenge for the tools you need to Decide, Commit, and Succeed! Complete any Beachbody program, and enter your results for a free gift and a chance to win cash and prizes.

2These statements have not been evaluated by the Food and Drug Administration. This product is not intended to diagnose, treat, cure, or prevent any disease.