Irish soda bread might possibly be one of the easiest breads to make.
In about 40 minutes, you'll be digging into a warm, fragrant hunk of bread.
Unlike most breads, soda bread relies on a reaction of an acid (buttermilk) and a base (baking soda) to help the dough rise, rather than waiting hours for added yeast to leaven the dough.
In fact, Irish soda bread doesn't need any rise time at all — mix all the ingredients in a bowl, shape the dough into a loose ball… and just like that, you're basically done.
A quick trip to the oven develops a golden-brown crust on the outside.
Scoring bread dough (cutting a slash or two into the top with a sharp knife) before baking helps to control the direction the bread will rise as it bakes, and prevents it from baking into an awkward shape.
Leftover slices can be wrapped individually and stored in the freezer.
Try our recipes for Irish stew, braised cabbage, or colcannon.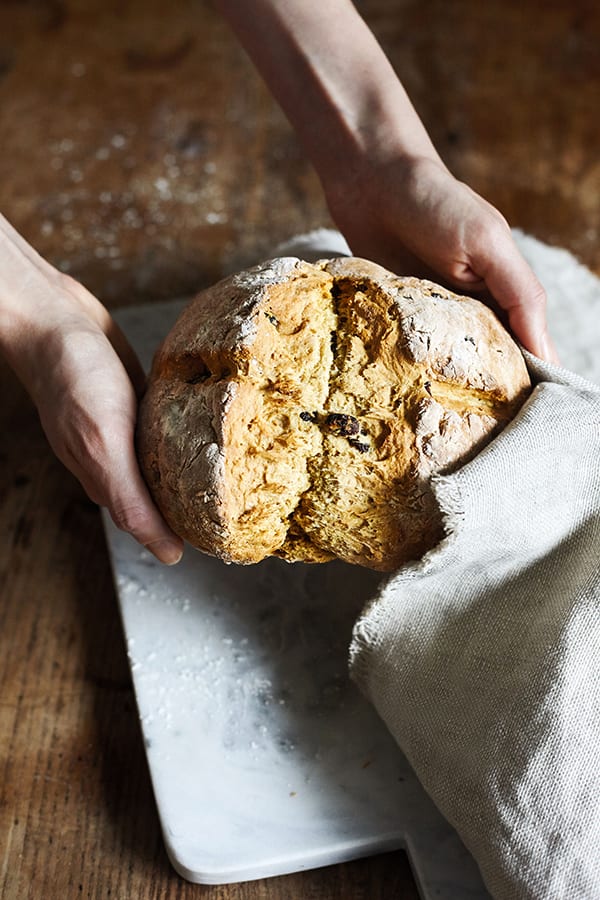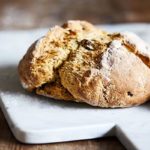 Irish Soda Bread
Irish soda bread might possibly be one of the easiest breads to make at home. It doesn't need any rise time, and is ready in about 40 minutes.
Prep Time 10 mins
Cook Time 30 mins
Total Time 40 mins
Servings 8 servings, 1 slice each
Calories 131 kcal
Ingredients
Parchment paper
½ cup all-purpose flour
1½ cup whole wheat flour
¾ tsp. baking soda
¾ tsp. sea salt (or Himalayan salt)
¾ cup reduced-fat (2%) buttermilk
¼ cup raisins (optional)
Instructions
Preheat oven to 450° F.

Line large baking sheet with parchment paper. Set aside.

Combine all-purpose flour, whole wheat flour, baking soda, and salt in a medium bowl; mix well. Form a well in the middle.

Add buttermilk and raisins (if desired); mix until just blended.

Knead dough 4 to 5 times; add additional flour if dough is too wet. Shape into an 8-inch round loaf.

Place on prepared baking sheet. Cut a ¼-inch deep x in the top.

Bake for 15 minutes. Reduce temperature to 400º F. Do not open oven door. Bake for an additional 15 minutes, or until bread sounds hollow when tapped.

Cool bread for 5 minutes and transfer to wire rack; cool completely.
Nutrition Facts
Irish Soda Bread
Amount Per Serving (1 serving)
Calories 131 Calories from Fat 9
% Daily Value*
Fat 1g2%
Cholesterol 2mg1%
Sodium 353mg15%
Carbohydrates 27g9%
Fiber 3g13%
Sugar 4g4%
Protein 5g10%
* Percent Daily Values are based on a 2000 calorie diet.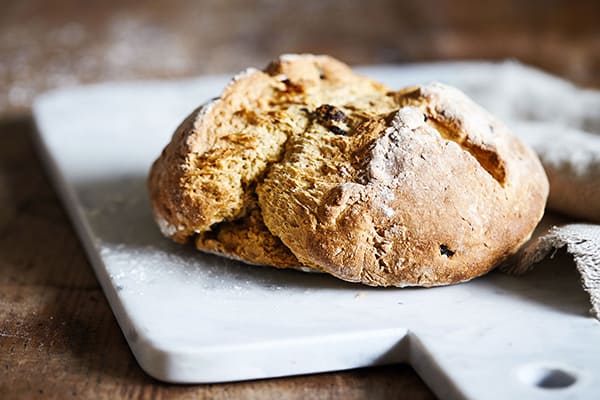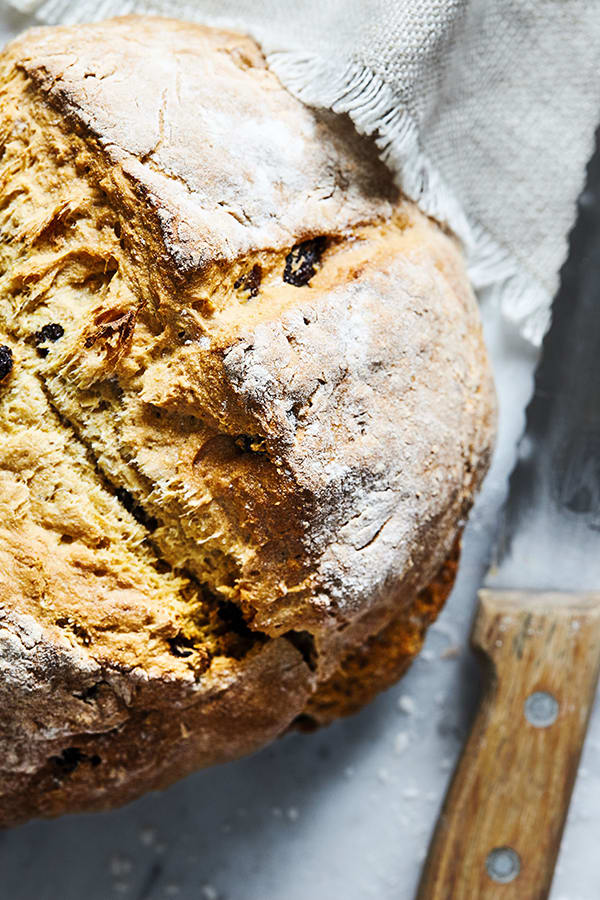 Portion Fix Containers
1½ Yellow
2B Mindset Plate It!
A great FFC as part of breakfast or lunch.
If you have questions about the portions, please click here to post a nutrition question in our forums so our experts can help. Please include a link to the recipe.
Photographs by Anguel Dimov and Brianne B of Natural Girl Modern World