INSANITY: THE ASYLUM Results: Emily Got Shredded in 30 Days!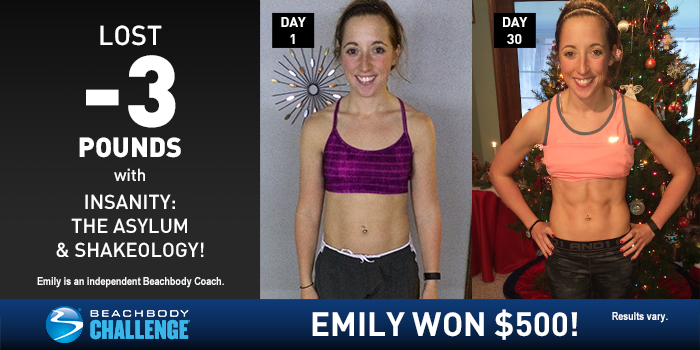 Emily L. lost 3 lbs. and got shredded in 30 days with INSANITY: THE ASYLUM and Shakeology. She entered her results into the Beachbody Challenge, and won the $500 Daily Prize for March 31st!
Tell us about your life before you started the program. How did you feel about yourself and your body?
I felt that I was already in great shape, to be honest. I was eating healthy and going to the gym 1.5–2 hours a day. I was skeptical to start an at-home workout program, because I loved going to the gym and thought working out at home for less time wouldn't give me any results… I was wrong! I spent half the time working out (literally), no travel time to the gym, and continued Shakeology, and I had better results than I have in years — in only 30 days!
What inspired you to change your life and begin your transformation journey?
I knew I needed to be a product of the product and do a Beachbody program the whole way through to be a Coach — this has pushed me in my second month of coaching! Posting that picture gave me my best results yet to gain interest!
What is the greatest challenge you faced before beginning the program? How did the program and Beachbody help you overcome that challenge?
I couldn't run like I used to all the time, because of a hip injury. INSANITY showed me I can be in great shape without running!
What in particular did you like about the program you chose?
Short time, fast-paced, short breaks, and high intensity.
Describe the results you achieved with your Beachbody program. Which achievements are you proud of?
More abs (and we never even did abs in the video!)
How has your life changed since completing your Beachbody program?
I now know that at-home workout programs are legit!
How did a Beachbody supplement, nutritional product, or program (such as Shakeology or Beachbody Ultimate Reset) support your transformation? What are the greatest benefits you gained? Did you see benefits to your energy, sleep, mood/mental clarity, or digestion/regularity?
Shakeology helped me get more toned and control my junk food cravings.
You can change your life, too. Take the Beachbody Challenge for the tools you need to Decide, Commit, and Succeed! Complete any Beachbody program, and enter your results for a free gift and a chance to win cash and prizes.

Results vary depending on starting point, goals, and effort.