INSANITY Results: This Mom Lost Over 100 Pounds!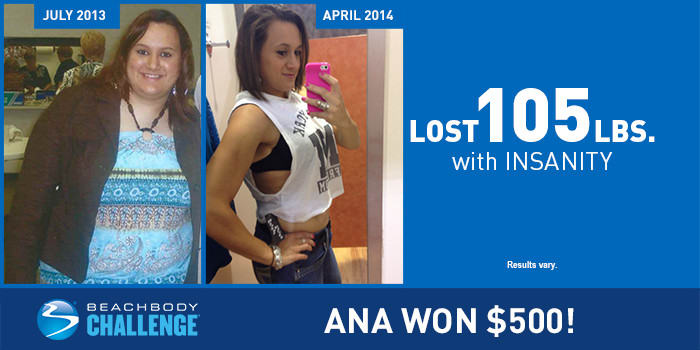 Ana Williams lost 105 lbs. with INSANITY. She entered her results into tThankshe Beachbody Challenge, and won the $500 Daily Prize for December 1st!
Ana is an Independent Beachbody Coach.
Tell us about your life before you started the program. How did you feel about yourself and your body?
Before I started the program, I felt sluggish, had no energy, and was bloated all the time. I felt like I couldn't keep up with my kids, or play with them to make them happy.
What inspired you to change your life and begin your transformation journey?
I had always wanted to lose weight, but it was an on-and-off-again thing. My dad passed away in 2011 from heart failure. He always wanted me to do this, and I thought to myself, if I don't do it now while I am young, I will never do it. I wanted to feel alive, young, and able. I wanted to look athletic, and be healthy for my kids.

What is the greatest challenge you faced before beginning the program? How did the program and Beachbody help you overcome that challenge?
I was teased at school being "the big sister" in the family. I just wanted to feel like I belonged and be comfortable in my skin. One day I just woke up, stopped feeling sorry for myself,  gave it my all, and started INSANITY. I haven't given up since, and will not give up ever.
What in particular did you like about the program you chose?
I liked that INSANITY challenged me. The program uses no equipment — only your body weight, which I loved too.
Describe the results you achieved with your Beachbody program. Which achievements are you proud of?
I am so proud that I lost over 100 lbs. I feel healthier and more alive than ever.
How has your life changed since completing your Beachbody program?
I am active every day. I can play with my kids and not get tired. I want to help people who are trying to be healthier. I love inspiring people and letting them know that it is possible to achieve what you want. It has changed my life for the better.
You can change your life, too. Take the Beachbody Challenge for the tools you need to Decide, Commit, and Succeed! Complete any Beachbody program, and enter your results for a free gift and a chance to win cash and prizes.

*Results vary depending on starting point, goals, and effort.