INSANITY Results: Marek Lost 41 Pounds in Just 60 Days!
Marek de Savigny, age 31, lost 41 lbs in 60 days with INSANITY on Beachbody On Demand, combined with Shakeology and the Beachbody Performance supplements. He entered his results into The Beachbody Challenge® and won $1,000! You can do it too!
On super-sale for a limited time, the Spring Into Health Challenge Pack gives you a year of unlimited access to Beachbody's world-famous programs, including Marek's program of choice (and hundreds more!), plus a 30-day supply of Shakeology, and the support of a Team Beachbody Coach! Don't miss out on this offer! Here's his story in his own words …
Tell us about your life before you started the program. How did you feel about yourself and your body?
Life was busy. Two kids under 4-years-old, and working shift work, made it easy to put health and fitness on shelf. Being busy I never took the time to eat right, and when I did I ate like mad. The was a number of stressful things going on and I always turned to eating as a result. I'd always eat until I felt stuffed which always left me feeling nasty and sick afterwards. I was always tired and uneasy with lots of headaches and digestive issues. Having once been very fit and healthy I hated the way I felt and looked but couldn't get out of the rut. I was embarrassed to play sports and avoided being seen with a shirt off. Something had to change…
What inspired you to change your life and begin your transformation journey?
My wife! I'd had enough of feeling fat, lazy, and awkward. As a firefighter I was ashamed of this road I had fallen down, and knew that I had to do something to be a better husband, father, and firefighter. Peoples lives were relying on my fitness, especially my own. I had watched my wife do PiYo, Country Heat and some other Beachbody workouts and had laughed at her, puzzled at how she can follow a workout like that. She always stood up for her workouts nonetheless. Browsing through her Beachbody On Demand, I came across INSANITY and flipped through a couple videos. My attitude quickly changed and I realized I finally found what I had been looking for in a workout since University volleyball! I instantly got so hooked on the workouts! It was easy to incorporate the 21 Day Fix portion containers into my diet simply because I needed those proper nutrients to get me through the workouts. The journey had been amazing! Constant progression towards my goals!
What is the greatest challenge you faced before beginning the program? How did the program and Beachbody® help you overcome that challenge?
My greatest challenge was finding a place, time and the motivation to push hard and lose weight and get fit. Living in the country and with young kids, spending time away from them going to a gym seemed so selfish to me. Every time I tried to workout previously, I was always craving the intensity of training with teammates as I did playing University volleyball. INSANITY through Beachbody On Demand honestly solved all those problems. Every workout made me feel as though I was surrounded by others pushing me to go harder. Shaun T up close and personal really drives you to do your best. Best of all, I could do it at home, with my kids watching. Showing them the importance of being active. Plus I had two little waterboys/girls! I wouldn't have it any other way!
What in particular did you like about the program you chose?
I really liked the intensity. I would be sweating profusely before the warm up stretching! I like the time given for proper stretching. Aside from a cold, the stretching kept me injury free the entire duration of the program. I also liked how every single workout was extremely challenging. There wasn't a day where I was able to just coast through the workout.
Describe the results you achieved with your Beachbody program. Which achievements are you proud of?
I can't believe I was able burn off 41 lbs so fast! I'm ashamed to have had that much to burn, but hey, its gone! I wanted to be able to keep up the people in the workout by the end and for the most part can outdo them now. My flexibility has never been this good as well. I would have to say I'm most proud of how I look now with a shirt off. I haven't looked like this in 12 years, and honestly never thought I would ever again!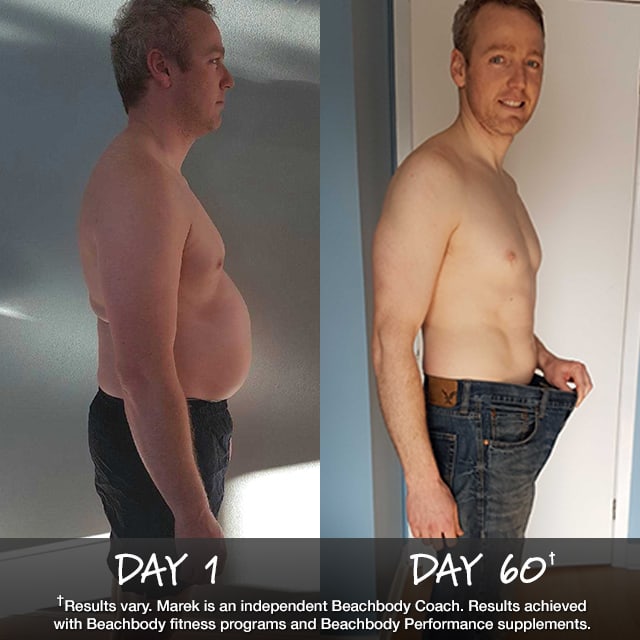 How has your life changed since completing your Beachbody program?
It feels as though I've been able to reset my life back to where it needed to be. I feel great! My wife says I look great! I feel like younger and better able to be an active fun dad for my kids. I've regained my confidence and self esteem and, most of all, I feel healthy! I'm no longer feel lethargic after eating and no more digestive issues! That there gives you so much freedom! I'm so glad I found this program and stuck with it. It wasn't easy, but the change I've experienced has turned my life around! Thanks!
How did participating in a Challenge Group help you reach your goals? How did your group support you and keep you accountable?
It was great to see and hear of everyone going through the same thing as me day in day out. Change isn't easy, but when you have a lot of people kicking you're behind, anything is possible!
How did your Team Beachbody® Coach support you on your journey?
Natalie was a great help with the diet aspect of the program. She helped me find and stick to a good healthy meal plan. I always thought dieting was more starvation, but she set me up with delicious, nutritious meals that kept me going strong. And, I never went hungry! Ever!
How did a Beachbody Supplement or Nutritional Product or Program (such as Shakeology® or Beachbody Ultimate Reset®) support your transformation? What are the greatest benefits you gained? Did you see benefits to your energy, sleep, mood/mental clarity, digestion/regularity?
Ive been using Shakeology everyday. I used it in between meals and loved it. It quickly became my treat for the day which, as a bonus, does me some real good. I'd say because of it I never craved sweets which for me was kinda a big thing to stop eating.2 I also found Energize during my workouts gave me that extra mental boost to push myself harder. Having felt the crash before in sports and working out, I never once had that through the INSANITY workouts. They are super intense so I should have crashed but I feel energize helped keep me going. I also became hooked on Recover instantly. For a protein recovery drink, it is extremely delicious and easy to drink. My weak-ish stomach never had a problem with it.
Tell us about your experience with Beachbody On Demand. If applicable, how has it helped you achieve your goals?
I can't say enough good things about! Throughout the program, we traveled away from home quite often. I never had to worry about missing a workout because I'd download the workouts I needed onto the iPad and play it through whatever TV, wherever I ended up. I'd even put it on at the fire station and instantly had all 7 guys on shift join in with me on the workouts. On Demand gave me constant access, anywhere I was. I could never use the excuse of being away from a gym or whatever. I loved it all and can't wait to jump into the next program! Thanks Beachbody!
You can change your life, too. Take the Beachbody Challenge for the tools you need to Decide, Commit, and Succeed! Complete any Beachbody program, and enter your results for a free gift and a chance to win cash and prizes. What program are you committing to next?

†Results vary depending on starting point, goals, and effort.
2These statements have not been evaluated by the Food and Drug Administration. This product is not intended to diagnose, treat, cure, or prevent any disease.