INSANITY Results: Erica Lost 20 Pounds in 60 Days!
Erica Johnson lost 20 lbs. in 60 days with INSANITY. She entered her results into the Beachbody Challenge, and won the $500 Daily Prize for October 23rd!
Tell us about your life before you started the program. How did you feel about yourself and your body?
Growing up I was active and had a fast metabolism. I was a figure skater and loved to work out. I joined the military at age 20, served four years active duty, and continued living a fit, healthy lifestyle. Once I got married, I was always on-the-go and would eat on the run, which usually meant fast food. I gained 10 pounds, but because I was so in shape, people told me I looked more healthy with the added weight. Then I got pregnant and gained 50 pounds! Some of the weight shed with no trouble, but the last 20 pounds didn't want to budge. By starting "mommy and me" workouts twice a week, and watching what I was eating, I was able to lose 15 pounds, but I still didn't feel comfortable with my new body. I got pregnant again when my son was only eight months old and gained another 50 pounds! This time I was determined to get all the extra weight off, because I didn't only have trouble looking in the mirror — I hated seeing myself in pictures.
What inspired you to change your life and begin your transformation journey?
I hated the way I looked in the mirror and in pictures. I needed more energy with two babies 16 months apart in age. I kept hearing that once you are a mom, your body will never be the same. So I just embraced it, but I couldn't and just didn't feel good about how I looked.
What is the greatest challenge you faced before beginning the program? How did the program and Beachbody help you overcome that challenge?
My energy was extremely low, and I was having bad stomachaches from a poor diet. I didn't have much energy to get motivated to work out, but the Challenge Groups helped me to just go for it and give it all I have. As I got into the program, I started to have more and more energy, which motivated me to keep pushing play.
What in particular did you like about the program you chose?
Shaun T was a great motivator and results happened quickly, which kept me motivated to continue! I also really liked that I did not need any additional equipment.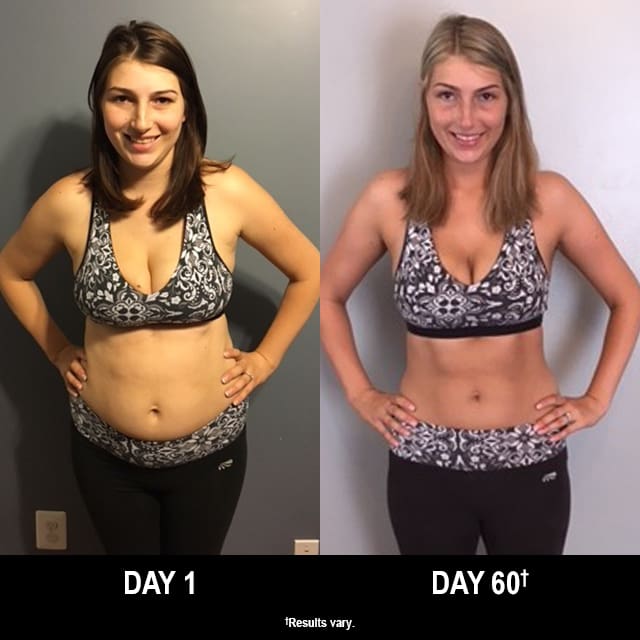 Describe the results you achieved with your Beachbody program. Which achievements are you proud of?
I am only six pounds away from my pre-pregnancy weight, and only eight pounds from my goal weight. I have lost 20 inches overall, and I fit into clothes I haven't been able to since before getting pregnant with my son. The "result" I am most proud of is that over that last couple of months my son watched my husband and I work out together every night, and he would know when we got our workout clothes on what was about to happen. He would run to the TV and shout "Let's go!" He is not even two yet, but he was influenced by our lifestyle choice to work out and eat healthy, and that makes me the most proud, even over the amazing physical results I achieved!
How has your life changed since completing your Beachbody program?
My husband and son eat healthy and work out with me, and I have tons of energy to take care of two babies under two years old. I look good, feel great, and have decided to work out throughout my next pregnancy and to keep a healthy diet so I hopefully won't deal with high blood pressure or pre-term labor again!
How did participating in a Challenge Group help you reach your goals? How did your group support you and keep you accountable?
It helped motivate me when I wasn't feeling like I had the energy to work out and helped me when I started having knee trouble!
How did your Team Beachbody Coach support you on your journey?
She kept checking in on me often and motivated me in Challenge Groups.
You can change your life, too. Take the Beachbody Challenge for the tools you need to Decide, Commit, and Succeed! Complete any Beachbody program, and enter your results for a free gift and a chance to win cash and prizes. What program are you committing to next?

†Results vary depending on starting point and effort.