INSANITY MAX:30 Results: Jesse Lost 44 Pounds!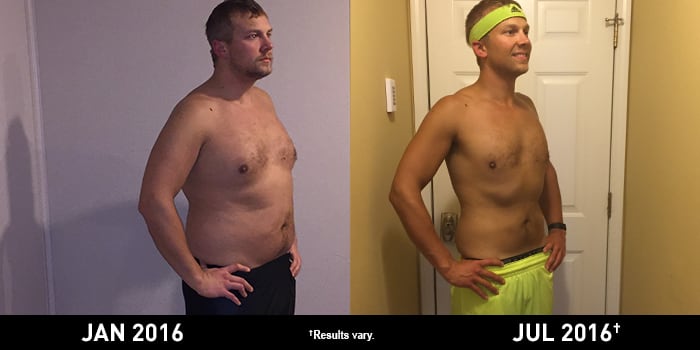 Jesse Gelbaugh lost 44 lbs. with INSANITY MAX:30. He entered his results into the Beachbody Challenge, and won the $500 Daily Prize for October 8th!
Tell us about your life before you started the program. How did you feel about yourself and your body?
My weight has always been up and down. I looked in the mirror around the holidays and was really disappointed with what I saw. I realized it was time to make a change. I was always chubby as a kid, and in high school, I lost around 30 pounds and gained all sorts of confidence. During college, I gained the weight back and then some. Since I have been out of college, my weight has been up and down. I wanted to get that confidence in my body that I once had back and keep it there.
What inspired you to change your life and begin your transformation journey?
I wanted to finally complete a Beachbody program. I have started several, but due to work trips and vacations, I have never finished one start to finish. I was ready to do it for myself and get a shirt that shows how hard I worked. I wanted to get healthy and stay healthy. I realized it was time for a lifestyle change — not a few months of diet and exercise so I can go back to the way I was again. It was time to make a permanent change.
What is the greatest challenge you faced before beginning the program? How did the program and Beachbody help you overcome that challenge?
Completing a challenge. I have done INSANITY and FOCUS T25, and got close to finishing both but never completed either. I was ready to finally say I finished a program start to finish and see the change. Taking pictures daily and weekly really helped me keep going, because I could see the change over time and it kept me motivated to keep going! Shaun T is inspiring and encouraging during the videos. He is tough on you but gives you encouragement along the way to keep you going. The idea of maxing out is great; it gives you a goal each time you do the workouts!
What in particular did you like about the program you chose?
I got great results in 30–45 minutes a day. I work a lot of hours so I needed a program that didn't require a lot of time to complete each day. I don't have motivation usually after work to exercise, so I wanted to do it in the morning. I wanted a program that gave me the "best bang for my buck" when it came to time so that I could still get as much sleep as possible.
Describe the results you achieved with your Beachbody program. Which achievements are you proud of?
I am most proud of never missing a day. With previous programs, I would miss a day because I was tired. No matter what, I got up at 3:30 a.m. every day, did my workout, and managed to make it to work by 5:30 every day. I even made it through the first week when I had a terrible head cold, which made it very tough to do. The results have been great. I am seeing a better me in the mirror. The weekly pictures really show the change in my body. I am seeing definition where I once saw fat. I get compliments all the time on how great I look and how well I've done so far. I am proud to show people my transformation photos and encourage them to do the same.
How has your life changed since completing your Beachbody program?
I am more confident in my body, and am motivated to keep going and make myself better! I have now completed two rounds of INSANITY MAX:30, and am going after my third! I completed my first 5k in late April without training. I was amazed at my stamina for running just from doing INSANITY. I completed the race in 32:10, which was a lot better than I thought I would do. Since then, I have added running to my life and am participating in several more races this summer. I am also now training for a Tough Mudder race in September. I never in my life thought I would attempt one of those races. The program has given me confidence that I can do anything I put my mind to!
How did your Team Beachbody Coach support you on your journey?
She gave me support and advice when I needed it. She would check in with me on how I was doing and commend me on my progress throughout the journey.
How did a Beachbody supplement, nutritional product, or program (such as Shakeology or Beachbody Ultimate Reset) support your transformation? What are the greatest benefits you gained? Did you see benefits to your energy, sleep, mood/mental clarity, or digestion/regularity?
It helped give me energy and made me feel good after all my workouts. I don't sleep a lot during the week and yet with Shakeology, I rarely feel tired. It has helped keep me regular too.2
How did a Beachbody supplement, nutritional product, or program affect any existing health conditions you have?
My blood pressure improved and my resting heart rate came down.2 With the proper diet, including Shakeology and exercise, I have not experienced heartburn at all anymore.2 I used to get it a few times a week.
You can change your life, too. Take the Beachbody Challenge for the tools you need to Decide, Commit, and Succeed! Complete any Beachbody program, and enter your results for a free gift and a chance to win cash and prizes. What program are you committing to next?

†Results vary depending on starting point and effort.
2These statements have not been evaluated by the Food and Drug Administration. This product is not intended to diagnose, treat, cure, or prevent any disease.