"INSANITY MAX:30 is Making Me Feel Just Great!"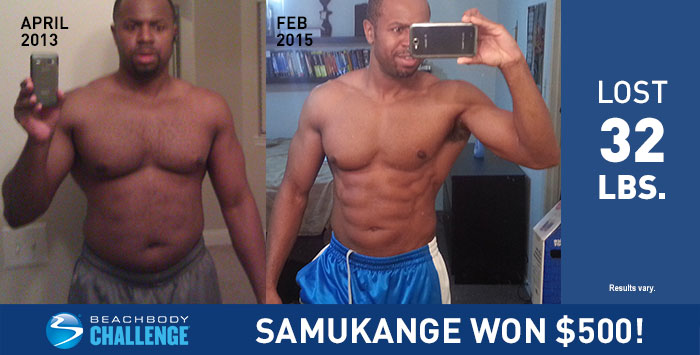 †Results vary depending on starting point and effort. Samukange is an independent Beachbody Coach.
Meet Samukange N. He lost 32 lbs in with INSANITY and INSANITY MAX:30. He entered his results into The Beachbody Challenge, and won the $500 Daily Prize for April 15th!
Tell us about your life before you started the program. How did you feel about yourself and your body?
This is my second program. I have done INSANITY and now completing INSANITY MAX:30 is making me feel just greeeeeatt! I have kept myself in shape since INSANITY and don't have any intentions on going in reverse. I love my body and how I am feeling.

What inspired you to change your life and begin your transformation journey?
Shaun T inspired me, and is continuing to inspire me to be better and to do better!
What is the greatest challenge you faced before beginning the program? How did the program and Beachbody® help you overcome that challenge?
Aside from getting up in the morning, I really didn't face any challenges (well the actual program), but I got it done.
What in particular did you like about the program you chose?
The creativity and intensity.

Describe the results you achieved with your Beachbody program. Which achievements are you proud of?
I reduced my body fat; though I haven't gotten it checked, my legs have gotten smaller, but I can still squat the same amount of weight in the gym. I am stoked about that.
How has your life changed since completing your Beachbody program?
I am sharing my life more now than I have ever done in the past. That is helping to motivate others to do better and I am loving that!
How did participating in a Challenge Group help you reach your goals? How did your group support you and keep you accountable?
I started my Challenge Group, and, by being the leader, I knew I had a certain obligation to myself and to others to succeed and keep pushing play.

How did a Beachbody Supplement or Nutritional Product or Program (such as Shakeology® or Beachbody Ultimate Reset®) support your transformation? What are the greatest benefits you gained? Did you see benefits to your energy, sleep, mood/mental clarity, digestion/regularity?
Shakeology is amazing! Tastes great and helps with my digestion and cleansing. I would say the regularity is the most beneficial.2
You can change your life, too. Take the Beachbody Challenge for the tools you need to Decide, Commit, and Succeed! Complete any Beachbody program, and enter your results for a free gift and a chance to win cash and prizes.

2These statements have not been evaluated by the Food and Drug Administration. This product is not intended to diagnose, treat, cure, or prevent any disease.