"INSANITY Is Just Insane. I Love It!"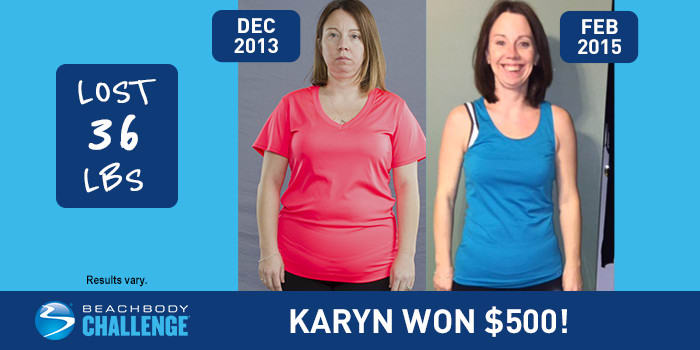 †Results vary depending on starting point and effort.
Meet Karyn M. She lost 36 lbs with Slim in 6, INSANITY, 21 Day Fix, and FOCUS T25. She entered her results into The Beachbody Challenge, and won the $500 Daily Prize for July 11th!
Tell us about your life before you started the program. How did you feel about yourself and your body?
Before I started, I was fatigued the majority of the time and even if I was up doing things the thought of getting back in the bed was what constantly played in my mind. I was also starting to have some issues with my sugars and cholesterol, which was making me feel fluttery and my heart was racing at times. This was concerning to me because my family has cholesterol issues as well as diabetes runs in my family. My clothes were also no longer fitting me properly especially my undergarments, and I knew something needed to change because I had even tried to go out and find new ones that fit and nothing was working even the larger sizes were uncomfortable.
What inspired you to change your life and begin your transformation journey?
I saw the transformation of my friend who was doing the program and asked her about how she was losing the weight. She shared what she was doing as well as changing her nutrition, and I thought I could do this as I just could not take looking and feeling the way I did anymore. The biggest influence for me was looking back at what I was doing at Thanksgiving and Christmas 2013, watching myself stand in the kitchen area wanting to shove everything in my mouth and eat the last bite of whatever tasty I could find. I knew at that moment I had a problem with food.
What is the greatest challenge you faced before beginning the program? How did the program and Beachbody® help you overcome that challenge?
The greatest challenge before beginning the program was the constant over eating and never feeling satisfied. I was always craving more. The program and Beachbody helped me over come this by actually changing the times I was eating the foods as well as getting away from the fat salty fried foods that I thought my body was constantly craving. By working through the program I was able to increase my energy levels and I started to see a change with in the first week of my body shape. I was very excited and loved the ease of exercising. With Slim in 6, I had never before found a program where the exercises were easy to complete and follow along. It took some time to get each of the moves and get past doing them with the modifier, but I enjoyed the quick time in them. In 21 Day Fix I enjoyed the 1 minute intervals for each exercise. INSANITY is just insane,; I love it! I don't like the jumping, but I love the way I feel! T25 it gave me endurance I never thought I had in my life.
What in particular did you like about the program you chose?
In Slim in 6, I liked that Debbie was easy to follow along with and she gave specific details on how to do the moves. She was not too fast paced on the first DVD, so you could follow along, and as the DVDs progressed so did her pace which was the best for me. I have also completed the 21 Day Fix program and currently working through the INSANITY program. I am loving everything I have been doing in these programs. They motivate and strengthen me each and every day. INSANITY has been the most recent program and I am loving it even the hour long program is not as bad as I would have thought. In FOCUS T25 I have enjoyed that Shaun T is tough enough, but has the modifier to keep you going even if you cannot do the intense moves. I also like the intensity of the workout and feeling like I worked everything. I really loved the Beta portion of this program.
Describe the results you achieved with your Beachbody program. Which achievements are you proud of?
I am proud of every achievement through this. I am currently in a size I have never been in my entire life seen. I feel comfortable again my undergarments, and I am getting compliments from others where I can encourage them to do the same. Nothing is impossible I know now with eating properly and getting a healthy dose of exercise. I am also starting to see abs that I never remember seeing before.
How has your life changed since completing your Beachbody program?
It is like a night and day experience. I am no longer grumpy and quick to snap at my husband and daughter. I let things that used to irritate me just fall off my shoulders. I am seeing parts of me that I have never in my life seen and it is so encouraging to myself and others. My life has dramatically changed in that I am feeling more confident about myself and proud of the way I look rather than hiding in clothes that are big to hide the way I feel.
How did participating in a Challenge Group help you reach your goals? How did your group support you and keep you accountable?
This Group helped me changing my thinking back to the way it was in the beginning of 2014 when I first started my journey.
How did your Team Beachbody® Coach support you on your journey?
She's been Coaching along-side of me every day. She checks on me with texts messages and we see each other on a pretty regular basis.
How did a Beachbody Supplement or Nutritional Product or Program (such as Shakeology® or Beachbody Ultimate Reset®) support your transformation? What are the greatest benefits you gained? Did you see benefits to your energy, sleep, mood/mental clarity, digestion/regularity?
I used some E&E during the times when I was lethargic and not really wanting to do my exercise and I can tell it pushed me.2
You can change your life, too. Take the Beachbody Challenge for the tools you need to Decide, Commit, and Succeed! Complete any Beachbody program, and enter your results for a free gift and a chance to win cash and prizes.

2These statements have not been evaluated by the Food and Drug Administration. This product is not intended to diagnose, treat, cure, or prevent any disease.