"I'm So Thankful For All That P90X3 and Shakeology Have Done For Me!"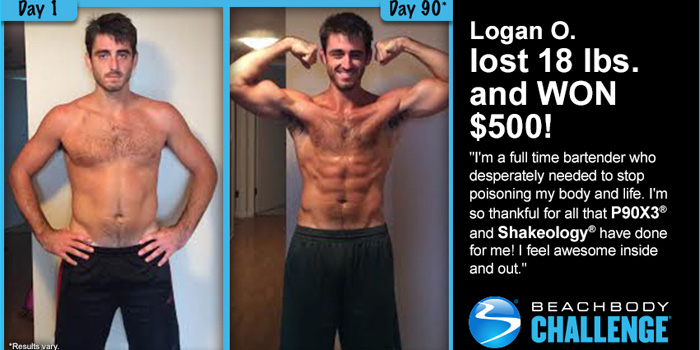 †Results vary depending on starting point and effort. Logan is an independent Beachbody Coach.
Meet Logan O. He participated in The Beachbody Challenge® and won the $500 Daily Prize for January 30th!
Tell us about your life before you started the program. How did you feel about yourself and your body?
I'm a full-time bartender who desperately needed to stop poisoning my body and life. My body felt awful, and I felt absolutely terrible about who I was. I thought my days of being healthy could never come back, and I had started to accept that mindset.
What inspired you to change your life and begin your transformation journey?
My girlfriend and Coach, Heather Showalter, said "Hey, I think you would really enjoy P90X3. The program is getting some great reviews, and some of the results are incredible." I looked at some of the transformation pics and decided that I was going to transform my life and be a success story. From that point forward, there has been no looking back!
What is the greatest challenge you faced before beginning the program? How did the program and Beachbody® help you overcome that challenge?
My greatest challenge was believing I could excel at a high-performance level and do exercises that new and challenging. I was a little worried at the end of block 1, but when I saw my 30-day pics, it gave me that boost to keep going. By block 2, and especially block 3, I felt very strong, especially mentally, to push through the 30 minutes and really get the most out of every moment of the X3 program. Beachbody has helped me get into the best physical and mental shape of my life. I'm so thankful for all that P90X3 and Shakeology have done for me!
What in particular did you like about the program you chose?
I liked the variations in exercises and the entire routine. I think the workouts were very well laid out. When I'm ready to push it hard the workouts are challenging, and when I need the rest, I get it. Tony Horton's humor helped keep me push through, and I liked the guests on the program as well. It's great to see all the different people from different walks of life. I feel like a lot of them are my friends, even though they don't know me — kinda weird I know, but I have spent the last 90 days with this crew 🙂 and will be spending hundreds more with them!
Describe the results you achieved with your Beachbody program. Which achievements are you proud of?
Like I said before, the mental strength I gained is probably the biggest achievement. Committing and sticking to this program really helped me believe in myself. The physical results have blown my mind. I'm just so happy that I'm in the best shape of my life. I feel awesome inside and out.
How has your life changed since completing your Beachbody program?
I'm much more confident, and I feel healthy for the first time since I can remember. I didn't realize how badly my body was suffering from lack of proper care and maintenance. Now, I realize that I have a lot worth living for, and I'm ready to go out and get it! In general, I am much happier and pro-active, my life has taken a turn for the better thanks to this program. I have my life back. 🙂
How did Shakeology® or Beachbody Ultimate Reset® support your transformation?
Shakeology and Results and Recovery have totally changed how I feel and perform. I'm hypoglycemic.1 So for the first time ever, I'm actually able to drink a supplement that doesn't make me crash and feel worse than I did before I drank it. I have so much energy, and my muscles feel nourished and rested when I wake up each day. I know the program was the foundation, but without the Shakeology and R&R, I wouldn't have had the fuel I needed to get the most out of my transformation.
You can change your life too. Take the Beachbody Challenge for the tools you need to Decide, Commit, and Succeed. Complete any Beachbody program, and enter your results for a free shirt and a chance to win cash & prizes.
1Always consult with your physician about your unique medical needs before commencing any fitness program or nutritional product.