"I'm Healthy and I Look Good"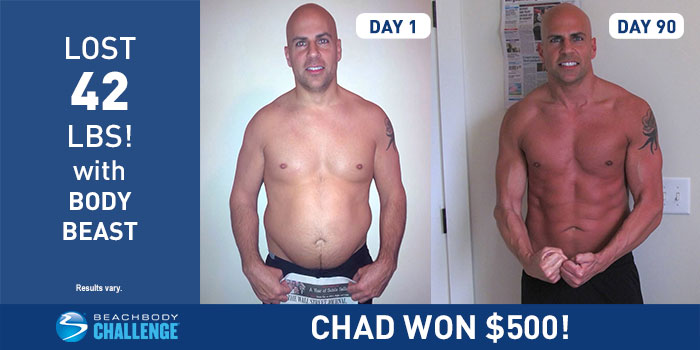 †Results vary depending on starting point and effort. Chad is an independent Beachbody Coach.
Meet Chad P. He lost 42 lbs in 90 days with Body Beast. He entered his results into The Beachbody Challenge, and won the $500 Daily Prize for May 13th!
Tell us about your life before you started the program. How did you feel about yourself and your body?
I work 50-60 hours per week and that is not counting the phone calls, e-mails, and texts I handle during my off hours. Between work, staying connected to work, and trying to remain balanced with good quality-time with the family, I was left with little time to spend on diet and exercise. My cardiovascular conditioning was terrible. I'd wheeze if I tried to do anything to strenuous. I'd sweat easy. I had high cholesterol and blood pressure.1 I was embarrassed by my body too: I would "blouse-out" my dress shirts to help mask the belly-over-the-belt spill; I learned how to breathe while sucking in the gut when I needed to, and even shirtless in my own home I'd cover my belly with a pillow or my arms when sitting down, so I could hide how bad I probably looked.
What inspired you to change your life and begin your transformation journey?
My wife took pictures of my girls at the beach, with me in the background. When going though those pictures I was so embarrassed by my shirtless-physique that I deleted perfectly good photos of my children. Things had to change. I knew for a long time that I needed to get healthier, but that big moment that made me decide to actually do it.
What is the greatest challenge you faced before beginning the program? How did the program and Beachbody® help you overcome that challenge?
Finding time to dedicate to an exercise program and diet was the biggest challenge. When something is important to you, you make the time. Beachbody has many programs that cater to folks that have time-constraints. We all have busy lifestyles and time is important. I picked a program that I thought would work best for me and my goals and the workouts took 30-40 minutes out of my day.
What in particular did you like about the program you chose?
I liked resistance-training being the centerpiece of the program. I enjoy resistance-training because I could see improvement in the amount of resistance(weight) I could use, the amount of reputations I could do with a certain weight, and most importantly I could see improvements in my physique.
Describe the results you achieved with your Beachbody program. Which achievements are you proud of?
I went from 231lbs to 189lbs in 90-days. I hadn't been below 200lbs since age 17—so I erased 22-years of what gluttonous eating did to my body in just 90 days.
How has your life changed since completing your Beachbody program?
I don't snore anymore. I don't sweat as easy. I feel more confident about myself. I have lots of energy. I can actually run without wheezing. To sum it up in a short sentence: I'm healthy and I look good.
You can change your life, too. Take the Beachbody Challenge for the tools you need to Decide, Commit, and Succeed! Complete any Beachbody program, and enter your results for a free gift and a chance to win cash and prizes.

1Always consult with your physician about your unique medical needs before commencing any fitness program or nutritional product.