"I'm Healthier, Faster, and Stronger"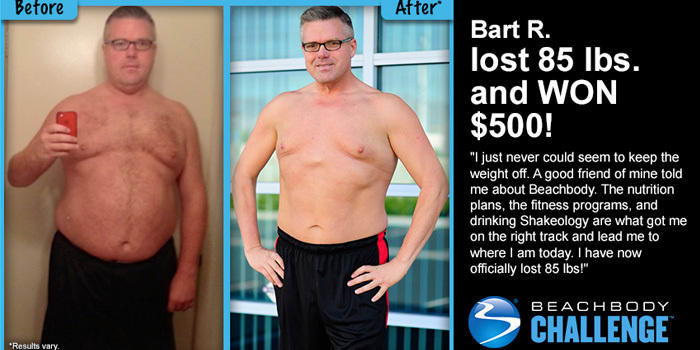 †Results vary depending on starting point and effort. Bart is an independent Beachbody Coach.
Meet Bart R.! He participated in The Beachbody Challenge and won the $500 Daily Prize for September 16th!
Tell us about your life before you started the program. How did you feel about yourself and your body?
For over 47 years, I have lived my life dealing with weight issues. It was a miserable never-ending cycle. This cycle crushed my confidence and self-worth as a teenager and young man. However, over the years, through personal development, I was able to overcome my self-esteem issues by basically accepting who I was, a fat, positive, happy man. I had it in my mind that is who I would always be.
What inspired you to change your life and begin your transformation journey?
My biggest inspiration stems from the death of my mom at the early age of 73, and the rapid decline of my father's health. My mom had always struggled with weight issues. We were on a never-ending cycle of diets, and we both yo yo'd over the years. In 2000, she was at her heaviest. That's when her serious health problems started to occur. Over the next five years, I saw her deteriorate in front of my eyes. I knew if I didn't take action, I would quickly head down the same path.
What is the greatest challenge you faced before beginning the program? How did the program and Beachbody® help you overcome that challenge?
The biggest challenge I had faced before beginning my program was not having a clue which path to take to proper nutrition and fitness. I always had an idea of how to eat healthy, but no matter how many shakes and salads I ate, I just never could seem to keep the weight off. A good friend of mine told me about his involvement with Beachbody and all the tools and that it provided. The nutrition plans, recipes, variations of the fitness programs, and starting to drink Shakeology is what got me on the right track and lead me to where I am today.
Describe the results you achieved with your Beachbody program. Which achievements are you proud of?
There are many aspects I'm proud of. First, is my physical appearance. When I dropped my first 25 pounds, it was very satisfying. As time went on, I continued to lose weight by incorporating light exercises and nutrition with Shakeology. I can do things I never dreamed possible like running a 5k, then a 10k, and being able to do pushups and burpees! I have now officially lost 85 lbs since starting my journey. To celebrate my success, I'm starting my first official 90 day run of P90X. I can only imagine the heights that this program will take me to over the next 90 days. Though I have learned it's not all about the weight loss, it's more about becoming healthy, I am just 15 lbs away from hitting 100 pounds. I'm not stopping there!
How has your life changed since completing your Beachbody program?
Wow…let me count the ways. First, over the past few months, I made the decision to dedicate my life to helping other change their lives through fitness and exercises as a Beachbody Coach. Secondly, I'm healthier, faster, and stronger than at anytime in my life. Thirdly, you have no idea how good it makes me feel to have so many friends, family, and people I don't even know on Facebook reach out to me almost on a daily basis to let me know what an inspiration I've been to them personally. But, something that means the most to me is the look in my father's eyes and the proud tone in his voice when he tells me how proud he is of me for making such an incredible positive change in my life. You have no idea how much this means to me.
You can change your life, too. Take the Beachbody Challenge, for the ultimate motivation to get fit! Select any Beachbody program and once you complete it, share your results for your chance to win cash and prizes.