"I'm Actually Enjoying the Life I Live!"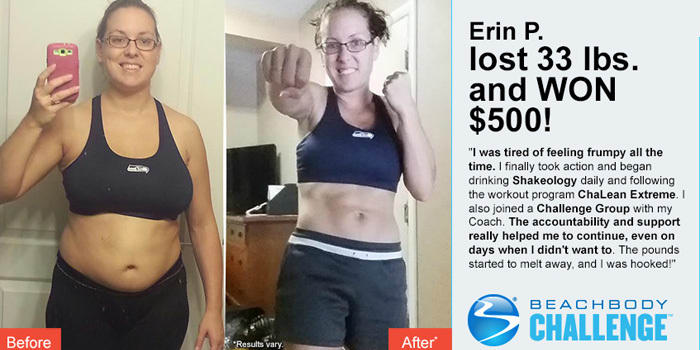 †Results vary depending on starting point and effort. Erin is an independent Beachbody Coach.
Meet Erin P.! She participated in The Beachbody Challenge and won the $500 Daily Prize for September 25th!
Tell us about your life before you started the program. How did you feel about yourself and your body?
I had every intention of getting in shape and looking good again. I had given birth to my second child in August of 2013 and was tired of feeling frumpy all of the time. I wasn't working, and staying home with my kids left me feeling tired and lazy all day. It was hard for me to get up out of bed and actually do things with them. Once I was up and moving I was alright but getting up was so hard. If I sat back down or took a nap, I was done for the day. My poor daughter was three years old and getting up to do anything with her felt like the biggest chore in the world. Unfortunately, it wasn't until February of 2014 that I actually took action and made the decision to commit myself to a program. That's when I began my road to success.
What inspired you to change your life and begin your transformation journey?
I knew that if I was going to be working all night and taking care of my children during the day that I needed to get myself together and get in shape. I needed to have a healthy mind and body. That's when I took action, began drinking Shakeology daily, and followed ChaLEAN Extreme. I also joined a challenge group with my Coach, Jenna Curran. The accountability and support really helped me to continue even on days when I didn't want to. The pounds started to melt away. I started to tone up. I was hooked.
What is the greatest challenge you faced before beginning the program? How did the program and Beachbody® help you overcome that challenge?
The greatest challenge I faced before starting the program was simply getting up and getting moving. Not going to work during the day made it easy to sit around and do nothing. After starting a workout regime, I knew what it was like to be productive and how good it felt to get things accomplished. I get myself up every day and do my exercises. My daughter loves to do them with me and helps to keep me accountable. I feel so much better knowing that I'm setting good examples for my children and truly being the best mom I can be. Beachbody has helped me to give 100% effort to my kids. People ask me all the time how I work nights and take care of my kids during the day. I tell them honestly that it's because I exercise and drink Shakeology.
Describe the results you achieved with your Beachbody program. Which achievements are you proud of?
Physically, I've lost 33 pounds and went from wearing a size 9 to a size 4. I've always had pretty strong and muscular legs, but using ChaLEAN Extreme has helped me build muscle in my arms as well. I can do real push-ups, not the modified version!!
How has your life changed since completing your Beachbody program?
I'm no longer afraid to go shopping for clothes or to get into a swimsuit. My self-confidence has risen. I no longer worry about what I look like. The biggest, most important change is that I am much more active with my children and in my day-to-day activities. I'm actually enjoying the life I live!
You can change your life, too. Take the Beachbody Challenge, for the ultimate motivation to get fit! Select any Beachbody program and once you complete it, share your results for your chance to win cash and prizes.