I Won $500 for Losing 47 Pounds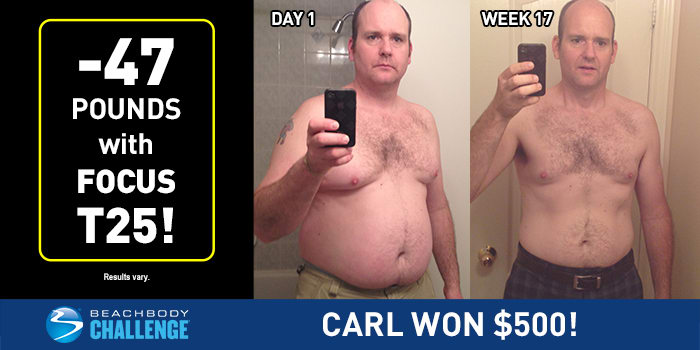 Carl B. lost 47 lbs. in 17 weeks with FOCUS T25. He entered his results into The Beachbody Challenge, and won the $500 Daily Prize for October 6th!
Tell us about your life before you started the program. How did you feel about yourself and your body?
I am a 40-year-old father of two children. I lead a fast-paced and hectic lifestyle. Before starting the program, my food choices were poor and exercise in my life was nonexistent. I suffered from chronic health and joint issues directly resulting from my obesity. My blood work during my most recent medical exam indicated I was pre-diabetic. I was encouraged to reduce my alcohol, sugar, and processed carbohydrate intake; otherwise, my condition was going to worsen. I truly hated the person I saw in the mirror every single day.
What inspired you to change your life and begin your transformation journey?
My family. My obesity hindered me from being an active participant in my children's lives. I wanted to change to become a positive physical role model for my children and to be able to engage physically with them in their extracurricular activities.
What is the greatest challenge you faced before beginning the program? How did the program and Beachbody help you overcome that challenge?
The greatest challenge I faced prior to the start of the program was not knowing how to reach my desired destination. If I wanted to make a positive change, I realized that I had to change multiple aspects of my life. I was certain I did not have enough time in my life to work out. Beachbody provided me with a workout program that only required 30 minutes of my time. My diet was horrible, and I did not know how to correct it. Beachbody provided me with a comprehensive nutrition guide. At the onset of the program, I was overwhelmed, lost in the workouts, and discouraged. Beachbody provided me with a personal Coach who taught me, motivated me, and kept me accountable.
What in particular did you like about the program you chose?
I liked the time requirement. I was easily able to find 30 minutes a day to work out. I liked the fact that I could do it within the comfort of my own home.
Describe the results you achieved with your Beachbody program. Which achievements are you proud of?
In only four months, T25 has changed me physically, mentally, and emotionally. My initial goal was to lose 50 lbs. by the end of the year. I have nearly reached my weight-loss target in half of the anticipated time.
How has your life changed since completing your Beachbody program?
I have lost 47 lbs. The chronic joint pains that I suffered from have all but vanished. My blood work has returned normal. I can engage my children in their extracurricular activities. My wife has quit the gym and we work out together.
How did participating in a Challenge Group help you reach your goals? How did your group support you and keep you accountable?
The Challenge Group was composed of real life people that share the real life struggles that I face on a daily basis. The group members constantly kept me motivated, engaged, and accountable.
How did your Team Beachbody Coach support you on your journey?
My Coach motivated me constantly. When I thought I couldn't succeed, he was there to pick me up and keep me going. He provided me with all the information and tools to make me successful.
You can change your life, too. Take the Beachbody Challenge for the tools you need to Decide, Commit, and Succeed! Complete any Beachbody program, and enter your results for a free gift and a chance to win cash and prizes.

*Carl B. is an Independent Beachbody Coach. Results vary depending on starting point, goals, and effort.