"I Was Ready for Abs and Muscle!"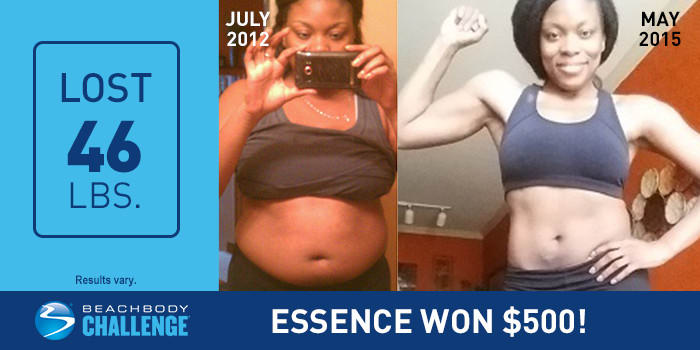 †Results vary depending on starting point and effort. Essence is an independent Beachbody Coach.
Meet Essence W. She lost 46 lbs with 21 Day Fix EXTREME and Turbo Kick. She entered her results into The Beachbody Challenge, and won the $500 Daily Prize for July 27th!
Tell us about your life before you started the program. How did you feel about yourself and your body?
Before I started the 21 Day Fix EXTREME, I was already deeply into fitness with Turbo Kick and other Beachbody programs throughout the week. However, I felt like my body needed a change. It was like I had adapted to this routine that my body was used to, and not forming how I wanted it to look. I have loved the way I have felt due to losing 50lbs with Turbo Kick over the last 3 years (now called TurboFire). I loved the weight loss journey I was on. However, now that I am down to my weight size, I was ready for abs and muscle! So I was happy to begin a new challenge with the 21 Day Fix EXTREME!
What inspired you to change your life and begin your transformation journey?
In 2012, I went to the doctor and the doctor told me I was border line diabetic and I needed to possibly begin insulin shots along with blood pressure pills.1 I knew that I was overweight sitting at 184lbs at 5'3, but I never thought I was that unhealthy. July of 2012 was the month and year I was introduced to Beachbody's Turbo Kick. I started going to this class 4-5 times a week because it was the highlight of my day! The energy of the class was fun and not to mention I was burning way more calories than I was doing my own thing on the treadmill or elliptical. Now, 3 years later, it feels great to kick it up a notch and be able to tackle programs that I thought I would never be able to hang with! I am a true believer of this being a lifestyle now being able to be Turbo Kick certified to teach and become a Beachbody Coach!
What is the greatest challenge you faced before beginning the program? How did the program and Beachbody® help you overcome that challenge?
My biggest challenge was meal prepping! I never thought I would be able to eat 3-4 day old food! LoL. The portion sizes didn't scare me away knowing that I was able to eat multiple times of those portion control containers a day! But now, even though 21 Day Fix EXTREME is over, I still use my containers and still meal prep! I love it now. It's easy, convenient, and I know what a proper meal looks like on a plate instead of over-eating!
What in particular did you like about the program you chose?
What I like about 21 Day Fix EXTREME is being able to not only do this with a Challenge Group but each day the workouts were different! It wasn't the same routine every week. It was nice to shock my body a bit while giving other parts of my body a rest every day!
Describe the results you achieved with your Beachbody program. Which achievements are you proud of?
I was ecstatic to see that my stomach got smaller and my back got stronger! My stomach always fluctuated, due to most likely over eating and being bloated, so I was happy to see my stomach results. I didn't measure my inches lost but I know I lost inches in my waist. I told myself since I have another round of the 21 Day Fix coming up June 1st, I will be measuring my inches this round!
How has your life changed since completing your Beachbody program?
It's funny that I still do the 21 Day Fix workouts every now and then, and I still pack my containers when I go to work to measure my portions when I eat. Again, I believe fitness is a lifestyle and once you find something that works you stick to it! So I would say it has changed my way of eating healthier!
How did participating in a Challenge Group help you reach your goals? How did your group support you and keep you accountable?
As a Beachbody Coach, I formed a Group for my first go around! And I found the Challenge Groups to be a lot of fun. It was great to be able to check in, hold each other accountable, and motivate each other daily! I feel like being the Coach, I was the person everyone turned to so I had to be sure that I was the role model to them, but little did they know they inspired me to keep pushing! From the funny quotes, to the awesome workout videos posted — we all made the group fun.
How did your Team Beachbody® Coach support you on your journey?
Caroline told me I could tackle EXTREME, considering I was going to start off with the 21 Day Fix. She told me I could handle the 21 Day Fix EXTREME and I have no regrets that I went for that one! Not to mention, she put me on Shakeology! I literally drink Shakeology everyday!
How did a Beachbody Supplement or Nutritional Product or Program (such as Shakeology® or Beachbody Ultimate Reset®) support your transformation? What are the greatest benefits you gained? Did you see benefits to your energy, sleep, mood/mental clarity, digestion/regularity?
I use to be a huge coffee drinker, and I use to take ONE-A-DAY Vitamins. I am happy to say I don't use vitamins any longer since I started drinking Shakeology daily. It definitely gives me the energy I need!2
You can change your life, too. Take the Beachbody Challenge for the tools you need to Decide, Commit, and Succeed! Complete any Beachbody program, and enter your results for a free gift and a chance to win cash and prizes.

1Always consult with your physician about your unique medical needs before commencing any fitness program or nutritional product.
2These statements have not been evaluated by the Food and Drug Administration. This product is not intended to diagnose, treat, cure, or prevent any disease.