Beachbody Results: This Mom Can Now Outrun Her Kids!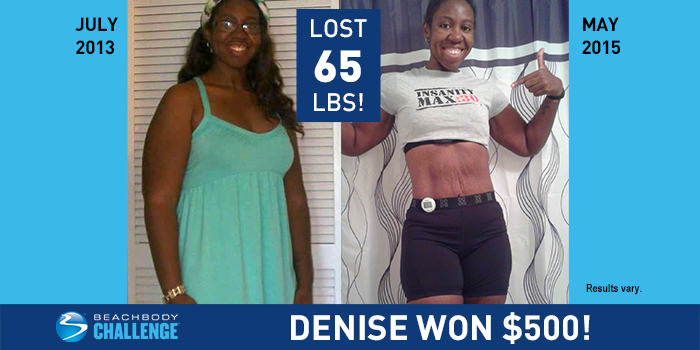 Results vary depending on starting point and effort.
Denise Utley lost 65 lbs with a variety of Beachbody programs. She entered her results into The Beachbody Challenge, and won the $500 Daily Prize for June 22nd!
Tell us about your life before you started the program. How did you feel about yourself and your body?
Before I started Beachbody programs, I was 350 pounds. I lacked the energy I needed to keep up with my kids. My inside didn't match the smile I hid behind; you know the one you paste on when you pretend that everything is alright? I tried quick weight loss schemes, but always ended up gaining the weight back because none of them taught me the essentials. The weight was like a yo-yo or worse yet just kept going up. There was no "happy medium". When I would get upset, I turned to food. That makes everyone feel better, right?! Wrong! A part of me was disgusted or embarrassed every time I saw myself in the mirror. I hated taking pictures and tried to avoid them if I could. In 2011, I decided enough was enough and tried to find ways to create a healthier lifestyle for myself. I came a long way on my own, losing about 125 pounds, with a few changes. I switched out sweet tea and soda for water, cut down on eating so much fast food, and tried to walk at least 30 minutes a day. In 2013, I'd come to a stand still. Although I had lost weight, I still didn't like the shape of my body. I would get frustrated while shopping for clothes, because the "super cute" ones on the hanger, weren't super cute on me! They either looked terrible on me or they were just simply clothes I wouldn't wear at my size. I was so sad because I really didn't know how to go about breaking through this plateau and continuing on with my journey. I didn't think there was any way I'd lose any more weight!

What inspired you to change your life and begin your transformation journey?
My family and I go the County Fair every year and as usual, my daughter wanted me to get on a ride with her. As I went to sit in the seat, I found that I almost didn't fit. They had to squeeze the ride bar down over me and it was really embarrassing. My daughter had no clue what was going on, but at that moment… something just triggered and I knew it was time to buckle down and find a way to keep moving forward. I was becoming more unhappy with myself each day! These feelings of unhappiness, anger, sadness and depression… they weren't acceptable and I had no excuse for being this unhappy! I had to make this change for me… and for my kids!
What is the greatest challenge you faced before beginning the program? How did the program and Beachbody® help you overcome that challenge?
My biggest challenge was getting started. Previously, all I had done was walk, but I wanted visible results. I also wanted to do something I would stick with. Beachbody made it easy, because they had so many programs to choose from and I could do the workouts from home. I didn't have to go out into a gym and worry that people would stare at me because I was out of breath or because of my size. I could press play and stop as many times as I needed to in the comfort of my living room. Each day that I pressed play and followed along got easier and easier… and I was losing pounds and inches.
What in particular did you like about the program you chose?
I started this journey with Brazil Butt Lift for the fun factor. I love to dance and it looked like something I'd start… and finish. What I liked most about it was the schedule. There was no guesswork. I just had to look at the day, put in the DVD and do the workout. I'm a list follower and this made my life simple. I knew how long the video ran and could fit it into my schedule, when it worked for me! However, things really started moving when I got my FOCUS T25 Challenge Pack. Adding Kicked-Up Cardio, Body Weight exercises and Shakeology to the mix took my health and weight loss to a whole different level… and in only 25 minutes each day! Since then, I've done a hybrid of Beachbody programs, including 21 Day Fix, P90X3, TurboFire, Body Beast, INSANITY MAX:30, and 21 Day Fix EXTREME. All of these programs rock. Each changes my body in some new and amazing way, whether it's better fitness or more definition ~ I love them all!
Describe the results you achieved with your Beachbody program. Which achievements are you proud of?
Ummmmm, where do I start!? Well, I've lost 65 pounds, about 12% Body Fat and gained lean muscles at home. I've lost at least 8 pants sizes, 4 dress sizes and now I shop in the juniors department! My doctor is amazed at how far I've come. I also love that I can now outrun my kids! I turned 41 this year, but have the energy of a 20 year old and look just as good too! That's one of my favorite benefits of living a healthy lifestyle!
How has your life changed since completing your Beachbody program?
Every time I complete a program, my confidence goes up another level. I feel stronger, fitter and healthier! I also love that I am inspiring and helping others to take those first steps to regain their health and get their lives back. And, I'm setting an awesome example for my kids to follow. It really feels good to see them (as teens) wanting to watch what they eat to some degree and want to workout in some way, shape or form. Beachbody is about so much more than weight loss and looking good (although, I won't complain about that). It really is all about being healthy and helping others live life to the fullest. I love Beachbody… it has truly changed my life for the better!
How did your Team Beachbody® Coach support you on your journey?
Leslie always gives an encouraging word. She really cares about her people!
How did a Beachbody Supplement or Nutritional Product or Program (such as Shakeology® or Beachbody Ultimate Reset®) support your transformation? What are the greatest benefits you gained? Did you see benefits to your energy, sleep, mood/mental clarity, digestion/regularity?
Shakeology is awesome! It is the best shake ever. It helped to reduce cravings and kept me full! Plus, it is an instant energy booster.2 Did I mention, I love Shakeology?!
You can change your life, too. Take the Beachbody Challenge for the tools you need to Decide, Commit, and Succeed! Complete any Beachbody program, and enter your results for a free gift and a chance to win cash and prizes.

2These statements have not been evaluated by the Food and Drug Administration. This product is not intended to diagnose, treat, cure, or prevent any disease.