I Lost 20 Pounds in 60 Days, Find Out How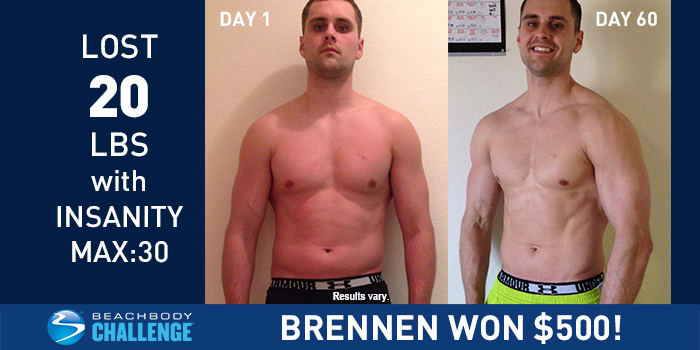 Brennen F lost 20 lbs. in 60 days with INSANITY MAX:30. He entered his results into The Beachbody Challenge, and won the $500 Daily Prize for August 28th!
Tell us about your life before you started the program. How did you feel about yourself and your body?
I just graduated veterinary school last May. I would work out pretty regularly but my body was never where I wanted it to be. During school, it was hard to stay consistent with my diet and I would fall off the healthy train for a few weeks and have to start all over. This was basically the story of my life through school and even after I got out and started working. I would usually stay in better shape during the warm months but then put on the winter/holiday weight.
What inspired you to change your life and begin your transformation journey?
I had leukemia as a teenager and missed out on a lot of opportunities I had athletically. I regained strength slowly through the years after chemo during school and got to a point where I was stronger than ever and more athletic. I often thought about the opportunities I could have had if I did not have cancer but I accepted it. The whole experience was actually a blessing as I got a whole new outlook on life. The support I had from family, friends, and my community was amazing and I have always wanted a way to give back. Once I was out of school and had a consistent schedule, I began working out again. I completed INSANITY before and got great results for spring break. I knew MAX:30 would be great, so I started it up. I soon realized that this could be something I could use to give back to all the people who helped me. I decided to become a Coach during the program and have helped many people get to their fitness goals!
What is the greatest challenge you faced before beginning the program? How did the program and Beachbody help you overcome that challenge?
It was definitely the diet. Like I said before, I have worked out a lot and played sports my whole life so the workout part wasn't that difficult. I love food and I love going out to eat. I lived in the South for many years and it's almost impossible to stay healthy down there with all the amazing food! Once I got a few weeks into the program, I felt so much better physically and mentally. If I ever had junk food after that, it would always make me feel terrible and I realized how bad that stuff actually is on your body!
What in particular did you like about the program you chose?
I like the intensity and that it challenges me all the way to the last day. I also liked that it was 30 minutes!
Describe the results you achieved with your Beachbody program. Which achievements are you proud of?
I lost 20 pounds and am now stronger than I ever was. I leaned up, toned up, and muscled up! I also have more energy throughout the day and my mind is a lot less stressed. I am most proud of how I have been able to reach people through my success and help them get on track with their fitness goals!
How has your life changed since completing your Beachbody program?
Well, I am now a Coach and am reaching many people to help them out. Several people are now contacting me wondering what I am doing and how they can do the same!
How did your Team Beachbody Coach support you on your journey?
My Coach knows my personality well so she gave me "tough love" throughout the program to keep me motivated!
How did a Beachbody supplement, nutritional product, or program (such as Shakeology or Beachbody Ultimate Reset) support your transformation? What are the greatest benefits you gained? Did you see benefits to your energy, sleep, mood/mental clarity, digestion/regularity?
Shakeology has helped tremendously. I feel better than I ever have and have more energy throughout the day. I have taken a lot of supplements but none are this complete.
You can change your life, too. Take the Beachbody Challenge for the tools you need to Decide, Commit, and Succeed! Complete any Beachbody program, and enter your results for a free gift and a chance to win cash and prizes.