FOCUS T25 Results: Kiaaina Lost 29 Pounds in 70 Days!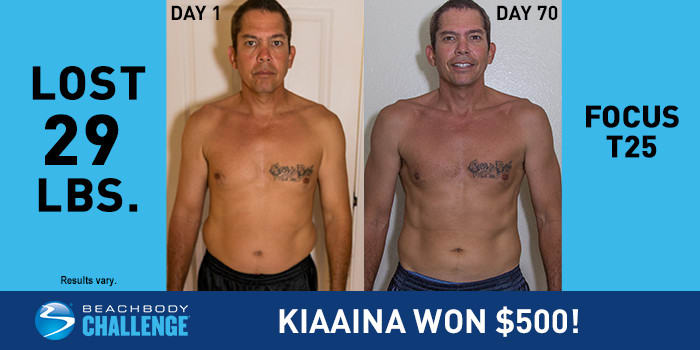 Results vary depending on starting point and effort. Kiaaina is an Independent Team Beachbody Coach.
Kiaaina Wong lost 29 lbs in 70 days with FOCUS T25. He entered his results into The Beachbody Challenge, and won the $500 Daily Prize for July 28th!
Tell us about your life before you started the program. How did you feel about yourself and your body?
I was always very busy throughout life and felt I looked OK, and felt OK, but I wanted to feel great and not settle for just being or looking OK. As years went by I put less effort into keeping in shape or eating nutritious foods, and my weight increased over 30 pounds over 25 years. I could feel the difference of not being as flexible and not having the energy like I used to.
What inspired you to change your life and begin your transformation journey?
My wife was the first inspiration as I had gotten hurt a couple of times in 2014 and she saw how discouraged I got at not being able to do regular task. She kept saying "you need to be healthy, and we both needed to get into better shape". The other inspiration came from watching the TV adds, and researching all the Success Stories on the Beachbody site. They were all very inspiring.
What is the greatest challenge you faced before beginning the program? How did the program and Beachbody® help you overcome that challenge?
The greatest challenge was exactly what to do and how. I started going to the gym every day for two months at the start of 2015. I did not get the results I was looking for. During that time I had seen the TV adds for T25. After countless nights of watching them and researching Beachbody on the web I decided to order the program and give it a try. The structure it had with workouts, nutrition, and Shakeology was exactly what I was looking for. I really helped me to overcome any doubts I had about achieving my goals. My wife actually committed to doing the program with me which made it much more fun.
What in particular did you like about the program you chose?
I really enjoyed the structure the program had to offer, and being able to do them at home in only 25 minutes. It save time by not having to go to a gym. The workouts were very fun and Shaun T is a great motivator. He really helps you to engage in the workout so you can build on it at your own pace. I looked forward to waking up every morning and working out. Shakeology is also fantastic. I had one every morning after the workout. It really helped me to get the supplements I needed and stay energized. It taste great and I keep Vanilla, Chocolate, and Greenberry on hand all the time. The nutrition guide also made it simple. Planning, shopping for meal menu items, and especially preparing the meals were simple. It made the program fun and easy as all I had to do was follow it.
Describe the results you achieved with your Beachbody program. Which achievements are you proud of?
With the program I was able to surpass my weight loss goal. I was 187 lbs when I started and weighed 158 lbs on day 70. I lost a total of 29 pounds and went from a 36 inch pants size to a 31 inch. I got much stronger, flexible and focused as I progressed during the program. I noticed I have much more energy during the day and many times so much that I would end up doing a second workout in the late afternoon or evening. I really began to feel much better and even more confident about myself.
How has your life changed since completing your Beachbody program?
Since completing T25 I have much more energy and look forward to continuing a healthier lifestyle. It has also helped me to encourage others including my parents who I help every day now with their workouts and nutrition. My wife did the program with me which also made it much more fun. We had something else we could do each day. We now wake up in the morning, and before doing any work, we workout together and have our Shakeology after our workout.
How did a Beachbody Supplement or Nutritional Product or Program (such as Shakeology® or Beachbody Ultimate Reset®) support your transformation? What are the greatest benefits you gained? Did you see benefits to your energy, sleep, mood/mental clarity, digestion/regularity?
I took the E&E every day before my workout and had the Shakeology after the workout. After one week the cravings for unhealthy foods subsided greatly. I started to feel much more energized and focused. I believe if was a great help in achieving my weight loss goal. It really works and will continue to take it every day from now on.
You can change your life, too. Take the Beachbody Challenge for the tools you need to Decide, Commit, and Succeed! Complete any Beachbody program, and enter your results for a free gift and a chance to win cash and prizes.