Beachbody Results: Amy Lost 24 Pounds and Won $500
Results vary depending on starting point and effort. Amy is an Independent Team Beachbody Coach.
Amy Gross lost 24 lbs with P90X, PiYo, 21 Day Fix, INSANITY MAX:30, and a variety of other Beachbody programs. She entered her results into The Beachbody Challenge, and won the $500 Daily Prize for June 19th!
Tell us about your life before you started the program. How did you feel about yourself and your body?
My story… in April of 2012 I weighed 182 pounds at my heaviest. That's when the light bulb finally went on for me. I knew I needed to get my weight under control before it got any worse. I knew I needed to kick my bad habits of drinking Mt. Dew like water, having at least one or two candy/sweet treats a day, skipping meals and having late night snacks all the time. It took a 2nd attempt, but P90X kicked my butt and got me going. After 90 days of P90X I weighed in at 161 and lost 12 inches. Since then I've done many other Beachbody programs and love how I feel after completing each one. I'm hooked on this type of lifestyle and know that this is part of my life now! Since choosing this kind of lifestyle I would have never guessed the impact it has had on others that I love and care about. It's a great feeling when your kids are watching you and ask if they can join you while you're working out or when they make comments like "that's not good for you is it mommy?"
What inspired you to change your life and begin your transformation journey?
My husband and my father.

What is the greatest challenge you faced before beginning the program? How did the program and Beachbody® help you overcome that challenge?
Sticking to a routine. Eating right. With the way the BB programs are laid out I felt like I never got bored. I looked forward to working out each day! The nutrition guide has also been very helpful and easy to follow and keeps me on track with my nutrition and portions!

What in particular did you like about the program you chose?
The variety of the workouts – cardio and weights. The portion control containers really helped me dial in my nutrition too! I liked that PiYo was a change of pace or me. The other BB programs that I've done in the past have been more intense in the beginning and for the first 2 weeks of PiYo I felt like this was the change of pace my body needed. After the first two weeks were completed I liked that the intensity picked up again and enjoyed the variety that PiYo provided. The variety kept me interested and kept me going. I never felt bored with the workouts in this program.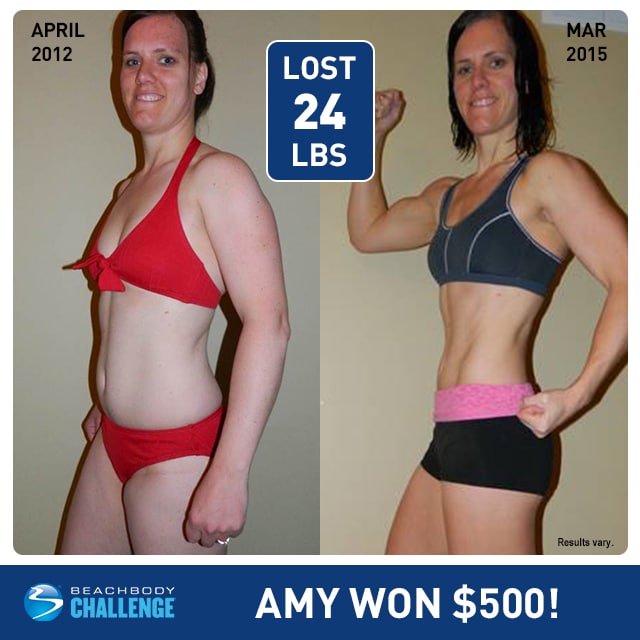 Describe the results you achieved with your Beachbody program. Which achievements are you proud of?
The results I achieved after doing 21 Day Fix have been wonderful. I feel like my food intake is in check thanks to the meal guide and containers and my strength and cardio continue to improve. I also feel this has helped improve my running ability. My biggest achievements have been that I stuck to the whole program exactly has written and feel great!

How has your life changed since completing your Beachbody program?
I continue to have more energy, feel good about myself and my accomplishments and want to share this with others who are struggling with nutrition or exercise in their life. My husband and I have added this common interest of working out to our relationship – a couple that works out together, stays together. This lifestyle has also created a special bond between my dad and me. In July of 2013, my dad and I rode 1 day of Ragbrai, a bike race that goes across the whole state of IA. This year we did 3 days of Ragbrai! Last but not least this kind of lifestyle has allowed my life to cross paths with so many people I would have never met if I had not chosen to make a change like this. The relationships I've built and continue to build are amazing and I look forward to living a long, happy, and healthy life!

How did participating in a Challenge Group help you reach your goals? How did your group support you and keep you accountable?
Participating in a Challenge Group helped me stay accountable. I knew that others in the group were getting their workouts in so I needed to make sure that I stayed on track and did my daily workouts too. I also liked that this was a great place to ask questions and share joys and concerns with the group. I knew that everyone was cheering for me to complete the program from beginning to end.
How did a Beachbody Supplement or Nutritional Product or Program (such as Shakeology® or Beachbody Ultimate Reset®) support your transformation? What are the greatest benefits you gained? Did you see benefits to your energy, sleep, mood/mental clarity, digestion/regularity?
I used E & E for my pre-work out and R & R for my post work out drinks. I also drank Shakeology daily. Using these 3 products helped me focus before my workout, helped with muscle soreness after work outs and the Shakeology gave my the daily nutrition that my body needed. Other benefits were energy through out the whole day and I slept like a baby at night; my regularity was also in check and overall my mood and outlook on life improved greatly.2
You can change your life, too. Take the Beachbody Challenge for the tools you need to Decide, Commit, and Succeed! Complete any Beachbody program, and enter your results for a free gift and a chance to win cash and prizes.

2These statements have not been evaluated by the Food and Drug Administration. This product is not intended to diagnose, treat, cure, or prevent any disease.