How to Start Running: 9 Simple Tips for Beginners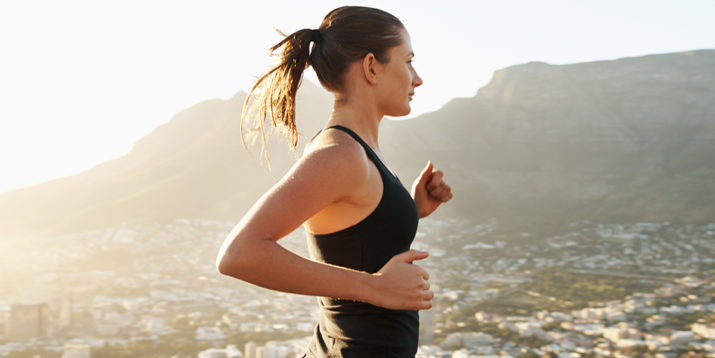 There are many benefits of running: It can help you lose weight, boost your mood, improve heart health, and more.
And (unlike swimming, cycling, or rowing), running is both convenient and affordable. All you have to do is lace up your shoes, head outside, and start to run to get a great workout.
If you're a newbie, however, you might want a little more info before you get started. Follow these top running tips for beginners and you'll be a pro in no time.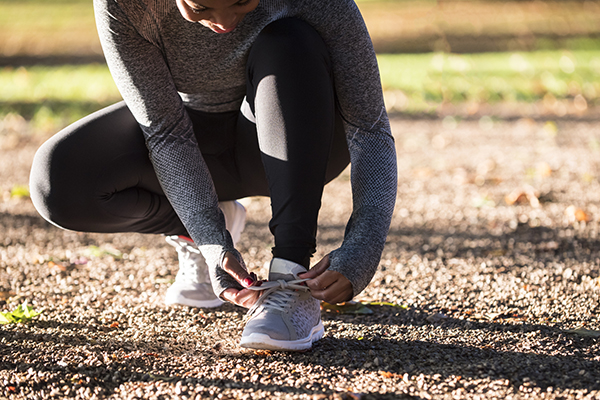 1. Find a Running Program
To give your new habit a running start, let an expert plan your workouts for you. In Beachbody's new running program, 30 Day Breakaway, Super Trainer and track-and-field athlete Idalis Velazquez will guide you through effective running and cross-training workouts that will take you from beginner to 5K-ready in 30 days.
2. Get the Right Shoe
"The single most important purchase a runner will make is their footwear," says Chris Forti, an RRCA-certified coach in New York City. A good pair of running shoes will keep you comfy and may help you avoid running-related pain and injury.
To pick the best running shoes for beginners:
Visit a specialty running store, with knowledgeable staff and a wide selection of quality footwear. Be ready to do a gait analysis to help identify shoe models that might work best for you.
Plan on spending about $100. "Most of the bigger brands make $60 shoes, but they don't have the same shock absorption, support, and durability that a $100 pair typically has," says Carl Leivers, a USA Track and Field-certified coach based in Atlanta.
Let comfort be your guide. Research suggests choosing the most comfortable shoe may support your unique movement patterns, and potentially lower your risk of injury.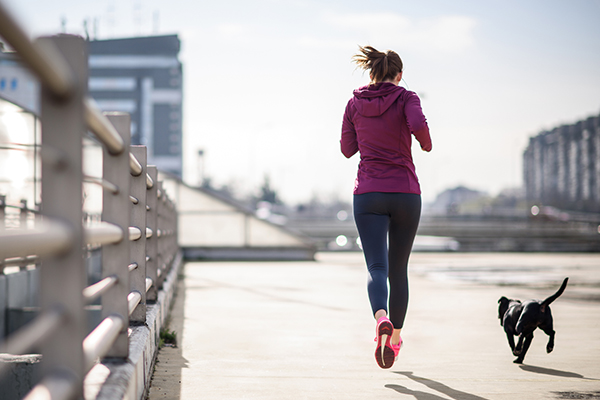 3. Pick Your Running Routes
Sure, you can always run on a treadmill, but one of the great things about running is that it lets you explore the outdoors.
To find good running routes:
Look for your ideal running environment. If you enjoy being one with nature, search for quiet, wooded trails in your area. Prefer running through neighborhoods? Explore the streets around your home. Or, alternate to stave off boredom.
Keep safety in mind. Make sure the routes you choose don't have you running through traffic and are well-lit in the early morning or evening. (And don't forget your mask!)
Aim for routes that are easily accessible. You're more likely to get in your run if you just have to walk out your front door.
No matter where your runs take you, you can still follow along with Idalis as she leads you through the workouts in 30 Day Breakaway.
Just bring your phone and launch the Beachbody On Demand app (available for iOS and Android).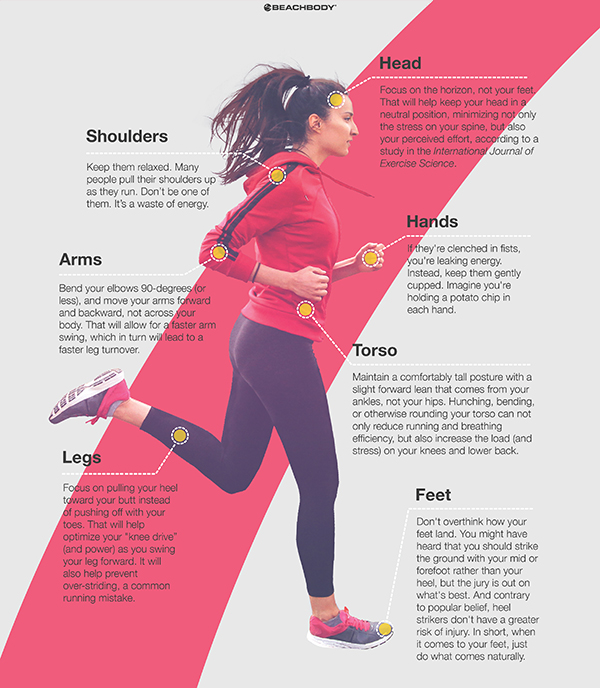 4. Practice Good Running Form
Studies suggest that a good running gait can help prevent a number of common running injuries, like knee pain and stress fractures in the shins.
There are no hard-and-fast rules for proper running form. However, there are a few general guidelines you can follow for maximum running efficiency:
Run tall, with a slight forward lean.
Avoid locking your knees.
Relax your shoulders and avoid clenching your fists.
Move your arms forward and backward, not across your body.
Keep your gaze on the horizon, not your feet.
5. Start With a Run/Walk Approach
If you're a running newbie, alternating intervals of walking and running will help you build fitness safely and efficiently. Plus, breaking your run into manageable chunks will make it less daunting than trying to run three miles nonstop.
"I may have someone jog for 60 seconds and then walk for 60 seconds and repeat that 10 times," Leivers says.
Keep adding time or distance to your running segments as you progress.
You'll see the benefits of the run/walk approach in action during 30 Day Breakaway, which features interval run workouts that challenge your fitness.
"You will have the chance to test your abilities by running at different speeds and work-to-rest ratios," says Cody Braun, Beachbody fitness expert.
The program is easy to scale as a beginner because you'll be working according to your rate of perceived exertion, a subjective measure of how hard you feel you're working in relation to your max effort intensity.
"You'll be coached on how to find a pace that challenges you so you can break through plateaus," Braun says.
6. Set Goals
Creating a running habit is hard work, but having a clear goal can motivate you to stick with it. You might set a goal to lose weight or sign up for a race (an official race or a race length you run on your own).
Give yourself a reasonable amount of time to reach your goal, and keep tabs on what worked (and what didn't) with your training.
If you choose to train for a race, start with a 5K. With the 30 Day Breakaway program, you can get 5K-ready in just 30 days.
7. Track Your Progress
Tracking your performance will help you see how much progress you've actually made with your training. Log your workouts in a calendar (real or virtual), or share your workouts with friends on social media. Keeping track of your running progress can motivate you to stay the course.
8. Dial In Your Hydration and Nutrition
As water helps keep your body cool and functioning during exercise, staying hydrated is key for running performance. So, be sure you're drinking half your body weight in ounces — minimum.
If you're running or doing other high-intensity exercises, you'll probably need even more H20 to keep up with fluid losses.
Solid nutrition habits are also important for runners. Focus on eating enough calories to sustain your new routine, and prioritize a good ratio of protein, carbs, and fats.
At the same time, avoid falling into the all-too-common trap of overeating — especially if you're trying to lose weight with your running routine.
"Generally speaking, you burn about 100 calories per mile, so if your goal is to lose weight, be mindful that you're not burning a ton of calories," Leivers says.
Need help cleaning up your diet? Try a Beachbody nutrition program, like 2B Mindset and Ultimate Portion Fix.
Both options pair well with 30 Day Breakaway and other Beachbody programs.
9. Listen to Your Body
It's normal to feel tight and sore after exercise. But sometimes, those post-run sensations signal impending injury. Learning to interpret physical cues can help you figure out what's normal and what's not.
"General soreness subsides within about two to three days," says John Goldthorp, an RRCA-certified coach and ACE-certified personal trainer. If your aches and pains persist longer, you could have an injury.
If you feel pain in any area, follow RICE (rest, ice, compression, elevation), contact a healthcare professional, and back off running for a couple of days.
"If the pain lingers, seek professional help from an orthopedist who specializes in running," Forti says.
10. Don't Forget to Strength Train
"Strength training is an important part of any well-rounded workout regimen," Braun says. For runners, incorporating strength training even two days a week can help boost your performance, as well as reduce your risk of injury.
That's why strength training is a key component of 30 Day Breakaway. In addition to weekly runs, you'll work through full-body strength workouts to enhance your running.
"As you build full-body strength and power, you may notice that you're capable of increasing your running speed, distance, and intensity, which means bigger results," Braun says.
On Your Mark, Get Set, Go!
Ready to run? Keep these tips in mind!
You can run almost anywhere with little equipment, making it a great form of exercise.
You need a few things to succeed, like a good pair of shoes and a safe running route.
Focus on good form and start slow with a run/walk approach to ease into it and reduce your risk of injury.
Give yourself a goal, and in almost no time at all, you'll be a true runner.
Sign up for the 30 Day Breakaway running program to get stronger, leaner, and 5K-ready in 30 days.