How to Make Cauliflower Rice and Other Riced Vegetables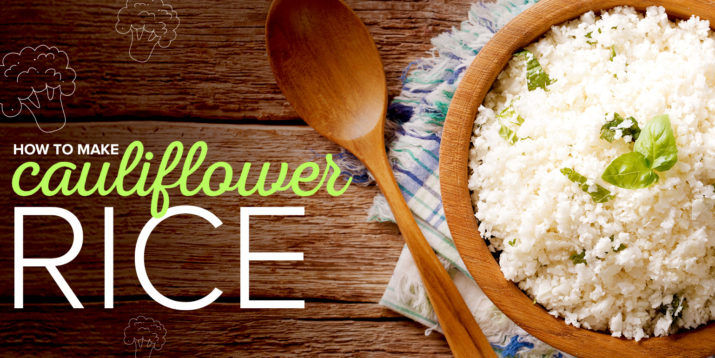 If you're trying to cut out pasta and bread, or at least trying to eat less of it, but you're a carb lover, what's the solution?
You may already know that you can you a spiralizer and transform zucchini, sweet potatoes, and other veggies into "noodles," but did you know you can also turn veggies into "rice"?
You'll be surprised at just how light and fluffy cauliflower rice (and other riced veggies) can be!
What Are Riced Vegetables?
"Riced vegetables" are veggies that have been broken down into very small pieces until they look like rice or couscous.
By chopping them into little bits when they're raw and firm, they cook faster and can be subbed in for traditional rice grain in recipes.
What Vegetables Can Be Turned Into Rice or Couscous?
Any firm vegetable can be made into rice. Cauliflower is one of the most popular to rice, but broccoli is another common food that can be transformed into a faux grain, like Autumn Calabrese and her brother, Chef Bobby Calabrese did with this Broccoli Crust Pizza on their cooking show Fixate.
Other riced veggies are starting to pop up as well as people start to experiment with ricing carrots, sweet potatoes, and root vegetables such as celeriac, pumpkin, or turnips.
If you want to try ricing a vegetable not listed, go for it!
Just avoid anything that turns to mush easily, like zucchini or bell peppers.
How to Use Riced Vegetables
Riced vegetables cook quickly, can be sauteed or steamed, though sauteing them will help ensure you don't overcook the "grains."
Cauliflower and broccoli cook in about three minutes, and root vegetables in five or six.
9 ways to use riced vegetables:
Fried "rice:" Add cauliflower rice to a pan with a small amount of oil and saute, then add a splash of soy sauce and stir well before adding other ingredients like egg and scallions; or, try this recipe for Chicken and Cauliflower Fried Rice.
As a base for a chicken, steak, or vegetable rice bowl: Steam riced root vegetables and top with protein and large-cut vegetables.
Stuffed peppers: Mix broccoli rice or carrots together with ground meat and Italian seasonings. Stuff into bell peppers, and bake.
Pilaf: Steam or saute pumpkin rice, then toss with pumpkin pie spice, dried cranberries, and slivered almonds.
Spanish "rice:" Saute cauliflower rice or riced white root veggies with chili powder, chopped onions and jalapenos, and a dollop of tomato paste.
Cajun Dirty Rice: Saute broccoli rice or carrot rice with Old Bay seasoning, then add scallions and protein such as cooked shrimp.
Grain-free bread: Steam cauliflower rice, strain through cheesecloth once cooled, then mix with cheese and eggs and bake in squares to create Cauliflower Bread.
Breadsticks: Combine raw cauliflower rice that has been strained of moisture with egg, mozzarella, sauteed garlic, and dried herbs. Bake on parchment, then cut into stick-like strips. Full recipe on Fixate!
Pizza: Rice cauliflower into extra small pieces so the grains are as fine as possible. Strain through cheesecloth, then add cheese, eggs, and dried herbs, and bake on a pizza pan. Top with pizza sauce, cheese, and tomatoes, and bake again. Here's the full recipe for Cauliflower Crust Pizza.
How to Make Cauliflower Rice (and other Riced Vegetables)
Riced vegetables are now available in many stores, which is great for convenience, but it's very easy to rice your own.
First, cut the vegetable into pieces that are manageable; for cauliflower or broccoli that would be crowns. For root vegetables like sweet potatoes, chop into 1/2 inch cubes.
Then, use any of these tools to do the job of transforming those veggies into rice:
Food Processor
Best for: Any vegetable that can be riced
Fit your food processor with an "S" blade, fill it about 1/3 of the way with prepped veggies, and pulse until the vegetables resemble rice. If your processor has a grating blade, add the vegetables from the top instead.
Blender
Best for: Broccoli and cauliflower
It's not the fastest way, but if all you have is a blender, it'll do. The key is to work in small batches. This works best with cauliflower or broccoli if you have a "normal" blender, but a high powered blender fitted with the dry blade should be able to handle root vegetables.
Grater
Best for: Any vegetable that can be riced
It'll take some elbow grease, but it'll work. Choose a large box grater for the least amount of labor.
Knives
Best for: Any vegetable that can be riced
When all else fails and it's the only thing you have on hand, a chef's knife will yield riced veggies. Chop everything in one direction, then turn your cutting board ninety degrees and chop across again; repeat until you have the texture you desire.
Root vegetables will take longer than cauliflower or broccoli.
Where to Buy Riced Vegetables
Cauliflower rice has been available at health food stores like Whole Foods for some time, but now can be found in nearly all mainstream grocery stores along with other riced vegetables such as sweet potatoes, carrots, and broccoli.
Look in the refrigerated section or the frozen aisle, depending on your grocery store of choice.