How to Add Flavor to Your Food Without Adding Calories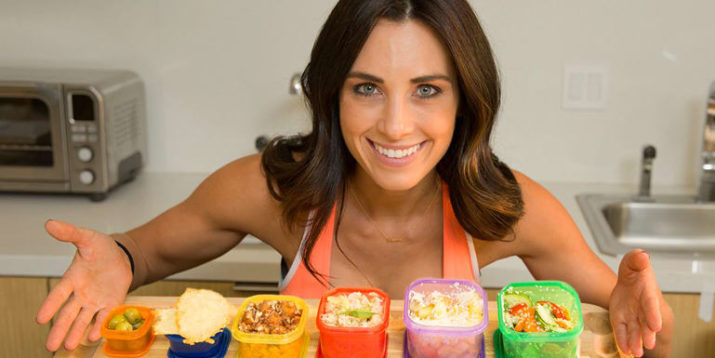 So you're eating healthy, following the handy Portion Control Containers, and you feel absolutely amazing by fueling your body with clean, nutritious foods. Until…you're a week into the eating plan and you're sick and tired of same flavors, meal after meal. Your first thought might be to add butter, salt, and tons of oil to make your foods tastier, but 21 Day Fix creator Autumn Calabrese is here to show you a better (healthier) way to amp up the flavor.
How do you add flavor without adding calories?
In this video, Autumn shares some of her favorite kitchen secrets and cooking tips to help make healthy food taste incredible. It is possible to create rich, complex flavors without adding any calories to your meal! You can do this by capitalizing on fresh herbs, flavorful produce, and of course, the faithful "free foods." These are seasonings and condiments that you can use as much as you'd like.
What are zero-calorie seasonings and flavorings?
These "free foods" are your secret weapon in the kitchen. You can use them as much as you'd like because their calories are so few and inconsequential. In the recipes below, Autumn uses free foods like rice wine vinegar and Dijon mustard as zero-calorie flavorings. For a full list of these calorie-free foods, take a look at your 21 Day Fix Eating Plan.
This batch of recipes from Autumn includes a chopped vegetable medley, tropical fruit salad, holiday yam and pecan salad, tuna salad, parmesan crisps, and lemon-dill green olives. They're sure to leave your stomach rumbling and your mouth watering. Follow along as she spices up each of the six colored containers and adds some flavor to the rainbow.
Green (Vegetables)
This chopped vegetable medley takes fresh veggies to a whole new level. Start by thinly slicing cucumbers, carrots, and red bell peppers. Combine them into a bowl and drizzle on rice wine vinegar, which is a free food. Let the mixture sit in the refrigerator for 24 hours, then scoop it out into your green container. To finish, top the mixture with either a full or partial orange container of sesame seeds, and shake to combine. You're left with a full-flavored dish that's a tasty variation from regular chopped veggies.
Purple (Fruits)
Craving a getaway to a tropical island? We can't give you that, but we can give you all the flavors of an exotic vacation! To jazz up your purple container, start by chopping up banana pineapple, and papaya. Add some lime zest and lime juice to bring out a citrus flavor, then add an orange container of shredded coconut. This creates a refreshing, fruity snack that can satisfy your sweet tooth when the craving hits.
Red (Protein)
Sure, you've probably had tuna salad before. But odds are that you've never had it like this. Start with one can of tuna that's been rinsed and drained. Chop up some aromatic tarragon and crunchy celery. Then mix in two teaspoons of Dijon mustard (a free food), two teaspoons of lemon juice, and one teaspoon of olive oil. For an extra touch of flavorful fun, use a few drops of hot sauce to add a dash of heat.
Yellow (Carbohydrates and Starches)
For this recipe, Autumn combines one yellow container of steamed yams with one blue container of pecan halves to create a dish that's worthy of any holiday gathering (but we won't blame you if you eat it all year round). Simply combine the yams with the chopped pecans, and sprinkle cinnamon and nutmeg on top. Quick, easy, and incredibly delicious.
Blue (Healthy Fats)
Sometimes all you need to do to make something taste better is to change how it's presented. Sure, you can sprinkle parmesan cheese on top of soup, but dipping a fancy parmesan crisp into soup seems so much more luxurious. Luckily, it's almost embarrassingly simple to make this treat. Create each crisp by placing two teaspoons of parmesan cheese into groups on a pan. Pop it into the oven for a few minutes, and the end result is a crunchy, cheesy round that's a perfect topper for soups or salads. Better yet, you can enjoy two crisps and have it count as one blue container.
Orange (Seeds and Dressings)
There's something so satisfying about a salty snack. This recipe transforms plain green olives into something even better with just two additional ingredients. Start by rinsing the green olives, then add two teaspoons of lemon juice and chopped dill. Let the concoction marinate overnight, and enjoy!
If you love these ideas and are craving even more ways to to zest up your food, you're in luck! Autumn has two other videos to show you how to add zing to your recipes: Calorie-Free Modifications for the 21 Day Fix Containers and More Calorie-Free Ways to Spice Up Your 21 Day Fix Containers.
Autumn also has an entire cookbook of healthy recipes, as well as a cooking show on Beachbody On Demand, so you'll never run out of ideas about what to do in the kitchen. Whether you're looking for main entrees, snacks, desserts, or cocktails, FIXATE has you covered. Buy the FIXATE cookbook here, or log on to Beachbody On Demand to watch the FIXATE cooking show.
And if you want to do more workouts from Autumn, then check out out her other programs. Try 21 Day Fix EXTREME to take your workouts to the next level after 21 Day Fix. Sculpt your body into a defined masterpiece with The Master's Hammer and Chisel, a program that she created with Sagi Kalev (the man behind Body Beast). Or, if you want something a little easier, check out Country Heat, where you'll have a blast dancing your way fit to fun country hits. Head over to Beachbody On Demand to find them all in one convenient place.
With 21 Day Fix, simple fitness and simple eating means fast results. Easy-to-follow portion control and 30-minute workouts take the guesswork out of losing weight. Ready to start seeing results? Try the 21 Day Fix today!