How the Beachbody Performance Line Helped Me During My Ride From SF to LA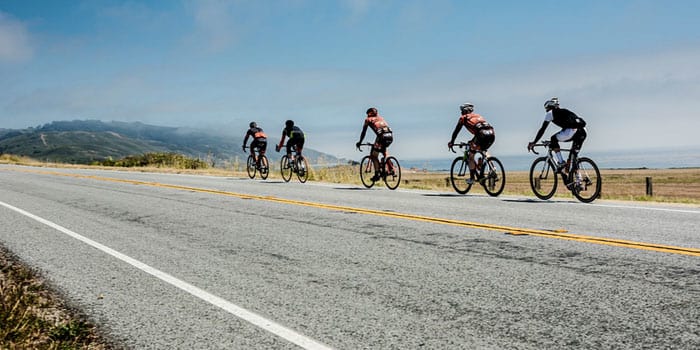 In May, I rode my bike from San Francisco to Los Angeles in two days to raise funds for the Lymphoma Research Foundation, a distance of 461 miles and about 23,000 feet of elevation changes, by my estimation.
There are certainly bigger endurance challenges out there, like the Race Across America or the Ironman World Championships in Kona, but for me, this was a doozy.
Before you start, you need to get a number of ducks in a row to pull off any serious fitness challenge. You need to train properly leading up to the event. (I've been doing rides of 150-200 miles for months now.) You need proper support. (My sister and her husband volunteered to follow our six-man team down the coast in a Subaru stocked with bike parts, food, and water.) You need to eat right. (I burned in excess of 18,000 calories in two days – again, my estimation.) And, if you're really smart, you need to supplement properly. With this in mind, I was excited to take on Steve Edwards' role as "human lab rat" and put Beachbody's new line of Beachbody Performance supplements to the test. To accomplish this, my training partner Kevin Nix and I exclusively used the supplements all weekend long (with one exception, which I'll speak to later).
And as far as I'm concerned, they worked.
Sometimes, people look to a performance supplement as a magic bullet, something that will transform your workout with a single Popeye-eats-spinach-like burst. Generally speaking, this is a misconception and it certainly didn't happen during my ride.
At no point did my legs magically transform into giant pistons and propel me up the hill while my theme song blasted in the background — although that would have been really helpful.
Judging if a supplement works for you is usually much more nuanced.
Sometimes, it's performance gains or, in this case, just performance. We took on a task that pushed us beyond our perceived capabilities and pulled it off. Other times, it's more a case of what doesn't happen.
Hydrate offers the best example of this. We drank this electrolyte mix for the entire ride. Kevin, in particular, is a heavy sweater. We refer to the weird pattern of salt that forms on his jersey around his bib straps as "Kevin's salt wings." Losing electrolytes — and fluids — in this way can cause cramping even on much shorter rides. Yet neither of us came close to cramping during the entire 461 miles.
Also, neither of us experienced "flavor fatigue," a common occurrence among endurance athletes when a particular supplement you're repeatedly eating or drinking becomes unpalatable.
As an experiment, I tried another brand of hydration mix around mile 100 on the second day just to see how it would taste. It's a high-quality supplement that I 'm normally fond of, but at that point in the ride, it tasted like an ashtray. I was more than happy to dump that bottle and refill with Hydrate at the next stop.
The benefits of Recover were also pretty clear, if nuanced.
Due to a couple of technical issues, we did not reach our midpoint, San Luis Obispo, until 10:30 p.m. We were exhausted and faced with limited restaurant options. A quick team vote found us eating pizza in our hotel room for dinner — not a choice I'd typically make, especially considering lactose sometimes doesn't agree with me.
According to my Garmin, I'd burned 10,000 calories that day. I was tired, disoriented, and hallucinating slightly, so I didn't complain at the prospect of eating an entire large veggie pizza on my own.
Recover provides a quick source of protein for post-workout recovery, as well as anti-inflammatory pomegranate extract. That's very different from the greasy, pro-inflammatory, and protein-poor nutrition you'll find in pizza. (Although, in all fairness, the pizza gave me a big hit of much-needed carbs.)
So did Recover impact my performance?
Well, on Day 1, I rode 250 miles — 42 miles longer than my previous record — during which I inevitably experienced some serious muscle breakdown and inflammation. I then slept five hours, woke up, and rode an additional 212 miles. It's hard for me to believe my supplement choices in the middle, with their protein and anti-inflammatory properties, didn't have some positive impact.
Finally, there's Energize. This one is the biggest question mark of the lot.
I was fairly exhausted both mornings. (I slept about four hours the night before we started since I was a little anxious and our host's cat kept jumping on my head.) Because of this, I didn't feel the typical jolt I feel with Energize. However, it was a smart way to hydrate pre-ride.
Also, the faint prickling I feel on my face due to the beta alanine was a welcome bit of inspiration when I headed out into the 50-degree fog at 4:00 a.m.
I can't say categorically that the Beachbody Performance line made a massive difference during my ride. I spend too much time with the scientists who develop the supplements not to know the difference between anecdotal evidence and proven science.
I can say, however, that I think it worked. I can also tell you that it will be a required part of all my training efforts going forward.
Photo by Nick Ellerbeck of Broadleaf Images