How to Make Ricotta Cheese at Home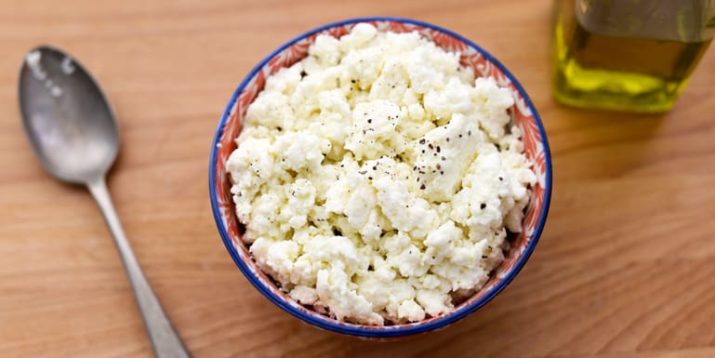 Ricotta, it's not just for calorie-laden lasagna anymore. This soft, mild cheese has more to offer than you may think.
Much more — particularly if you're trying to lose weight.
Hold up, you're probably thinking. Cheese? Good for weight loss?
Well, yes — but before you go on a total Brie bender, let's be clear: We're talking about ricotta cheese here.
What makes ricotta different than other cheeses?
Well, besides the fact that you can eat it with a spoon out of the container (which I may or may not have done just the other night), ricotta cheese is lower in fat and calories, and contains whey (pun!) more protein than other cheeses.
Ounce-for-ounce, part-skim ricotta has about half of the fat and calories of part-skim mozzarella and nearly as much protein as egg whites.
Just one Red BODi Portion Fix Container (learn the equivalent of a red container) contains a whopping 21 grams of protein.
That's equivalent to eating three whole eggs, 1½ cups cooked black beans, or 2½ ounces boneless, skinless chicken breast.
When it comes to weight loss, protein is particularly important since it helps with satiety.
High-protein diets — defined in the study referenced in the previous sentence as 30 percent of calories from protein — have also been shown to lower blood glucose and improve overall glucose control in diabetics.
They also help preserve calorie-burning lean muscle mass during weight loss.
Of course, this is all great news if you love cheese and are trying to lose weight.
Just keep in mind that part-skim ricotta will give you more bang for your calorie buck than the whole-milk variety, though you might find whole milk ricotta more satisfying — and actually eat less of it.
A ¾-cup serving of part-skim ricotta provides 255 calories, whereas whole-milk ricotta provides 321 calories.
Another bit of good news: Fresh ricotta is super easy to make at home, and since it's free of commonly used thickeners and stabilizers like xanthan gum, the taste and texture are a whole lot better, too.
How to Make Your Own Ricotta Cheese at Home
All you need to make your own homemade ricotta is milk, a little bit of vinegar or lemon juice, salt, cheesecloth, an instant-read thermometer, and about 20 minutes.
Whole milk will give you the creamiest ricotta, but a 2:1 mix of whole and low-fat milk can be used for part-skim ricotta.
Also, avoid ultra-high-temperature (UHT) pasteurized milk since the proteins and sugars are more broken down and won't coagulate as well as regular or low-temperature pasteurized milks.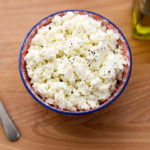 Ricotta Cheese
Learn how to make homemade ricotta cheese!
Prep Time 0 mins
Cook Time 0 mins
Total Time 0 mins
Servings 1 1/2 cups, 1 serving is 3/4 cup
Calories 110 kcal
Ingredients
6 cups milk
¾ teaspoon sea salt
5–6 tablespoons distilled white vinegar or lemon juice (start with 5 tablespoons if your milk is not super fresh)
Instructions
Line a colander with four layers of cheesecloth. Combine milk, salt, and vinegar in a saucepan over medium-low heat, and stir constantly with a silicone spatula until mixture reaches 165°F. Remove the saucepan from the heat and set aside until solid white curds form on the surface, about 2 minutes.

Using a slotted spoon or fine-mesh skimmer, transfer the curds to the prepared colander. Cover the top with plastic wrap and allow to drain for 5–10 minutes for soft, spreadable ricotta, or up to 15–20 minutes for firmer curds (pictured below).
Nutrition Facts
Ricotta Cheese
Amount Per Serving (1 serving)
Calories 110 Calories from Fat 81
% Daily Value*
Fat 9g14%
Saturated Fat 5g31%
Cholesterol 40mg13%
Sodium 55mg2%
Carbohydrates 2g1%
Sugar 1g1%
Protein 5g10%
* Percent Daily Values are based on a 2000 calorie diet.
Note: Nutrition info may change if you use a 2:1 ratio of whole and low-fat milk, or if you use only low-fat or nonfat milk.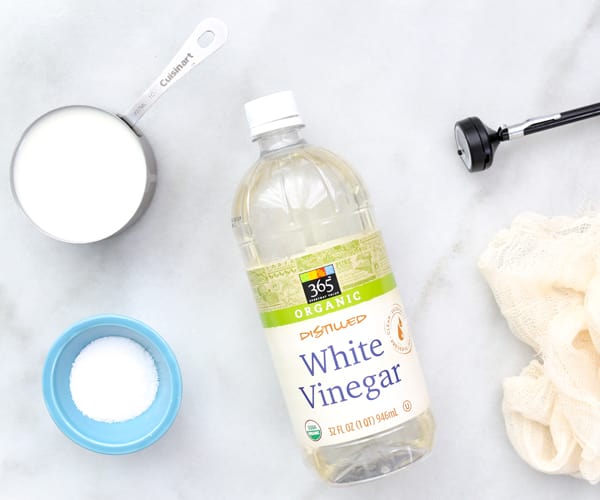 With just three simple ingredients and five simple steps, you can enjoy homemade (and diet-friendly!) ricotta cheese.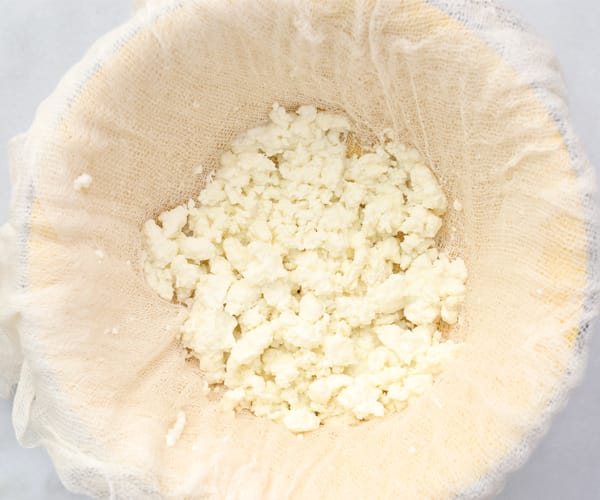 If you'd like firmer curds, let the cheese mixture sit for longer.
Easy Ways to Eat Your Homemade Ricotta Cheese
Want to put your new ricotta-making skills to use?
Here are several easy ways to incorporate fresh, protein-packed ricotta into satisfying meals and snacks: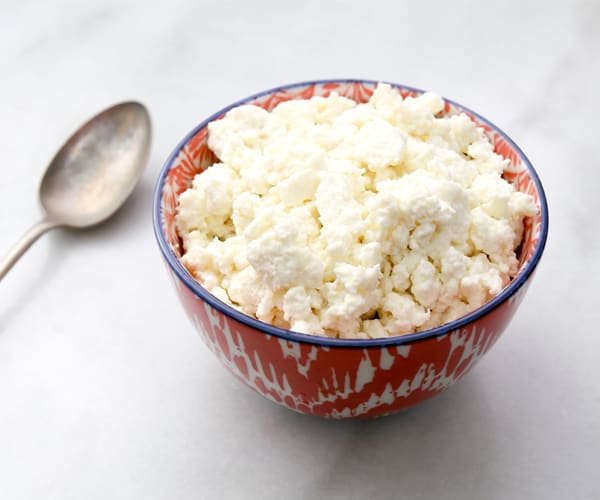 Want more expert nutrition advice? Check out BODNutrition.com and learn how BODi nutrition programs and products can help you lead a healthier lifestyle.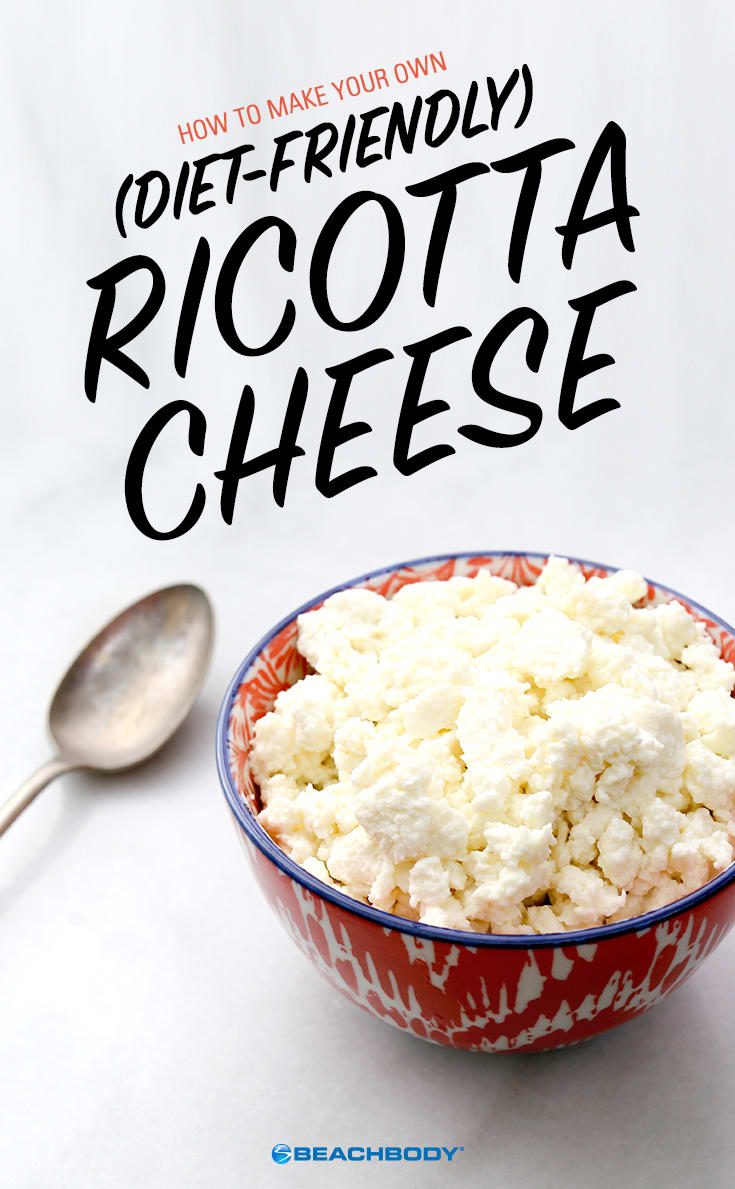 All photos by Elle Penner