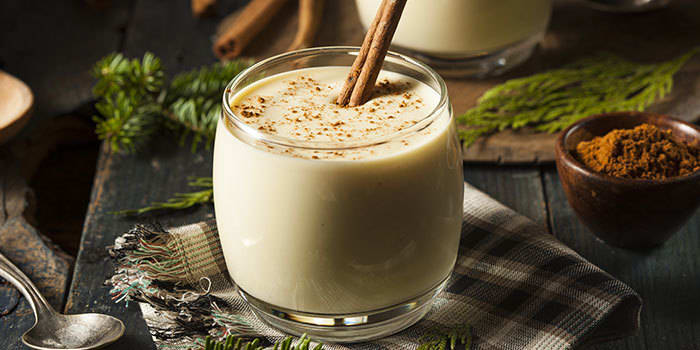 Eggnog season – you know, immediately after Halloween until approximately Valentine's Day –  can be dangerous.
This classic, boozy holiday beverage made from eggs, whole milk, sugar, heavy cream, and rum is about as far from healthy as we are from the North Pole.
Try this lighter version of eggnog instead. It's all-natural, all vegan, and all yum.
Our version is alcohol-free, but if you want to add a splash of dark rum, there's no way we would ever find out about it.
Is it worth the extra effort to make your own almond milk from scratch? Yes! The fresh flavor is wonderfully light and creamy,  and it's really not that much work.
But, if homemade almond milk is one of those things that's just never going to happen, you can substitute 6 cups of unsweetened almond milk.
Get in the holiday spirit with more of our delicious holiday-inspired drinks and healthier cocktails.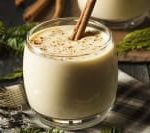 Holiday Eggnog
Try this lighter version of eggnog that's all-natural, all vegan, and all yum. The fresh flavor of homemade almond milk is wonderfully light and creamy.
Prep Time 9 hrs 15 mins
Cook Time 0 mins
Total Time 9 hrs 15 mins
Servings 6 servings
Calories 149 kcal
Ingredients
4 cups raw almonds
Filtered water for soaking almonds
8 cups filtered water
⅓ cup pure maple syrup
¼ cup raw almond butter
1½ tsp . pure vanilla extract
2 tsp . rum extract (or to taste)**
1 tsp . ground cinnamon
½ tsp . ground nutmeg
1 dash ground cloves
Instructions
Soak almonds overnight in water.

Rinse and drain soaked almonds.

Place soaked almonds and 6 cups of filtered water in blender or food processor (may need to do in 2 batches). Blend on highest speed for 1 to 2 minutes.

Strain milk through a fine mesh strainer or cheese cloth; discard solids.*

Place almond milk back into blender; add almond butter, extracts, cinnamon, nutmeg, and cloves.

Blend for 30 seconds; pour into large pitcher with cover.

Cover and refrigerate until cold.
Nutrition Facts
Holiday Eggnog
Amount Per Serving (1 serving)
Calories 149 Calories from Fat 72
% Daily Value*
Fat 8g12%
Sodium 150mg7%
Carbohydrates 16g5%
Fiber 2g8%
Sugar 13g14%
Protein 4g8%
* Percent Daily Values are based on a 2000 calorie diet.
Tips:
Solids can be dried out in the oven at a low temperature (225° F) and used as almond flour in baking recipes.
You can hold off on the rum extract if you think the kids won't like it, and then add a few drops to your individual glass of eggnog.
Vegan eggnog can be stored in the refrigerator for 3 to 4 days.
Container Equivalents
1 Yellow
2 tsp.