The Only Holiday Baking Tools You Really Need
I have a confession to make. When I'm not here, serving as Managing Editor for the Beachbody Blog, I'm a baker. A pretty serious one. I've competed on Cupcake Wars, catered weddings, baked for celebrity clients, and more. Have a baking question? Feel free to ask me here or on Instagram at @r_swanner.
My personal philosophy is everything is about balance. I do my best to work out and eat well 80% of the time, and then the other 20% of the time, I don't worry about it. When I do indulge, I want it to be worth it. I want what I eat to be really really tasty…and not full of preservatives or addititves. None of this waxy chocolate or dry, tasteless cookie business. I've noticed that most desserts I buy are too sweet for me, so I tend to make the things I want. I also find that I tend to indulge less when I make it myself. Over the years, I've stocked my kitchen with almost every baking tool you can imagine. Some of them I use regularly. Some of them, not so much.
If you're going to be baking this holiday season, here are the go-to tools that I use almost every time I bake. If you have these on hand, you'll be able to make most recipes out there.
1. Stand Mixer
This is going to be your most expensive purchase. In a pinch, a hand mixer will work. I just tend to splatter things all over the kitchen when I use one. I got lucky and my mom gifted me with her 30-year-old Kitchen Aid mixer when I moved to Los Angeles. I love it. It's a workhorse, even if it does make a kind of awful noise on the first speed (I've never replaced the motor and I should). These days, Kitchen Aid mixers come in a variety of fun colors and you can even get a custom color one. They also come with all sorts of accessories. I use the paddle and the whisk most often. I bought the dough hook a few years ago and still have yet to use it. My model: K45SS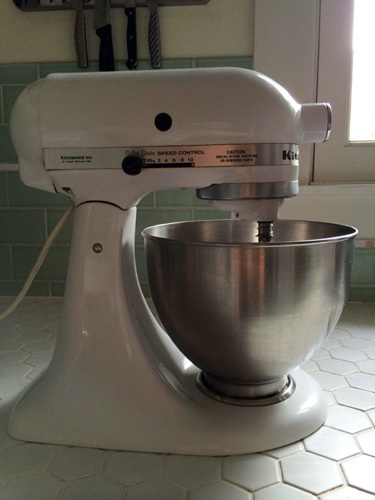 2. Parchment Paper
"Flour and butter your baking sheet." How about no? I don't know about you, but I don't want to do more scrubbing than I have to. Every time I bake something in a pan or a cookie sheet, down goes the parchment paper. If you buy parchment paper in the store, it's expensive. I get mine at Surfas in Culver City where I can get 250 sheets for about $13, but you can get it here on Amazon too. Considering you can get a few batches out of one sheet (just flip the sheet over before you put your second batch of dough on it), 250 sheets should last you a long time. And, they're pre-cut, so that will save you precious time during the holidays.
3. Measuring Cups
Whether you're cooking or baking, you need these in your kitchen. They're helpful for portion control and for measuring accurately when following a recipe. I prefer the sturdy stainless steel ones by Carlisle. They have easy to grip handles, are dishwasher safe, and have held up well over the years. These are similar. There are lots of cute, fun measuring cups out there. Some are even made of glass! Use them for decoration.
4. Measuring Spoons
These are another kitchen essential and they come in a couple different styles. Some have long, shallow scoops where others have shorter, deeper scoops. I prefer the latter – and I prefer them in fun colors. I particularly like these from Sur La Table as each size has a different color and I can just look for the color I want instead of looking at the number on each to know what size it is. Get two sets so you don't have to wash them mid-recipe.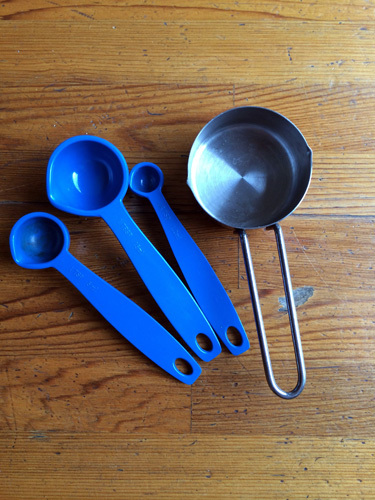 5. Mixing Bowls
In baking, there's often a need to mix wet and dry ingredients separately. In a pinch, you can use regular bowls. I've done it. But, like everything, baking is easier when you have the right tools on hand. While you might desire a set of copper bowls, plain old metal or glass mixing bowls are just fine. I use various sizes from IKEA's stainless steel Blanda line.
6. Spoonulas/Spatulas
One can never have enough of spatulas and/or spoonulas. I use them for mixing, scooping, filling, you name it. Spoonulas are like spatulas, but they also have the functionality of a spoon, so you can more easily move ingredients from one area to another (batter, brown rice, etc.). This is my second favorite kitchen tool, second only to the mixer. Look for spatulas that are all silicone or silicone and bamboo so they can handle the heat.
7. Ice Cream Scoop/Disher
"But I'm not eating ice cream!" That's ok. I mostly use my disher (that's what they're called by chefs) for measuring muffin, cupcake, and cookie batter. They are, by far, the easiest way to get a standardized amount of batter into each muffin tin. The one you want to start with is the #16 scoop/disher. It's equivalents to 1/4 cup and one scoop (when filled to the brim), will perfectly fill your muffin liner. For slightly larger muffins, get the #12 disher. It's equivalents to 1/3 cup.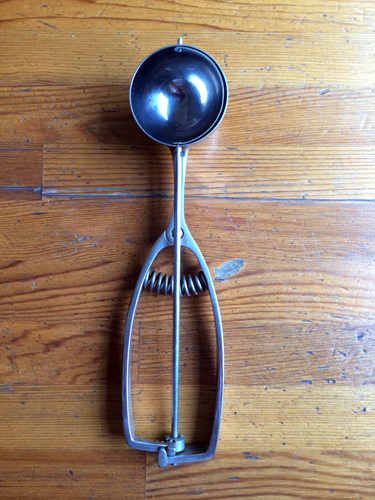 8. Oven Mitt
Truth be told, I am not particular about my oven mitt, but you need one. Preferably, two. You can get these almost anywhere, but Etsy is a good place to start if you're looking for one for a gift. It's going to get dirty, so you might want to get a dark one. The one below is one I use for decoration. You don't want to see the real one.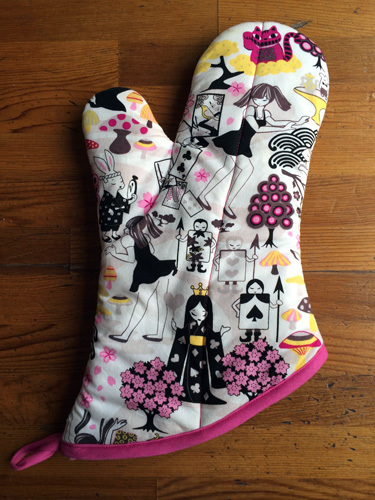 9. Baking Sheets/Baking Pans/Muffin Tins/Cooling Racks
I have a ton of these, but I bake a lot. What I recommend starting with are two jelly roll pans, one 8x8x2 baking pan, one standard-size muffin pan, and one cooling rack. I don't have a brand preference.
10. Oven Thermometer
Ovens lie. Unless you've had yours calibrated recently, the temperature you see on the dial is probably not the temperature inside your oven. My 1950s oven, for instance, runs 25 degrees hot, so when a recipe calls for 350°, I set the dial to 325°. I use a probe thermometer because my oven door is windowless and opening the oven door to check the temperature defeats the purpose. If you have a window in your oven door, a standard oven thermometer that hangs on the rack will work just fine.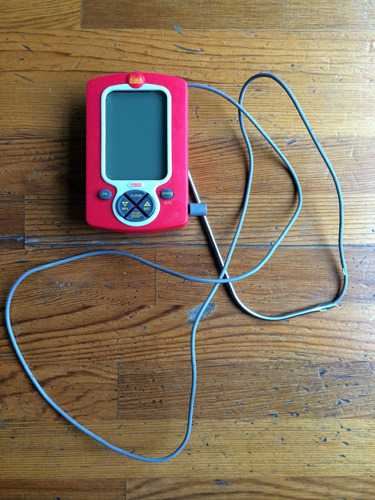 There are other tools I use regularly, such as a baking scale, a sifter, various pots, and an infrared temperature gun, but this is a good start. If you have any questions about the items above or what other tools I use, don't hesitate to post your question below in the comments.