7 Healthier Hot Chocolate Variations to Cozy Up With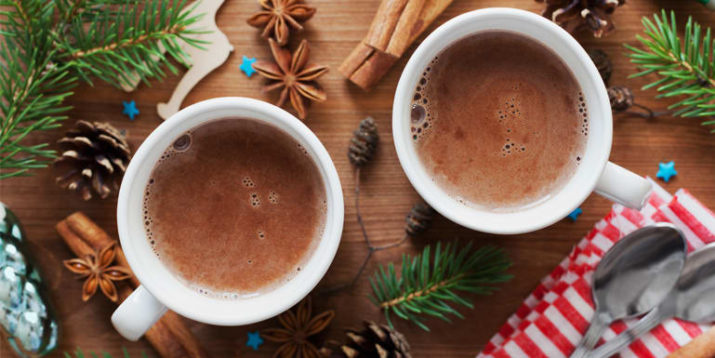 Is there anything more quintessentially "winter" than savoring a steaming cup of hot chocolate by the fireplace?
Hot cocoa is a favorite holiday beverage for many, but making it from a pre-made mix doesn't do the drink justice.
Instead, it's easy (and healthier) to make it from scratch.
There are endless ways to transform a basic cup of hot chocolate. Start with the basic single-serving recipe below, and then get creative!
We'll get you started with a few of our favorite versions, including Peppermint Mocha, Bananas Foster, Mexican Hot Chocolate, and more. Let us know your favorite in the comments.
Healthy Hot Chocolate Recipe
Once you've mastered this healthy twist on classic hot chocolate, double or quadruple the recipe to share with family and friends.
Use this recipe as the foundation for the variations that follow.
Healthy Hot Chocolate
Prep Time 0 mins
Cook Time 0 mins
Total Time 0 mins
Ingredients
1 cup unsweetened coconut milk beverage (or unsweetened almond milk)
2 Tbsp . unsweetened cocoa powder
½ tsp . raw honey (optional)
Instructions
Bring coconut milk, cocoa powder, and honey (if desired) to a boil in small saucepan over medium-high heat, whisking frequently.

Pour into a large mug; serve immediately.
7 Healthier Hot Chocolate Variations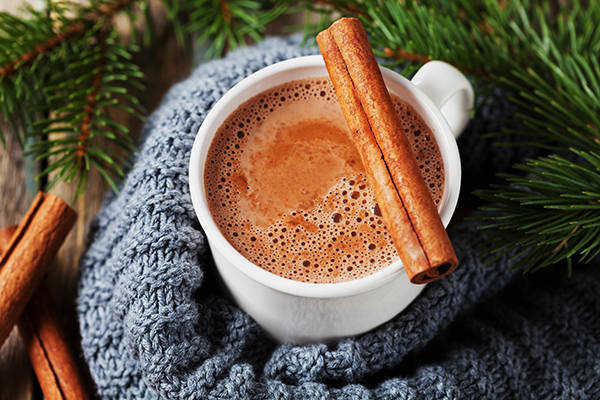 Cinnamon Hot Chocolate
With two common spices, you can create a unique flavor for your hot cocoa that will really hit the spot during the holidays.
How to: Add a pinch of cinnamon (up to ½ a teaspoon) and just a dash of ginger (⅛ teaspoon) to a cup of hot chocolate. Ginger is more potent than cinnamon, so a dash should be plenty to create this festive flavor.
Peppermint Mocha Hot Chocolate
If you like your chocolate with an espresso buzz, this version is for you! The combination of mint and mocha is a good choice if you love coffee but find it unsettling to your digestive system, as peppermint can be used to soothe an upset stomach.
How to: Add a shot of espresso and dash of peppermint extract to a cup of hot cocoa. Not a fan of extracts? Use a few leaves of fresh mint instead.
Pumpkin Spice Hot Chocolate
Are you one of those people that just can't get enough of the fall-favorite PSL, even though October is long gone? Enjoy it year-round with this autumnal recipe. You'll find that because pumpkin puree is thick, you'll likely drink this slower than your typical PSL, meaning you'll really savor the desserty drink.
How to: Whisk two tablespoons pumpkin puree into a mug of hot chocolate using a whisk or a fork. Then, add a pinch of pumpkin pie spice to give it that iconic fall flavor.
Bananas Foster Hot Chocolate
Chocolate and bananas are a sweet combination that works whether it's in a smoothie, a campfire dessert, or hot chocolate. Instead of using chunks of a ripe banana as you would with the original Bananas Foster, use dried bananas. They'll give your cocoa the same banana flavor and aroma without the banana chunks.
How to: Place a few slices of dried banana in the bottom of a mug, then fill with piping hot chocolate.
Tahini Hot Chocolate
This twist on the traditional recipe
contains sesame, which makes it richer, creamier, and just a bit nutty.
How to: Simply add one teaspoon of tahini paste into the basic recipe. You can buy tahini at most grocery stores, or you can make your own tahini sauce.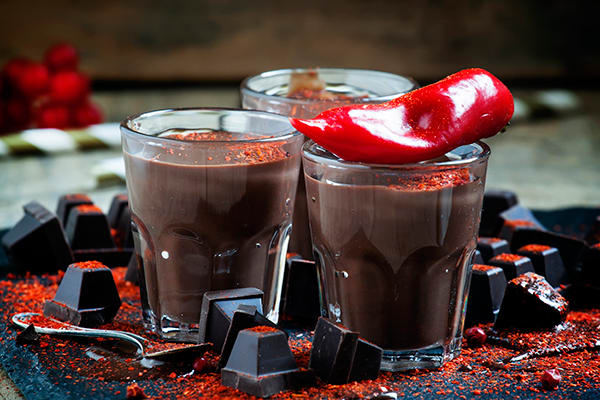 Mexican Hot Chocolate Cocktail
Are you a fan of this Chile Mocha Shakeology recipe? Whip up a hot version of Chile Mocha Hot Chocolate to keep you warm this winter.
How to: Mix ¼ teaspoon cinnamon and a pinch of Ancho chile powder to a mug of hot chocolate. If you want to turn it into a spiked Mexican hot chocolate, add a couple dashes of chocolate chili bitters and up to a shot of tequila.
Hot Chocolate Martini
Apple and chocolate martinis might not be the thing to order at the bar these days, but that doesn't mean they're not delicious. Here's how to enjoy a chocolate martini with less sugar.
How to: Just add a shot of vodka to the basic recipe above. If you want a richer chocolate flavor, try a dash of chocolate extract. This is an awesome way to boost the taste of chocolate in a recipe without adding cocoa powder.
Don't know which variation to try first? Have a hot chocolate-tasting party and make mini cocoa portions so you can try them all!