Barbecue-Flavored Tahini Sauce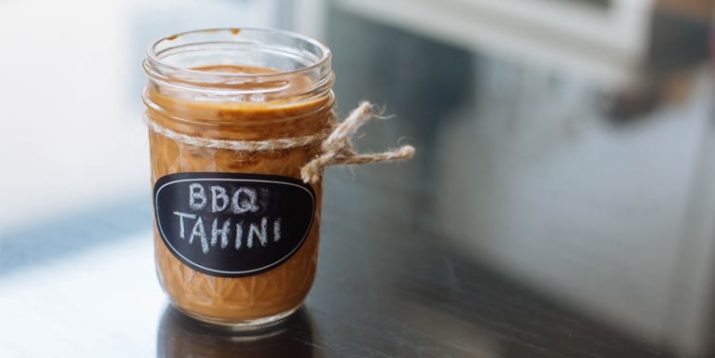 If your taste buds are bored of syrupy-sweet ketchup, barbecue sauce, or honey mustard, this BBQ Tahini Sauce might be your savior, particularly if you're a fan of flavored hummus. This blend of smoky, sweet, nutty, and umami lends a complex flavor to sandwiches, grilled or baked meats, or roasted veggies. Spice up a turkey BLT, drizzle on top of salmon grilled on a cedar plank — just replace the maple sauce with the BBQ tahini in this recipe for Cedar Plank Salmon with Maple Glaze, or toss with quartered, crispy red-skinned potatoes still hot from the oven.
Or use this versatile condiment in another way. Stir it into egg yolks instead of mayonnaise, mustard, and paprika for a kicked-up version of deviled eggs. Use the BBQ tahini sauce as a dip for crudité. Or, if you really want to go for it, use it in your mix for tuna, salmon, or chicken salad.
Not only is this BBQ tahini sauce versatile, it's also nutritious. It's rich in calcium, iron, potassium, B vitamins, vitamin E, and magnesium. When shopping, look for tahini paste made from whole sesame seeds, as the hulled version strips much of the nutritional value from the seeds. Though, if necessary, they'll do in a pinch.
Tahini, a paste made from ground sesame seeds, originated in ancient Persia, where it bore the title of "holy food." Sesame products eventually spread in popularity from aristocracy to all classes in India, Africa, Asia, and the Middle Eat. Ancient Greeks and Indians used sesame as food and for medicinal purposes; in Asia, legend recalls sesame seeds as a symbol of immortality.
Although none of us will live forever, prolonging our health for as long as possible is a shared goal. And if you can do it by eating more sesame by way of this delicately balanced sauce, why not dig in?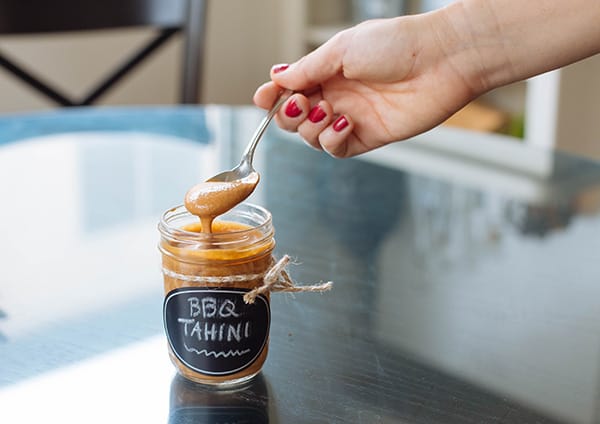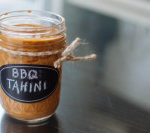 Barbecue-Flavored Tahini Sauce
You'll love this healthy twist on classic BBQ sauce!
Prep Time 10 mins
Cook Time 0 mins
Total Time 10 mins
Servings 6 servings, 3 Tbsp. each
Calories 110 kcal
Ingredients
½ cup water
¼ cup + 2 Tbsp. tahini paste
3 Tbsp. all-natural tomato paste no sugar added
1 Tbsp. apple cider vinegar
1 Tbsp. molasses
2 tsp. pure maple syrup
¼ tsp. liquid smoke
¼ tsp. garlic powder
1 pinch ground chili powder
1 pinch sea salt or Himalayan salt
Instructions
Place water, tahini, tomato paste, vinegar, molasses, maple syrup, liquid smoke, garlic powder, chili powder, and salt in a food processor (or blender). Pulse until smooth.
Nutrition Facts
Barbecue-Flavored Tahini Sauce
Amount Per Serving (3 Tbsp.)
Calories 110 Calories from Fat 63
% Daily Value*
Fat 7g11%
Saturated Fat 1g6%
Cholesterol 10mg3%
Sodium 73mg3%
Carbohydrates 10g3%
Fiber 2g8%
Sugar 5g6%
Protein 3g6%
* Percent Daily Values are based on a 2000 calorie diet.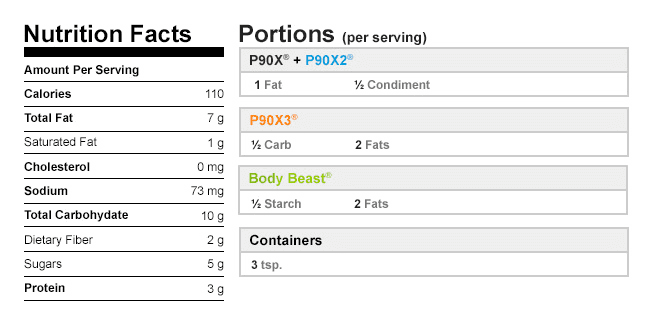 If you have questions about the portions, please click here to post a question in our forums so our experts can help. Please include a link to the recipe you're asking about.
Photos by Amanda Meixner and Dani Paris.