"Now I Have the Strength to Play with My Son"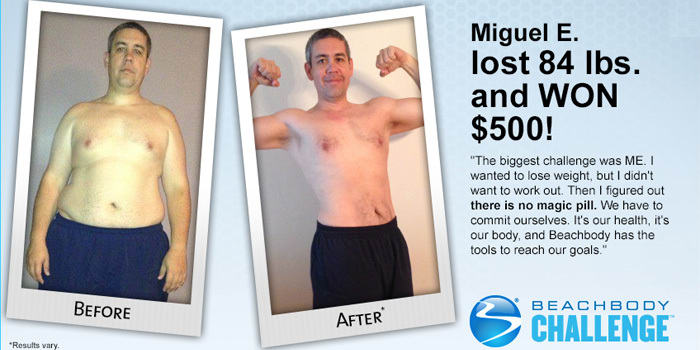 †Results vary depending on starting point and effort. Miguel is an independent Beachbody Coach.
Meet Miguel E.! He participated in The Beachbody Challenge and won the $500 Daily Prize for August 18!
Tell us about your life before you started the program. How did you feel about yourself and your body?

My life before Beachbody was very slow paced: sitting all day in front of a computer, eating junk food, not exercising.  I was starting to get very sick because of my weight. I kept telling my doctors that I did not have time to exercise because of work, etc. Just the thought of working out made me sick. I was determined to get in shape. I started a gym membership but only went 2 months in a row and never went back.
What inspired you to change your life and begin your transformation journey?

My wife. After she started INSANITY and began to see results, I agreed to start with just the fit test and then push play daily. Before the first month of INSANITY, I had to stop the program. But, in just 3 weeks, I noticed some changes. Then, after 3 months, my wife bought ChaLEAN Extreme. I was eager to start working out and eating healthy to continue my body transformation. I finished ChaLEAN Extreme, started INSANITY, and then ordered Focus T25. The changes are amazing. I feel great physically and mentally, and I am helping others do the same. Now, I finished P90X3. I feel more flexible, stronger, and best of all, healthy.
What is the greatest challenge you faced before beginning the program? How did the program and Beachbody® help you overcome that challenge?

The biggest challenge was ME. I wanted to lose weight, but I didn't want to work out. Then I figured out that there is no magic pill. We have to commit ourselves to our health and to our body. Beachbody has all the tools for us to reach our goals. Fitness programs are designed to help us lose weight and get in shape. Shakeology, of course, is amazing. Results and Recovery is phenomenal. I'm in love with Beachbody.
Describe the results you achieved with your Beachbody program. Which achievements are you proud of?

Results? A lot! I feel better. I'm at my high school weight. I feel stronger and energized, and it feels amazing. I'm proud of my weight and clothing size. My goal was to get in shape before my 40s, and thanks to Beachbody, I reached my goal. I'm in better shape than I was in high school. I learned to eat well. I don't drink sodas. I don't eat junk food. My entire life has changed.
How has your life changed since completing your Beachbody program?

Now, I have the strength to play with my son. I feel great. My doctors are proud of me because they have been telling me to start changing for about 5 years without success. I feel accomplished, but this is not the end. I want a more toned body, and I will continue my journey with Beachbody.
You can change your life, too. Take the Beachbody Challenge, for the ultimate motivation to get fit! Select any Beachbody program and once you complete it, share your results for your chance to win cash and prizes.