Hammer and Chisel Results: This Police Officer Lost 33 Pounds and Won $500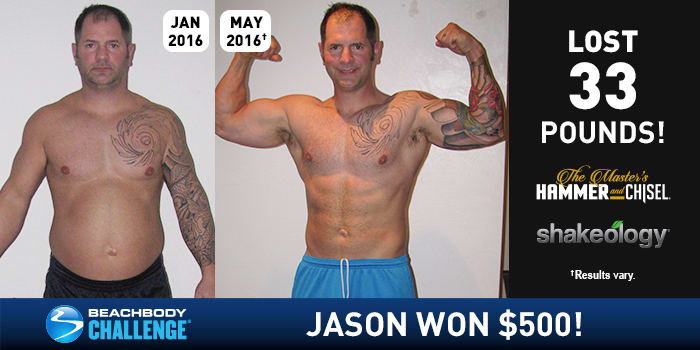 Jason Woods lost 33 lbs. with The Master's Hammer and Chisel. He entered his results into the Beachbody Challenge, and won the $500 Daily Prize for September 27th!
Tell us about your life before you started the program. How did you feel about yourself and your body?
I got stuck in a rut with my workouts; I had become the strong, fat guy. I was making poor food choices and my body was suffering. At work I felt tired all day long. I needed to hold my breath while I was tying my boots so I could reach them. My gut was in the way. It was a slow process to get that way. I had not noticed the slow changes as they were happening.
What inspired you to change your life and begin your transformation journey?
I saw a picture of me in my uniform and decided it was time for a change.
What is the greatest challenge you faced before beginning the program? How did the program and Beachbody help you overcome that challenge?
Working out six days a week was hard. I had been working out three days a week for years. The additional workload was challenging at first, but as time went on, it got easier each day. Adjusting my diet from comfort foods to food that fueled my body and the increased workload was aided by the eating guidelines provided in the workout.
What in particular did you like about the program you chose?
It was easy to follow — just pop in the DVD and follow along.
Describe the results you achieved with your Beachbody program. Which achievements are you proud of?
Looking fit in my uniform. I am a police officer, and if you look fit, it makes your job easier.
How has your life changed since completing your Beachbody program?
People ask me what changes I have made. I point them to the Beachbody workouts.
How did participating in a Challenge Group help you reach your goals? How did your group support you and keep you accountable?
The Challenge Group on Facebook kept me going. Knowing that other people were out doing the same thing as I was made me more focused.
How did your Team Beachbody Coach support you on your journey?
She sent me emails and Facebook posts. She answered questions when I added the expanded Hammer and Chisel DVDs.
How did a Beachbody supplement, nutritional product, or program (such as Shakeology or Beachbody Ultimate Reset) support your transformation? What are the greatest benefits you gained? Did you see benefits to your energy, sleep, mood/mental clarity, or digestion/regularity?
I love Shakeology. I really felt like it pushed me past my limits.
You can change your life, too. Take the Beachbody Challenge for the tools you need to Decide, Commit, and Succeed! Complete any Beachbody program, and enter your results for a free gift and a chance to win cash and prizes. What program are you committing to next?

†Results vary depending on starting point and effort.