Hammer and Chisel Results: Katherine Lost 25 Pounds and Won $1,500!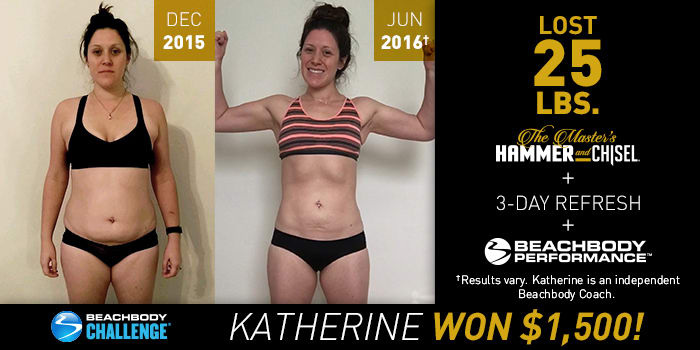 Katherine Manazir, age 30, lost 25 lbs with The Master's Hammer and Chisel, 3-Day Refresh, Shakeology, and the Beachbody Performance supplements. She entered her results into The Beachbody Challenge® and won $1,500!
Tell us about your life before you started the program. How did you feel about yourself and your body?
I had successfully lost weight with 21 Day Fix and felt stronger after completing both the fix and PiYo. I felt good but I didn't feel like I had much muscle tone and I couldn't do a pull-up to save my life. I mean, I wouldn't be a very good apocalypse buddy if I can't even pull myself up, right?! My lack of upper body strength has really limited me in life. After I had my son, I could hardly hold him. My shoulder wasn't supposed to hold anything over 10 lbs and my son was born at 9 lbs 11oz!4 It was a really tough struggle for me. We wanted more children and I just couldn't see my weak body making it through another pregnancy. I was so sad during and after pregnancy. I felt so helpless to my circumstances, like a victim. After that experience, I never wanted to feel that way about myself again. I felt tired and much older than I should have at that point in my life.
What inspired you to change your life and begin your transformation journey?
I wanted to be healthy for my family! I wanted to be able to crawl around with my son and keep up with him during play time. I needed to have more energy and couldn't stand being stagnant anymore. I had a fairly active lifestyle, and was a full-time bedside nurse, pre-baby but I didn't know how to eat right, so as soon as my activity dropped due to a rough pregnancy, I gained a ton of weight and really started losing the will to live. That's not the dream I had in mind when I was a kid. Grow up, get pregnant, grow stagnant, suffer through depression, then die… that picture was not what I wanted to see for myself! I saw that future and that path ahead of me and it scared me. I decided to stop that. I looked to my friends and family that were living positive, healthy life that I wanted. I watched them and started rebuilding relationships. That was pre-beachbody; as soon as Beachbody showed up for me, I was hooked. It was everything I needed to start and succeed!
What is the greatest challenge you faced before beginning the program? How did the program and Beachbody® help you overcome that challenge?
I was stuck at a plateau. 160 was definitely a lot less than I started with but my body wasn't nearly close to where I wanted it to be. I had weak muscles, a busted left shoulder, and damaged right knee.3 My 30 pound 2-year-old was starting to get too heavy for me to lift comfortably, so I knew I needed to build some muscle and get my core in better shape. I also hadn't done much high-impact yet and my body was not too tolerant of any high-impact workouts… which is awful because running is a hobby of mine! Thanks to the conditioning from Hammer and Chisel, I can jump the bench now! I can do the plyo jumps! I can hold a plank and tap! I can even do pull-ups! That's huge! Beachbody overall helped me with my diet challenge! I literally hadn't ever learned how to eat correctly, even through nursing school, it wouldn't stick. I needed to grow and be honest with myself. I learned this all with the portion control system and the advice I've received from team Beachbody! It has been a phenomenal journey.
What in particular did you like about the program you chose?
I loved the calendar. The set up kept me interested and busy! I never felt like I hadn't done enough after a Hammer and Chisel workout, and their quotes are hilarious! I enjoyed the motivation and inspiration that Sagi and Autumn provided. I learned a lot about myself during the second round of this program. I had already been through it once, so I knew the moves and had the muscle memory, I really liked how hard it helped me push myself. My favorite part about the program is how instructive the trainers are on form. I've been hurt by personal trainers, yet never during my workouts with Beachbody and I'm pushing harder and lifting heavier than I ever have. This is the way to go!
Describe the results you achieved with your Beachbody program. Which achievements are you proud of?
I reached my goal weight, I'm below my pre-pregnancy weight now, and I (our whole household) am overall entirely healthier than I was prior to starting the program! I lost a noticeable amount of weight and inches. I am so very proud of completing this program, start to finish. I achieved so many measurable results but the most important of them is how accomplished I feel. Being able to do pull-ups has always been a goal of mine but I never knew how to work up to the, until this program, and now I can do pull-ups for a full minute! I am proud of the jumps I can do now, how strong my body is. My very last day, very last move, I was able to pull a 30 lb dumbbell over my head! That was unthinkable a minute before I did it. I couldn't do that with a 5 lb weight when I started, it caused too much pain. I can do clockwork pushups! I remember falling out of that the first day and wondering how I would ever make it, I am most proud of the mindset shift I attained during this program.
How has your life changed since completing your Beachbody program?
I can't even begin to tell you. My entire life is completely different than it was prior to Beachbody. I know that sounds cheesy but this literally saved me! I was a wreck. I needed something to hold on to, I needed someone to tell me to get off my butt, get in gear, and lose the crap excuses for not doing what I needed to do to be happy and healthy! I am forever grateful and just want to pay all the good feelings forward. I am a registered nurse and I've never helped people be well. I helped sick people get better; helped them mask greater issues with medications or surgeries. Now I get to help people grow from the inside out. They blossom from sadness or worthlessness into life-loving people with their programs and personal development. My family life has changed. I feel gratitude rather than negativity. Everyone in my house is healthier and happier now! Thank you for helping me making this all possible.
How did participating in a Challenge Group help you reach your goals? How did your group support you and keep you accountable?
Participating in and running challenge groups really helped me stay accountable because I felt like I needed to hit those workouts early to keep my challengers motivated. I also didn't want to disappoint them or myself, so it helped me a lot. We share recipes and tips, too, for staying focused to hit our goals
How did your Team Beachbody® Coach support you on your journey?
Caitlynn has been absolutely wonderful! The Coach that personally sponsored me originally, quit recently and hadn't been a leader to us at all. So I was really just doing my own thing. Caitlynn invited me into her Challenge Group, creates motivating videos for us, and recognizes us for success. She's awesome!
How did a Beachbody Supplement or Nutritional Product or Program (such as Shakeology® or Beachbody Ultimate Reset®) support your transformation? What are the greatest benefits you gained? Did you see benefits to your energy, sleep, mood/mental clarity, digestion/regularity?
Shakeology has done wonders for me! It lifted my mommy-fog! I have energy like I have never had before! Recover has helped maintain my muscle growth and repair, and I noticed significant decrease in soreness when I take it. Hydrate completely eliminated my leg pain. It wasn't soreness but a deep pain I would feel, like electrolyte imbalances. Hydrate solved that problem for me and it tastes great. Energize is the only pre-workout I can drink. I usually get really jittery and feel like I'm going to pass out with pre-workout supplements so I stopped drinking them. I tried energize in a packet and I am in love. It gives me energy to dive into my workout and push for that extra rep without making me feel chest pain and a racing heart! The performance products have been a huge win. I used a 3-Day Refresh between rounds, I feel like that set me up for great results my second round. My body felt clean and light after that. All these products and programs support each other well.
You can change your life, too. Take the Beachbody Challenge for the tools you need to Decide, Commit, and Succeed! Complete any Beachbody program, and enter your results for a free gift and a chance to win cash and prizes. What program are you committing to next?

†Results vary depending on starting point, goals, and effort.
4Always consult with your physician before commencing any fitness program or nutritional product if you are pregnant or postpartum.
3Always consult with your physician about your unique medical needs before starting any fitness program or nutrition product.