Hammer and Chisel Results: From Dad Bod to Rad Bod in 60 Days!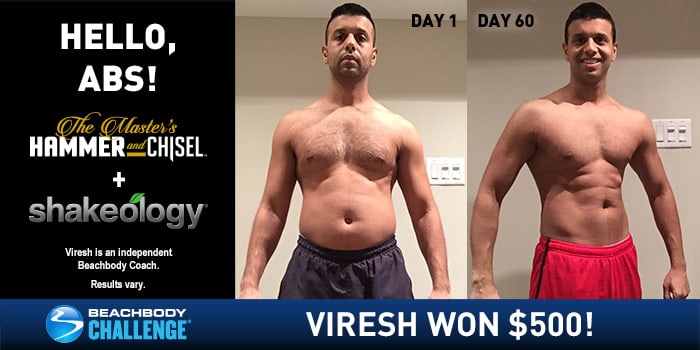 Viresh Mistry got ripped in 60 days with The Master's Hammer and Chisel and Shakeology. He entered his results into the The Beachbody Challenge, and won the $500 Daily Prize for May 3rd!
Tell us about your life before you started the program. How did you feel about yourself and your body?
I have a busy life as a stay-at-home dad of two girls (ages three and one). During Christmas, I gained extra weight from all the food consumed, family gatherings, and parties. Plus, you cannot really say no when your daughters want you to share cake, dessert, and ice cream with them. My waistline grew, and I lacked energy and confidence. My once loose jeans were tight and the "muffin top" was in full force.
What inspired you to change your life and begin your transformation journey?
I wanted to get back to looking close to how I was at Summit 2015 after I did a round of Body Beast. I felt stronger, and had more energy and confidence. Having completed P90X3 and Body Beast, I knew that The Master's Hammer and Chisel would be amazing. I loved training with Sagi and the container system from 21DF/21DFX. The Challenge Groups were helping create awesome results for my challengers. This was the perfect combination that I was looking for. Plus, I had to prove to my challengers and people watching that I could do this and didn't want to fail.
What is the greatest challenge you faced before beginning the program? How did the program and Beachbody help you overcome that challenge?
The greatest challenge was staying on track with two kids and as a full-time stay-at-home dad with chores to do. I had to make time during nap times for early 5 AM workouts before the kids woke up and took up my entire day. In addition, as a Coach, I had to make sure that my current challengers and Coaches were not ignored. Lots on my plate.
What in particular did you like about the program you chose?
I liked the combination of power, agility, and cardio with a clear, concise meal plan.
Describe the results you achieved with your Beachbody program. Which achievements are you proud of?
I'm proud that I lost only one pound but managed to shape and define my body while adding inches to chest, arms, and legs. My biggest fear was losing muscle size that I put on through Body Beast early in 2015. This was definitely a non-scale victory that even Autumn Calabrese shared on her Facebook and Instagram. That was a nice surprise to see that my transformation inspired so many.
How has your life changed since completing your Beachbody program?
I have more confidence and self-esteem. I love to wear clothes that are fitted and receive great compliments from friends. In addition, the increased energy levels allow me to have more fun with my two young daughters on a daily basis.
How did participating in a Challenge Group help you reach your goals? How did your group support you and keep you accountable?
It helped me to check in daily, post my progress, and get great positive feedback from all in there.
How did a Beachbody supplement, nutritional product, or program (such as Shakeology or Beachbody Ultimate Reset) support your transformation? What are the greatest benefits you gained? Did you see benefits to your energy, sleep, mood/mental clarity, or digestion/regularity?
I only used Shakeology. I wanted to show people that results can be achieved by eating good food and a balanced diet.
You can change your life, too. Take the Beachbody Challenge for the tools you need to Decide, Commit, and Succeed! Complete any Beachbody program, and enter your results for a free gift and a chance to win cash and prizes.

Results vary depending on starting point, goals, and effort.