Hammer and Chisel Results: 55-Year-Old Loses 14 Pounds, Wins $500!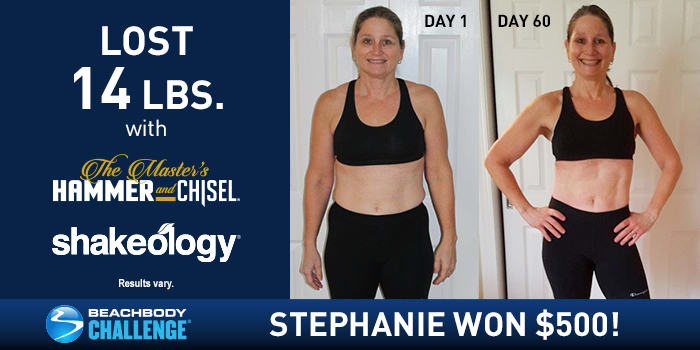 Results vary depending on starting point, goals, and effort.
Stephanie van Zanten lost 14 lbs. in 60 days with The Master's Hammer and Chisel. She entered her results into the Beachbody Challenge, and won the $500 Daily Prize for July 23rd!
Tell us about your life before you started the program. How did you feel about yourself and your body?
I wanted to feel healthier. I needed to have my energy back and not feel so tired all the time. Even though I play tennis, ski, and can say I am an active type of person, I truly felt terrible. I could not stand that feeling of being thick all over. I was not moving as well as I should or could before. I started really feeling like I was having health issues. I went to the doctor to have blood work done to see what was happening and it all checked out fine. I was too young to feel like this. It had to be the weight gain, bad eating habits, lack of exercise, and stress that clearly were making me feel so terrible and that could not go on any longer. The health of my family is important, and I needed to do something for not just me, but for us.
What inspired you to change your life and begin your transformation journey?
My health and the health of my family was part of what inspired me to make a change. The other part was my tennis teammate and Beachbody Coach — seeing the success she was having, hearing about the programs, and our Challenge Group. After talking with Lisa, I knew that The Master's Hammer and Chisel Challenge Pack was perfect! Going after this, not only in my own house but joining a team of people with the same goals to support and inspire one another, was a great way to make the start toward feeling good again. When you are just so incredibly fatigued, lack energy, and don't feel well, and you yourself are in control to change that and the tools to do so are right in front of you — what else do you need for inspiration?
What is the greatest challenge you faced before beginning the program? How did the program and Beachbody help you overcome that challenge?
The greatest challenge before beginning the program was making the commitment. It was a commitment that would be good for all of my family to make that change in our lifestyle. Choosing The Master's Hammer and Chisel to start that change was really diving in. The 21 Day Fix meal plan was very different for us, but very easy to follow. The best part was that it is not like a diet where you feel hungry and deprived. It is about better choices and portion control. Autumn and Sagi lead you through easy-to-understand exercises and inspire/push you just at the right points as if they are in the room with you. I love the DVDs. Joining the Challenge Group really helps. I made the commitment and want to inspire others to keep at it. I post often and enjoy sharing personal Success Stories/accomplishments that I know are because of Beachbody and The Master's Hammer and Chisel. Our teammates inspire and support one another, and we have a great leader that shares valuable information and is an inspiration to us all.
What in particular did you like about the program you chose?
Beachbody has so many different styles of programs available; it gives everyone a choice for something that can appeal to them. For us, we had free weights and equipment that were sitting idle in our basement or honestly sometimes used to lay stuff on. The Master's Hammer and Chisel gave us the motivation to put them to good use instead of just taking up space. With the rotation of Autumn and Sagi, and so many different exercises, it never got boring or repetitious. The encouragement and comments to push through always seemed to come at the moments when it was needed. It was just as if you were in the gym with them. The supportive participants that exercised on the DVD also were inspiring. Besides seeing how hard work pays off, Autumn and Sagi were able to reinforce the proper form for safety and how to maximize the benefits through illustration. Showing different options if you did not have certain equipment was very helpful at times and offered additional variety.
Describe the results you achieved with your Beachbody program. Which achievements are you proud of?
I feel healthy again! I feel fit. The "thick," fatigued, and overwhelmingly terrible feeling physically and mentally is gone. I am strong, energized, and happy thanks to Beachbody, The Master's Hammer and Chisel, and the support from my Challenge Group. Besides family, friends, and Challenge Group teammates commenting on how great I look (and that I am an inspiration to them), I have abdominal muscles that doctors have even commented on! The greatest achievement though that I am most proud of is that my son and I backpacked down into the Grand Canyon! We took this on with confidence because of the core strength and fitness level we achieved with the program. Having never backpacked before, carrying water, a few days of supplies, and all of our gear, we had an amazing experience of a lifetime. While I have never had a blood pressure issue, my blood pressure is noticeably lower. From a medical perspective, I have had more than one doctor comment on the change in my fitness level, and specifically my strong abdominal muscles! Hammer and Chisel gave me strength in many ways that I am so very thankful for.
How has your life changed since completing your Beachbody program?
I am energized again and feel great. I like the problem of not only blowing through fitting in the clothes that had gotten too tight but having to buy new clothes in smaller sizes. Seriously though, exercise and being conscious of how I eat (more in line with the 21 Day Fix) as a regular part of everyday life is now a part of me. I want to keep feeling like this and don't want to ever go back to how I felt. My stamina in my sports has skyrocketed. The Beachbody program is not over for me. I am still working out with Autumn and Sagi, drinking my Shakeology, and participating in my Challenge Group. There is more still to accomplish and even when I have done that, this is not a temporary change. This change is now part of a new healthier, happier lifestyle.
How did participating in a Challenge Group help you reach your goals? How did your group support you and keep you accountable?
Being part of a Challenge Group helped me to reach my goals in a variety of ways. The inspiration from Lisa (our Coach) and the team helped me to stay accountable. Although I don't personally know the teammates (except the ones I now have referred to our Group), I felt part of a team that I did not want to disappoint, let alone myself. People are taking on this challenge, trying to live a healthier lifestyle, holding close their why, and supporting one another. As a result, we post our successes to help keep us going, help to be accountable, and know that we can succeed together. I post often to share my personal successes, inspirational quotes, and pictures. I am driven to be successful and hope to inspire my teammates. I know success is there for the taking for my teammates. Lisa provides a wealth of information to the team in addition to her words of support and encouragement. I enjoy being part of our Challenge Group.
How did your Team Beachbody Coach support you on your journey?
Not only did Lisa help me to make the right choices with Beachbody programs, she started helping me before that while explaining what she was doing that was transforming her. Lisa walks the walk. She is an amazing woman, full of energy, and who is a terrific example. She is passionate about what she does in helping others to achieve in all that she is involved in. She provides inspiration and information multiple times a day. If you have a question, Lisa has an answer. Beachbody and our team are fortunate to have Lisa as a Coach.
How did a Beachbody supplement, nutritional product, or program (such as Shakeology or Beachbody Ultimate Reset) support your transformation? What are the greatest benefits you gained? Did you see benefits to your energy, sleep, mood/mental clarity, or digestion/regularity?
Shakeology is a delicious supplement that is packed with nutrition. I love the recipe cards provided, along with the multi-flavor pack, and tried several suggestions. Shakeology is part of my daily routine, and I know I am getting a great source of nutrition overall and aid to the strengthening of muscles.
You can change your life, too. Take the Beachbody Challenge for the tools you need to Decide, Commit, and Succeed! Complete any Beachbody program, and enter your results for a free gift and a chance to win cash and prizes.