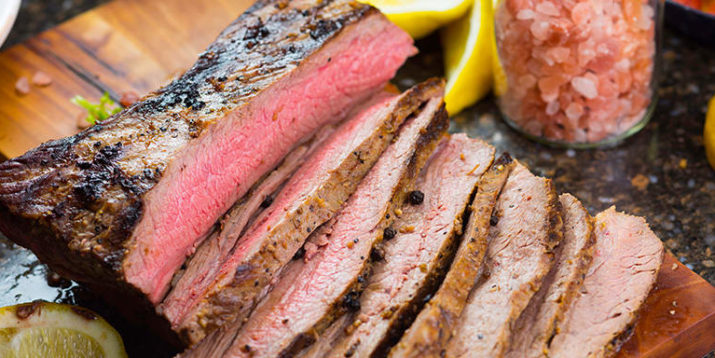 There's something about cooking over an open flame — and the unique smokiness that it imparts — that imbues even the humblest piece of red meat with a flavor that's hard to surpass.
This simple ginger soy flank steak recipe combines ginger, garlic, soy sauce, and honey to create an umami sauce that gives lean flank steak a richer flavor and makes the meat more tender.
Serve it in four-ounce portions and pair it with broccoli, or another vegetable you prefer.
But First, Marinate
For the most flavorful steak, give the marinade at least an hour to absorb into the meat. Place the steak into a shallow dish and pour the sauce over the top.
Put it in the fridge and let it marinate for 30 minutes. Then flip the steak over and marinate 30 minutes more to make sure both sides are exposed to the sauce.
If you don't have a shallow dish, put the steak and marinade into a sealable plastic bag, close, and refrigerate.
Let the steak marinate for up to four hours.
Before cooking, let the steak sit out at room temperature for 30 minutes to an hour.
Placing a cold steak on a hot grill can cause it to cook unevenly, giving you a charred exterior and a blue center.
Get Cooking
When it's time to cook, lay the steak on the grill where you can see the coals glowing red but not where the steak would be in the flames.
Close the lid — and keep it closed! If you're looking, it's not cooking.
After five to eight minutes, flip the steak over and close the lid again for another five minutes.
Open the lid to test the doneness of the meat, now, finish the steak with the lid open until it's done to your preference.
Rare is 120° F, medium rare is 125° F, and medium is 130° F.
The final crucial step after the steak is cooked is to let it rest before slicing. This allows the juices to settle back into the meat.
Cut thin slices, against the grain, for tender, mouthwatering steak.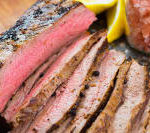 Ginger Soy Flank Steak
Ginger, garlic, soy sauce, and honey combine to create an umami sauce that takes lean flank steak to another level of delicious.
Prep Time 5 mins
Cook Time 16 mins
Total Time 21 mins
Servings 6 servings
Calories 206 kcal
Ingredients
2-inch slice fresh ginger, peeled, finely chopped
3 cloves garlic, finely chopped
1 Tbsp. crushed red pepper
2 Tbsp. fresh lime juice
1 Tbsp. raw honey
¼ cup reduced-sodium soy sauce
1 tsp. sesame seed oil
1½ lbs. flank steak (or tenderized round steak)
Instructions
Combine ginger, garlic, red pepper, lime juice, honey, soy sauce, and oil in a small bowl; whisk to blend.

Place steak in a shallow dish. Pour ginger mixture over steak; marinate, covered, turning once, for 1 hour in the refrigerator.

Preheat grill or broiler on high.

Grill or broil steak for 5 to 8 minutes on each side, or until the internal temperature reaches desired temperature on your meat thermometer (rare is 125° F., medium rare is 130° F., medium is 140° F.). Remove from heat; let steak rest for 5 to 10 minutes before slicing.

Slice steak thinly against the grain.
Recipe Notes
The Nutrition Facts box below provides estimated nutritional information for this recipe.
Nutrition Facts
Ginger Soy Flank Steak
Amount Per Serving (1 serving)
Calories 206 Calories from Fat 81
% Daily Value*
Fat 9g14%
Saturated Fat 4g25%
Cholesterol 74mg25%
Sodium 415mg18%
Carbohydrates 6g2%
Sugar 3g3%
Protein 25g50%
* Percent Daily Values are based on a 2000 calorie diet.
Container Equivalents
1 Red
1 tsp
2B Mindset Plate It!
Add a side salad or veggies for dinner. Add veggies and an FFC for lunch.
If you have questions about the portions, please click here to post a question in our forums so our experts can help. Please include a link to the recipe.