"I Get the Same, If Not Better, Results Working Out at Home"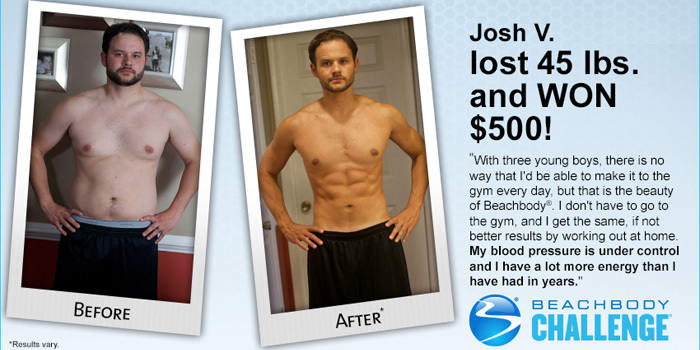 †Results vary depending on starting point and effort. Josh is an independent Beachbody Coach.
Meet Josh V.! He participated in The Beachbody Challenge and won the $500 Daily Prize for November 17th!
Tell us about your life before you started the program. How did you feel about yourself and your body?
I always thought of myself as athletic and in decent shape. I was always involved in sports, coaching, and even teaching PE. What I hadn't noticed was that in the seven years since I got married, I had gained almost 40 pounds and was more out of shape than ever before! Not only did this leave me a little self conscious about my physique, but it was also hurting my physical health. I always felt tired and like I was too busy to accomplish anything. I would come home from work, take a nap, eat dinner, put my kids to bed, and lay on the couch the rest of the night. I discovered my blood pressure was high during a routine physical, and the doctor recommended that I begin doing exercise. I was tired of feeling tired and decided to do something about it.
What inspired you to change your life and begin your transformation journey?
My inspiration was my family. I have 3 boys under the age of four. I didn't want to be the dad that was too tired to go out and throw the baseball or too out of shape to go ride bikes with his sons. I knew that if I didn't get things under control, not only might I not be able to do everyday activities with them, but I might not even be here for them as long as I possibly could. With a history of heart disease in my family, the high blood pressure was definitely a wake up call. I was also ready to have energy once again. As I looked in the mirror and saw the guy who had spent seven years not doing much of any exercise, I knew I needed to do something to get myself back into shape.
What is the greatest challenge you faced before beginning the program? How did the program and Beachbody® help you overcome that challenge?
The most challenging aspect for me was myself. I kept telling myself that I didn't have the time or money to join a gym, but really it was just me making me excuses. There really is no way, with three young boys, that I would be able to make a daily commitment to being at the gym, but that is the beauty of Beachbody. I don't have to go to the gym, and I get the same, if not better, results working out at home. I completed P90X, and lost about 30 pounds using that program. Soon after completion of P90X, my wife and I had our third son. The perfect program for me then was P90X3. The beauty of Beachbody programs is that there is a workout for everyone in all facets and stages of life.
Describe the results you achieved with your Beachbody program. Which achievements are you proud of?
P90X3 has helped me to lean out and see a lot more definition in my abs. I believe that I have seen more definition in my abs while on P90X3, and I can tell as I'm doing the program that although many of the workouts are not ab specific, most of the workouts are definitely working the total body.
How has your life changed since completing your Beachbody program?
There have been many improvements to my quality of life thanks to the results I've seen from Beachbody programs. First of all, physically I can tell I am much better off. My blood pressure is under control and I have a lot more energy than I have had in years. I've also had the opportunity to help others overcome their nutrition and health issues through conversations, challenges, and accountability.
You can change your life, too. Take the Beachbody Challenge, for the ultimate motivation to get fit! Select any Beachbody program and once you complete it, share your results for your chance to win cash and prizes.