12 of the Best Gadgets to Relieve Sore Muscles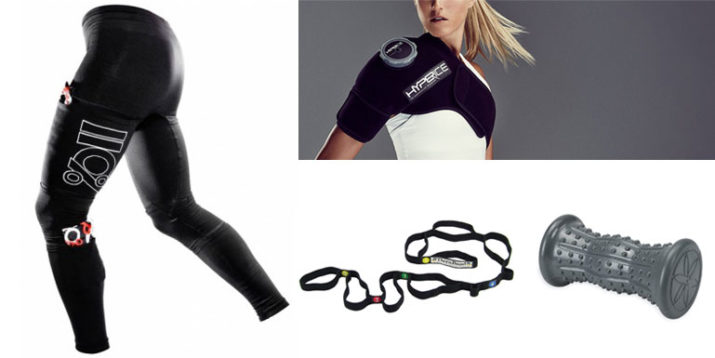 Stiffness… muscle pain… loss of mobility—feel like a 90-year-old when you try to sit on the toilet? You may be suffering from DOMS, or delayed onset muscle soreness.
Whether you like to hit the gym or dance off the pounds with CIZE, run outdoor trails or power through a short and sweaty workout like 22 Minute Hard Corps, muscle soreness is a reality of nearly any fitness program. For workout newbies and elite athletes alike, that post-workout pain can show up eight to 24 hours after a new or intense workout, often peaks on day two, and can last for up to seven days. Ouch.
For delayed onset muscle soreness, it's not just a matter of pain; it's actually a minute injury to your muscles. According to the Journal of Clinical and Diagnostic Research, DOMS results when microscopic muscle fiber tears. That's how muscle grows, but it can increase your risk of more serious injury.
So for athletes new and old, it's vital to know how to treat, soothe, and heal these sore muscles. You'll not only feel better faster, but you'll help your body recover, see your mobility return, and get ready sooner for that next workout.
We've rounded up some of the best gadgets to relieve sore muscles to help ease those aches and pains.
12 Gadgets to Relieve Sore Muscles
TREATMENT: HEAT AND ICE
The polar extremes are key players when it comes to muscle recovery. Heat soothes sore muscles before a workout, while ice limits swelling and inflammation afterward. Heed their instructions and these gadgets will go beyond your basic ice pack or heating pad to offer multifunctional relief.
Part ice pack, part massage stick, GoFit's Polar Bar performs muscle manipulation and cold therapy to reduce swelling and soreness. Stored in the freezer, the Polar Bar ices sore traps and hamstrings while also working out knots and tension, mess-free.
This three-in-one solution consists of an adjustable compression wrap with a pocket for either a supplied microwaveable heat pack to alleviate muscle soreness or the freezable gel pack to curb swelling and inflammation. A lighter, more portable version of the larger compression products listed below.
TREATMENT: COMPRESSION
Properly applied, compression has been found to reduce the inflammation that causes muscle soreness, while research suggests it also aids recovery, by pushing blood flow from the limb extremities towards the body's core. The following tools can reduce muscle fatigue and soreness both during and after your workout.
These aren't your grandma's compression tights. Available for both men and women, these compression garments have strategically-placed pockets for provided ice inserts. You can choose from tights, socks, shorts or sleeves, depending on where you need the support. Performance and recovery in a single garment—provided you aren't too sore to wrestle it on.
Want to recover like a pro? From Kobe to LeBron, Adrian Peterson to Lindsey Vonn, many pro athletes rely on Hyperice's line of ice compression wearables. With versions for elbows and shoulders, knees and backs, these wraps combine the benefits of cold therapy and compression to relieve muscles and aid their recovery. Hyperice's patented tech creates a layer of ice that hugs the skin, providing targeted, uniform cooling to the treatment area.
TREATMENT: ROLLING THERAPY
Home massagers, foam rollers, spiky balls, and other massage tools are ideal for ironing out kinks that have buried themselves deep within your muscles. For the best results, don't wait until you're already sore. Studies show that using these tools right after your workout can even prevent stiffness and muscle pain.
A foam roller is a must-have for any workout enthusiast. From loosening tight quads to helping release back tension, this one works like a deep tissue massage, with raised nodules that create an uneven, therapeutic surface.
If you can't schedule an actual massage, this at-home tool might do the trick. With two bi-directional rotating multi-orbed knobs, the Instashiatsu+ provides deep-kneading shiatsu pressure and can be used on nearly any part of your body, with or without the cord. Control the intensity using built-in wrist supports and turn on the heat option for greater relaxation.
TREATMENT: STRETCH THERAPY
The benefits of post-workout stretching should not be overlooked. Using these simple stretching tools may help with range of motion, flexibility and muscle tightness.
Remember doing paint by numbers as a kid? Consider this stretch by numbers. With digits spaced evenly across the multi-loop strap, it's easy to track your range of motion and flexibility. The strap also has just a bit of elasticity to it, allowing for both static and contract-relax stretching.
For foot, calf and lower-leg pain, this tool provides a gradual, even stretch, increasing foot and calf flexibility and mobility. The footplate is designed with ridges for grip and correct alignment, while the bottom has rubber strips to keep you steady while you stretch.
SPOT TREATMENT
If you have particular trouble spots, these post-workout recovery tools provide targeted relief.
Studies have shown that vibration therapy may help decrease muscle soreness and pain perception as well as increase range of motion and blood flow, and this soft-tissue ball on steroids combines that with myofascial release for compounded relief. Powered by a rechargeable lithium-ion battery, it's small enough to throw in a suitcase or workout bag, and can be used on nearly any part of the body. It may also have a preventative benefit—using the Hypersphere immediately after a workout could prevent symptoms of DOMS.
You might feel like Little Bo Peep pulling this thing out, but the targeted muscle relief is worth the jokes. With seven strategically-placed knobs, you use the leverage of the cane's hook-shaped design to dig in deep to release knots and ease tight muscles in hard-to-reach areas like your back, hamstrings and shoulders.
TREATMENT: FOOT RELIEF
Whether the pain in your feet derives from today's high heels or yesterday's run, these devices provide relaxation and relief.
Ideal for relieving pain from plantar fasciitis, heel spurs, or just everyday agony, this roller is ergonomically designed to gently knead and massage away aches and pains in your feet. It can also be frozen or warmed in hot water for added relief.
This one is perfect for sneaking under your desk at work. Compact and portable, the Moji Foot has a raised central knob for targeted relief on your heel or arch, while the surrounding knobs massage away aches from shoes, workouts or extended time standing.
Of course, the best way to relieve sore muscles is to not get them in the first place. Beachbody Performance™ Recover acts during the critical post-workout window to help facilitate muscle recovery and reduce muscle breakdown with an optimized blend of time-released proteins and phytonutrients.