Full-Time Nurse and Mother of Two Loses 28 Pounds, Wins $500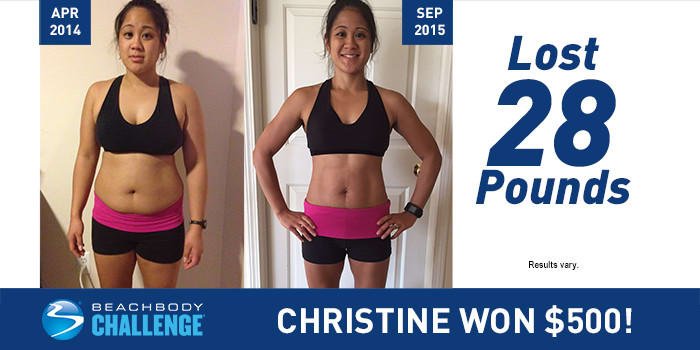 Results vary depending on starting point and effort. Christine is an independent Beachbody Coach.
Christine Adams lost 28 lbs. with 21 Day Fix, FOCUS T25, INSANITY MAX:30, and 21 Day Fix EXTREME fitness programs and the Beachbody Performance supplements. She entered her results into the Beachbody Challenge, and won the $500 Daily Prize for December 3rd!
Tell us about your life before you started the program. How did you feel about yourself and your body?
After my sons were born, I initially didn't care about my weight, because I knew that taking care of them was my priority. I also convinced myself that after I was finished pumping/breastfeeding, the weight would just fall off. That's what everyone says (that breastfeeding helps you lose weight). I was still 10 lbs. away from my pre-pregnancy weight when I finished breastfeeding. Before I could find the motivation to start an exercise program, I gained 8 lbs. back. I was stressed out with having a four-year-old and one-year-old at home, and working full-time. I was sleep-deprived and irritable all the time. Overall, I was disgusted with the way that I looked. I had little energy,  little confidence, and found myself avoiding going out, because I didn't like how clothes fit on me. I used "I work full-time and have two young kids" as an excuse for not being able to find the time to exercise. I took my frustrations out on my kids and husband, and all of my relationships suffered.
What inspired you to change your life and begin your transformation journey?
My husband followed a few accounts on Instagram, such as "Born 2 Transform," and he shared inspiring stories and pictures of "fit moms" with me. For nearly a year, we kept following them, and I told myself "when my son turns one, I will stop pumping and then I can make exercise a priority." I feared that my milk supply would decrease drastically if I started exercising too soon. It was also very difficult to schedule a workout time, because I spent 20-30 minutes pumping four to six times a day, and I was always exhausted. After my son turned one, I still couldn't find the energy or motivation to exercise, and kept making excuses. So we tried Shakeology, which I loved.1 My husband signed up as a Coach for the 25 percent discount and the following month, I signed up as a Coach under him.
What is the greatest challenge you faced before beginning the program? How did the program and Beachbody help you overcome that challenge?
I was always my own biggest challenge, standing in my own way. As an RN, I knew everything I needed to do to be healthy, but I wasn't practicing what I was teaching my patients. I made every excuse I could to rationalize my behavior and lifestyle. I wasn't happy with myself, and my negative attitude affected my relationships with my children, husband, and co-workers. When I accepted the Beachbody Challenge, I was able to change my mindset. Each day, I was surrounded by positive, like-minded people with similar goals who gave me daily motivation, inspiration, and accountability. I haven't been happier or had this much energy since my senior year of high school (I lost 30 lbs. the summer before senior year). The personal development and positive mindset has made me a better mother, co-worker, and wife. I feel like I can achieve anything I set my mind to. My team has helped me become a better version of myself — not just physically, but mentally and spiritually as well.
What in particular did you like about the program you chose?
21 Day Fix: I loved the portion-control containers and nutrition guide. It really put into perspective the amount of food my body needed versus the amount of food I was consuming. I loved the variety of different exercises and that they were only 30 minutes! FOCUS T25: I loved that I didn't need any equipment, just my body. Each workout was challenging and only 25 minutes! I also love Shaun T's phrases and style of motivation. INSANITY MAX:30: I loved the challenge and competition I had with myself to try and beat my time from the previous week. Every single workout was challenging, and Shaun T always knows what to say to push you to reach your max. This was the hardest program I have ever done but also my favorite, because overcoming the greatest struggle is what makes everything worth it and makes it the greatest accomplishment. 21 Day Fix EXTREME: Again, I loved the focus on nutrition, clean eating, and portion control. I love the Fixate cookbook. The 21 Day Fix eating plan has helped me to make a complete lifestyle change!
Describe the results you achieved with your Beachbody program. Which achievements are you proud of?
In just five short months, I went from a size eight jeans to a size zero. I had to go and find my bin of clothes from high school (2004). I can complete an entire INSANITY MAX:30 cardio challenge without having to stop or modify. Before starting 21 Day Fix, I would get short of breath after five minutes of cardio, and at times would start wheezing and need to use an inhaler. I can do push-ups — unmodified and in sets of 20! I can do chin-ups for the first time ever in my life! I have abs — visible abs without even flexing! I went from 29 percent to 20 percent body fat! I never thought that any of this was achievable for me. But I am in better shape now after having two kids in three years than I have ever been before in my life.
How has your life changed since completing your Beachbody program?
I haven't been this happy, confident, purpose-driven or energized since my senior year of high school (2004). I start each day with scripture readings, 30 minutes of exercise, and at least 10 minutes of audio personal development while driving to work. My marriage and relationships with my kids and co-workers are flourishing, and my mindset has completely changed. From May 2014 to February 2015, I had been applying and interviewing for a new job, and kept getting let down. I eventually told myself that if I saw another posting, I wouldn't even apply anymore… but after completing my first challenge in April 2015, my mindset and confidence skyrocketed! I applied for the sixth time, interviewed for the fourth time on the same day my husband reached the milestone of Diamond Coach, and found out one week later that I finally got the job. Attitude and mindset are everything!
How did participating in a Challenge Group help you reach your goals? How did your group support you and keep you accountable?
I started my first program (21 Day Fix) in a Challenge Group with my Coach (my husband), my mother-in-law, and my sister-in-law. Every time someone posted a motivational quote or picture of a post-workout selfie, it motivated me to do the same and go work out if I hadn't already done so that day. With so much positive energy going around, it was impossible not to reach my goals. It was also helpful to see them post about their struggles and setbacks, because it let me know that I'm not alone. As more and more people (mostly close friends, family, and co-workers) joined each Challenge Group, the motivation grew exponentially, and I was able to reach my weight-loss goals even sooner than expected. It was even more amazing knowing that I had the support of close friends, co-workers, and family, because these were the people I spent most of my time with. In order to be successful in maintaining a healthy lifestyle, I needed to be constantly surrounded by like-minded people with similar goals.
How did your Team Beachbody Coach support you on your journey?
My Coach is my husband, and he has always pushed me to be better. Seeing how his mindset changed from the interactions he was having with his Coaching team was very inspiring. All the personal development he was doing made him a better father and husband. In the beginning, I was very resistant to him being a Team Beachbody Coach, but witnessing how he helps change lives, mine included, has made me fall in love with him all over again. We keep each other accountable and support each other. Even though I have reached my weight-loss goals and he hasn't yet, he still tells me every day about how proud he is of me and how I inspire him.
How did a Beachbody supplement, nutritional product, or program (such as Shakeology or Beachbody Ultimate Reset) support your transformation? What are the greatest benefits you gained? Did you see benefits to your energy, sleep, mood/mental clarity, or digestion/regularity?
I have so much more energy since drinking Shakeology daily.2 I also used to eat 10 or more fun-sized pieces of chocolate three to four days a week while at work. But since starting Shakeology, I no longer have sweet tooth cravings and have not eaten chocolate bars since Easter.2 Energize & Recover: I started using these in month two of INSANITY MAX:30. I definitely needed Energize to complete such an intense workout at 5 a.m., and Recover helped to reduce muscle soreness.2 P90X Protein Bars: These were essential for my mid-morning or mid-afternoon snack. They kept me full and tasted like a "cheat meal."
You can change your life, too. Take the Beachbody Challenge for the tools you need to Decide, Commit, and Succeed! Complete any Beachbody program, and enter your results for a free gift and a chance to win cash and prizes.

1Always consult with your physician before commencing any fitness program or nutritional product if you are pregnant or postpartum.
2These statements have not been evaluated by the Food and Drug Administration. This product is not intended to diagnose, treat, cure, or prevent any disease.